Disclosure: I may receive commissions for purchases made through links in this post.
Curriculum Planning.
Those words alone can send even the most seasoned homeschool mom into a tailspin. Some of us are self-proclaimed junkies. Others not so much.
Either way having an idea of what you want to use for the upcoming year is important.
My number piece of advice from me that I live and breathe by is this:
It really is all about You. Your child. Your Family. Your Homeschool. In that order.
Let me explain how this works.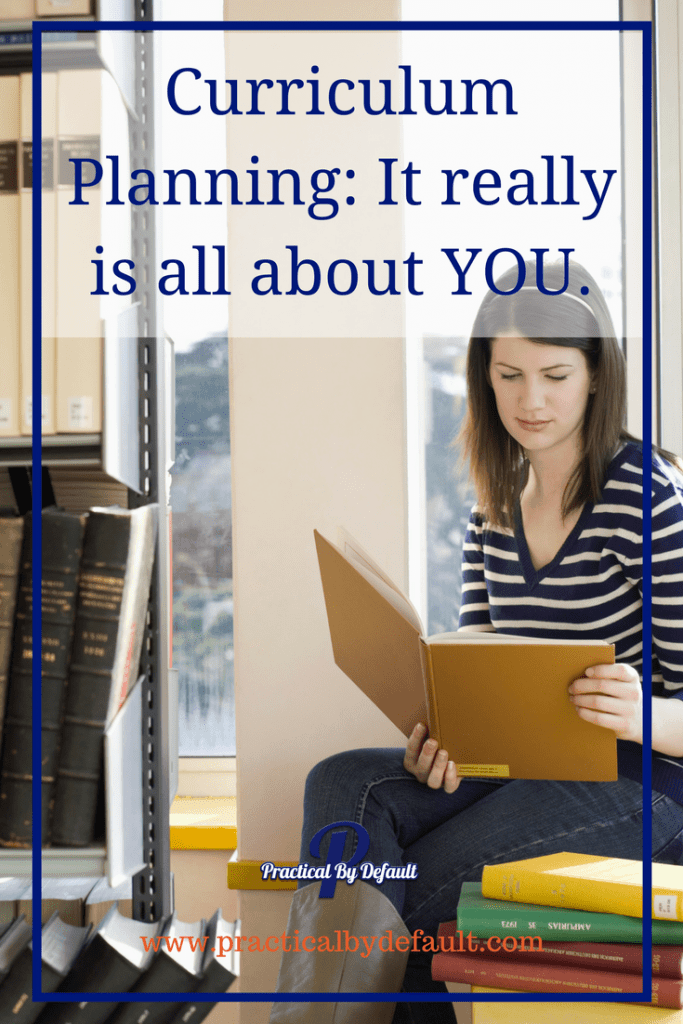 It's all about You:
Sometimes we get caught up in what everyone else is doing. Be it game-schooling, fun-schooling, lapbooking, or notebooking. Doing that comparing thing and feeling terrible about it.
We forget that what works for others may not work for you.
Maybe the very idea of pulling out crafts, play dough and glitter has you wanting to turn tail and run the other way.
Maybe you are like me and you don't have the time nor the desire to create amazingly detailed and resource filled unit studies for your kids.
That's okay. Be you.
If those types of things make you cringe or feel overwhelmed don't do them.
There is no one way to do this homeschooling thing. Do it your way.
Use what works.
If you come across something that looks like it might work at another time, file it away for later. Don't stress it.
Other things you see and know that it would not work for you, chuck it away guilt free!
It's all about your child.
Your children are unique. Each and every one of them.
Even though both of my children prefer textbooks, workbooks and online studies they both use different programs.
Why? Because they are unique.
Not only are their learning styles different although similar. Their interests are completely different.
I have one bookworm I can barely feed and one coding nut that I can't understand for my life.
No doubt you feel my pain.
When considering your curriculum for the upcoming year keep reminding yourself that you are choosing for your child. Use what works along with their learning styles, interests, and skill levels.
You can not imagine the times I have chosen a curriculum that I thought my child would fall madly in love with only to find out it didn't mesh.
I highly recommend getting your child involved in this process after you narrow it down to a few choices. Doing this allows them to feel involved plus you can get their "take" on it before investing, saving you money.
Don't get caught up in the current hype of the flashy new craze if it doesn't fit with your child's unique needs.
Don't get caught up in the current hype of the flashy new homeschool craze-Just be you!
Click To Tweet
It's all about your family.
Just as each child is unique each family is too.
You and I could have the exact same situation, children, job…everything and yet our homeschool would look very different.
Why? Because you and I and each member of our family is unique.
Homeschooling is not limited to 8-3 it is 24/7.
Your children can and are always learning. This means you can change your "school" schedule to fit your needs.
Your family may be early risers and very into nature. Therefore morning walks, nature trails, photography, and notebooking might be your jam. Do that.
Maybe your are a techy family who loves to indulge in online programs, texting, exploring coding and apps. Do that.
Or maybe you are a board game loving family who learns best through play and exploring. Audio books teach you about the world and coloring and crafting fits into your life. Do that.
Do what works for you, your child and your family!
The very benefit of homeschooling is being able to adjust to your own, your child and your family's unique needs.
It's all about Your Homeschool.
Your homeschool will be a reflection of you, your child and your family.
This includes but is not limited to the way you homeschool, the choices you make in curriculum and programs you use and when you choose to do so.
Your homeschool will look completely different from mine. It is supposed to! 
Some times I hesitate to show what we are using as a family as I don't ever want someone to blindly take my word for it when I say something works. They need to read or listen to the whole sentence. It works….for my family! 
I share because I know what it is like to be lost and have no clue what to try next. I also know that when searching for a new curriculum I want to hear about what is working, what wasn't working and how it was used. These are things I need to know. Therefore when I share about a program I share these points.  (You can read an example of this in my review of Analytical Grammar, a program I love to hate)
With the answers you have learned from the above you are ready to choose curriculum for your unique, special "just for you" homeschool. 
In that order.
The reason for making the choices in that order is simple.
We start with you, amazing homeschool mom because you matter. I like structure and thrive on it. Planners, schedules, routines that is who I am. It is practical and makes sense. I need those to be successful and, quite frankly, to function.
What do you need?
Next, we consider your child. After all, this is who you are trying to engage, interest, teach and learn alongside. Yours. Focusing on your unique child allows you to work with your child, not against.
What does your child need?
Remember, each family is different. Your family's lifestyle, hobbies, interests all need to be considered. Plan for your family.
What does your family need?
Lastly, the answers to those questions are what make homeschooling your homeschool. At this point you are ready to dig into finding the curriculum and programs that are going to work for YOU!
See… Curriculum planning really is all about you! Isn't that freeing?
This is a great place to start, now that you are in the right frame of mind I suggest picking up either 102 Top Picks for Homeschool Curriculum, The Well Trained Mind or something like that to get a feel for what is available.
For once momma it really is all about you!
Take care, 
Jen
P. S. For more awesome tips and ideas on how you can tailor your homeschool planning check out the following posts: