Disclosure: I may receive commissions for purchases made through links in this post.
Are you juggling multiple ages while homeschooling? I've got the perfect secret weapon to keep your little ones learning so you can focus on your older kids.
I'm always in awe of moms who have more than two children. They must have more patience, more multitasking skills, more everything…
The problem of having more children is it can be hard to keep little ones occupied so you can focus on the older ones when they are stuck.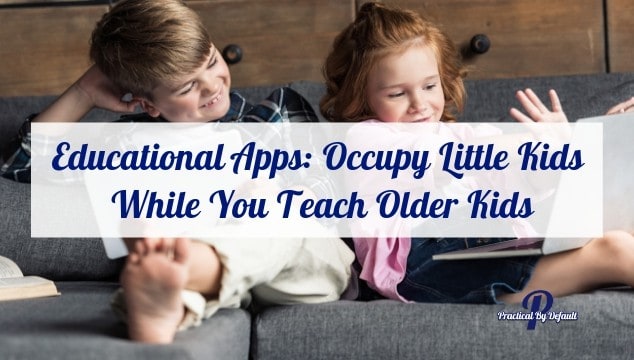 I don't know about you but I can only handle "mom, mom, mom" so long.
But one great way to keep your younger children busy while still learning and having fun is through educational apps.
When my daughter was younger she used to play this ABC game on the computer while I helped her older brother learn a new concept. She loved this since I careful about how much time they were on the computer. This game became a special treat!
Of course, at that time we had games on disks. Today you can load up your tablet, Kindle or computer with fun educational apps for your kids.
If you are worried about limiting screen time I suggest keeping this as your "secret weapon" and pulling it only when you think you'll lose your mind.
A non-screen time alternative is to build your little one a busy box. You can get a list of ideas for both your little kids and older kids here.
Best Educational Apps For Kids Ages 4+
Because it has been so long since I had little kids I asked friends to tell me their favorite educational apps for younger kids.
The following list has been tested and come highly recommended but you should always review since every family has different needs.
By the way, don't forget to make sure your "easy button" is enabled for Ebates when you sign up and get cash back!  If you are not sure how to do that, click here and read the step-by-step instructions. It's easy! 
1 Teach Your Monster To Read:
This game is designed to help your younger kids learn everything from letters and sounds to reading full sentences.
The game will work on "any laptop or desktop computer (including Apple Macs) and the app works on iPhone, iPad, Android and Kindle tablets."- FAQ Page 
Note: The computer version is FREE! You can download the apps from the website.  Click here to check it out and play a demo! 
2 ABC Mouse
ABC Mouse is a full online program for ages 2-8, including reading, math, science, social studies, and art.
Get your child learning through animations, books, songs, puzzles, games, and printables. 
 Available for computer, tablets, and smartphones. Click here to sign up and get your first month FREE. 
3 Reading Eggs
Reading Eggs is known for making reading fun.
They offer 3 levels plus one Math program:
Reading Eggs Junior for ages 2–4
Reading Eggs for ages 3–7
Reading Eggspress for ages 7–13
Mathseeds, our online mathematics program for ages 3–9
Your child will learn through online games, songs, activities and more. Click here to try a free trial! 
You'll find educational apps for both iPad and Andriod here.
4 Endless Alphabet
This app is designed to help kids learn words and build their vocabulary.
 A group of friendly monster act out the definitions of each word once users spell it correctly.  Endless Alphabet is recommended for children ages 4 to 10. Click here to get the app. 
5 Endless Reader
A follow-up to Endless Alphabet. This app introduces "sight words".
Help kids to recognize words by sight and encoureage reading fluency. This app is ideal for beginning readers because many of these words have unusual spelling, cannot be sounded out using phonics knowledge, and often cannot be represented using pictures. Click here to download the app. 
6 Letter School
LetterSchool makes handwriting incredibly easy to unravel.
Learn the letter name, sound and a word to go with it. Games are tap, trace and write.  Includes both upper case, lowercase letters and numbers 1-10. Learn more here. 
7 Starfall
This is an oldie but goodie. Even my kids used it, disk free! Ha!
Starfall helps kids fall in love with reading.

Starfall has since expanded to include reading, mathematics and songs. Learn how to join here. 
8 Kodable
Programing for kids, grades K-5. This program helps your child learn logic and problem solving. They learn to build and design games and learn Java script.
This app comes with a montly plan and a FREE Trial you can test before you buy. 
9 Splash Math
My daugher has struggled with math for a long time. A few years ago we used Splash Math to help build her confidence.
This app is designed to make learning fun for grades K-5. Becuase they have an app for each level, click here to see them all.  
10 Hooked On Phonics
One of the most popular programs that help children to read now has an online app!
Perfect for ages 3-7, children learn to read through games, animations, rewards and includes a story specially written with the words just learned. Available on iOS, Android, Kindle and the web.  Click here to learn more. 
11 IXL
IXL is for kids grades K-12.
Focusing on Math and English,
 IXL makes learning fun is through hundreds of virtual awards that reflect kids favorite animals, foods, places and hobbies.
While IXL comes highly recommended but I will admit my kids did not like it. Find out if it will work for your family here. 
12 The Very Hungry Caterpillar & Friends – Play & Explore
One of my favorite kids books is now an app filled with 8 games for preschoolers!
Your children will play eight learning games with the characters from Eric Carle's beloved children's books in this new app for iPhone, iPod, and iPad.
The Amazon app includes five language versions in a single app: English, French, German, Spanish and Japanese!
13 Hoopa City
Hoopa City is a fun building game for kids!
Hoopa City is designed with kids in mind, but people of all ages can build and have fun! And I kinda want to try it out since I love building games 😉
Encouraged to build any city they want combining roads, shops, schools, and even parks. Each building takes a special combination to create.  Click here to download. 
---
These apps are great to add to your favorite device for kids. Use them to keep kids occupied so you can help your older kids. Or us them as a reward at the end of a homeschool day.
It's a great way to let younger kids "do school" too!
What is your favorite educational app for younger kids?
Take care
Jen
PS. Another tool we love are using web tools for creating homeschool projects. Click here to grab a list of 25 web tools and get started today!
PLEASE PIN ME: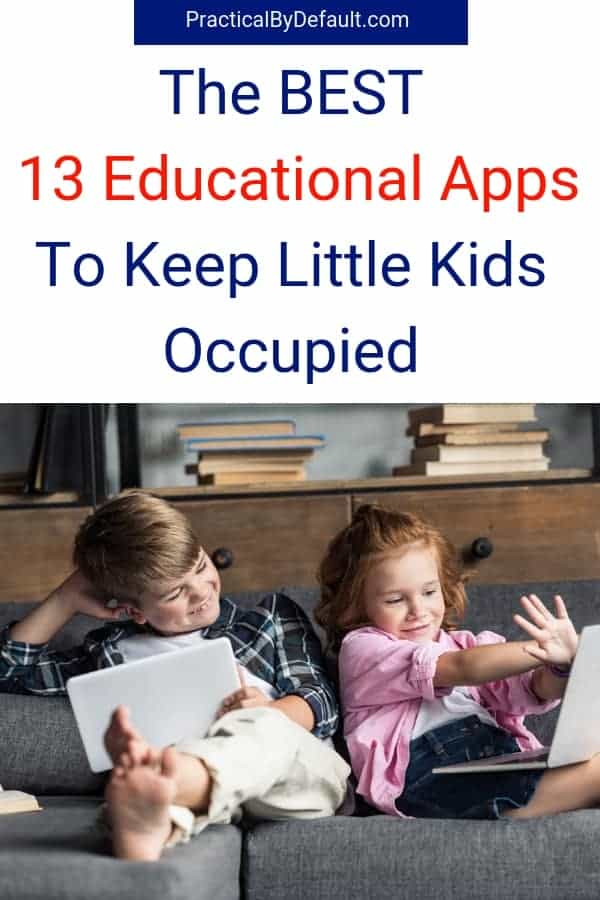 Hi, I'm Jen. I help working parents balance work and homeschooling by providing encouragement, support, and inspiration. You are warmly invited to Join the Online Community Here!