Disclosure: I may receive commissions for purchases made through links in this post.
Have you ever been standing in a room full of people who are talking about something but you have no idea what it is? You feel like you are on the outside looking in. You don't ask because clearly, it is common knowledge. Everyone knows but you.
This was me and Amazon Prime. I know crazy, right? I mean you probably know about it, use it, love it and never thought twice about someone not knowing about this "not so secret" secret.
Hi. My name is Jen and I live under a rock.
Which is funny but not funny since I love shopping at Amazon!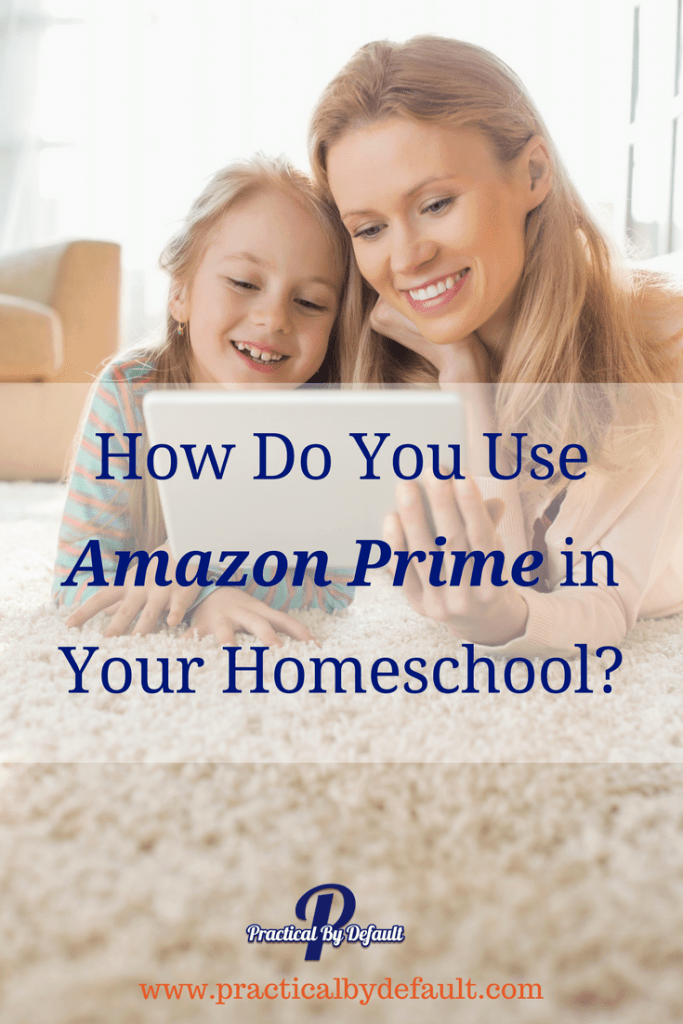 I buy most of my homeschool curriculum books, mugs, ear buds, camping gear etc…I love shopping at Amazon because they have everything. Seriously. As in everything including the kitchen sink!
If I can't find something I am looking for I get my husband to look and he finds it.
The cool thing is the products can come from anywhere in the world. The kids and I often check out the postage or the addresses and find them on the map. (Sneaky learning anyone?)
So today I am sharing about Amazon Prime and some of the great ways homeschool parents are using it to learn.
What is Amazon Prime?
Amazon Prime has a variety of services and departments. You can rack up major savings with free shipping, discounts, and free materials. Check out all of the features you get with your Amazon Prime membership . Or better yet you can test drive it for free for 30 days. I love trying out products and services first before investing.
I wanted to make sure that you knew about the awesome resources for homeschooling which is perfect for busy moms. Which you are, right? 😉
Here are just 5:
Prime Delivery: On select products, you can get free shipping, free 2-day shipping, and free same-day shipping in some areas.
Twitch Prime: A new feature, you get free video game content plus Twitch channel subscription. Save money with an exclusive discount on new release and preorder boxed video games.
Audible Channels: Enjoy listening to original audio series and playlists. Forget the kids this is perfect for your work commute.
Prime Photo: You get unlimited photo storage for you plus five other people. Another cool feature-search box to easily find pictures. Anyone else have way too many photos on their phones?
Prime Early Access: As an Amazon Prime member, you get access to lightning deals thirty minutes prior to start. This factor is clutch because lightning deals sometimes close before they even open! This could be a bad thing…ahem.
These features are awesome but let's get practical. How can we Amazon Prime in our homeschool, work, and life? 
Prime Video 3 Moms 3 Reasons To LOVE Prime!
One mom told me she loves using video in her homeschool. They signed up for the Great Courses through Prime and all the shows they can't find elsewhere that match their studies. They recently found a show about Gordon Ramsay traveling to India to learn how to cook Indian Food.
So then I had to go look. WOW! If you love using videos in your homeschool you are going to want to check this out. There is Science, Math, History, Fine Arts and more. My son is taking Cooking as an elective this year and with a quick look I saw many shows he might be interested in.
Why have I never known about this before?! It is even available in CANADA!! LOL
Another homeschool mom was sharing that Amazon Prime Video
makes watching videos less stressful for her kids. She is always concerned when using YouTube because of the ads. You just never know what will pop up. However with Amazon Prime, there are no ads! Win:win
A third working homeschool mom told me, "If you have Amazon Prime, you also get "Prime video" with TONS of workout videos that are free with Prime. You can even download some (free) and watch online after!"
Perfect if "getting in shape" was on your wish list this year!
Amazon Underground
A great source for free high-quality Kindle apps. I've shared some of those favorite apps before in our home. Apps are so helpful for me in our homeschool and life in general.
An entire selection of Educational apps at first might seem only for younger kids but I noted a few sure to catch my kids interest like Drawing Cartoons and Drawing Cartoons.
For me I saw some of my favorites like Flipp, a workout timer app (I love timers!), and a Daily Butt Workout …let's keep that one behind us 😉 Sadly Amazon Underground is not available in Canada as of yet but you can get many of the apps individually.
Prime Reading
I love to read and usually get my books at the library. The problem being, oftentimes I start a series and the next book isn't at my library. UGH! This is also a major frustration to my mini bookworms.
Books are not cheap and since we read them so fast I hesitate to really sink money in something to be read, tossed on a shelf and maybe never pulled off again.
E-books are cheaper. This is where Prime Reading comes in. Prime Reading gives you unlimited access to over a thousand books, magazines, books with Audible narration, comics, Kindle Singles, and more.
You can use any device to read them including your phone, tablet, or Kindle.
You can read any of these on your Kindle, or any computer or mobile device 
using the FREE Kindle Reading App from Amazon
! 
 I love this Kindle app it is on all my devices.
Prime Music:
This one is more for the woman in you than mom 😉 Sure your kids will love streaming their favorite music but the best way for me to unwind after work is music.
With
Amazon Prime Music
you get to stream your favorite music from a growing selection of over two million songs. Perfect for that drive home or for those of us that work at home, boogie dancing stress away in the kitchen.
Bonus: Teens hate this, ha!
Stop keeping secrets!
For the record, if you know about something amazing like this that saves you time and money or even if it is something you just love to death! Please tell me. And I'll do the same, deal?  Even if you think I know about it already..remember rock? 😉
Amazon Prime Day
This is a "thing". Another thing I am just learning about.
As you may know by now Amazon Prime Day is coming up on the 11th of July. Started in 2015, Prime Day is an annual deals event just for Prime members. On Prime Day, you'll find thousands of one-day-only deals.
This year you are getting an extra 6 hours to shop a total of  30 hours of shopping beginning 6pm PT / 9pm ET on Monday, July 10, 2017 – with new deals as often as every five minutes. 
Because it can get overwhelming be sure to get access the Insider's Guide. This guide contains great Prime Day tips and tricks that you will really appreciate.
I want to give a shout out to friends who decided to let me in on this well-known secret. I feel all elite now 😉
Tell me, how do you use Amazon Prime in your homeschool?
Take care
Jen
PS: Do you have your eye on anything special for Prime Day? I'd love to hear all about it!! I looove saving money and finding a great deal. If you aren't a member of Amazon Prime, sign up for the 30-day Free Trial today!