Disclosure: I may receive commissions for purchases made through links in this post.
This year I am determined to add in some "fun" into our homeschool. For this working homeschool mom finding fun, quick, easy to use homeschooling resources is a challenge.
Introducing the STEAM Kids book.
What is it? How does it work? And how can you use it to add some fun into YOUR homeschool?
*This post contains affiliate links to help support the cost of this site, at no extra cost to you, thanks for your support.
What is STEAM?
STEAM stands for Science, Technology, Engineering, Art, and Mathematics. You know, all those subjects that make us want to run to the hills. (Not just me right?)
Why do we feel like that?
For me, when I think back to my own education I don't remember much from those classes. Most of our "experiments" were read from a textbook, discussed and maybe diagrammed on the chalkboard and then we moved on.
Very little were hands-on experiments. Which is sad as this is where the real learning is. When you get to use all your senses to explore a subject, fail, troubleshoot, watch, touch, discover, learn and succeed. Then the "lessons" seem to stick for years.
This is the type of education I want for my children.
The real challenge for me is finding the time, the resources, the energy and of course finding a way to work around my wonderful stick in the mud children. (READ: this post on how homeschooling is not school at home except when it is to understand why I say that!)
STEAM Kids Book!
Which is why I am so excited to share with you this beautiful brand new resource STEAM Kids.
At the tip of your fingertips, you have access to 50+ hands-on STEAM activities plus a bonus STEAM Activity planner perfect for camp, school breaks, and homeschooling. STEAM KIDS is designed to help you inspire your children to:
Question like a scientist
Design like a technologist
Build like an engineer
Create like an artist
Deduce like a mathematician
 and –play like a kid!
STEAM KIDS is the plan and resource you need at your fingertips that will keep your kids engaged and learning without all the guesswork on your end. The book is filled with hands-on science, technology, engineering, art, and math inventions to inspire your children to engineer, create, design, explore and build the unimaginable. Learning while they play!
My Thoughts on STEAM Kids:
STEAM Kids so beautiful!
The photos are brightly colored and eye-catching. Each activity is broken down into doable easy steps to follow. Not sure what part of STEAM you are learning about? No guessing needed! STEAM Kids has you covered with a color coded system and explanations. Bringing the fun back to learning!
STEAM KIDS is designed perfectly (in my opinion) for busy homeschool moms. All of the 50+ activities use items you can find mostly around your own home.
Next, it is super easy to use, with step by step instructions that will not take ages to set up nor are they overly complicated. You do not need to be a rocket scientist to understand what you are supposed to do and how it works. This means the world to this working homeschool mom!
STEAM Kids also has a weekly planner in the back of the book along with shopping lists, field trip ideas, and a journal!  Below you can see a preview of the STEAM guide in the back of the book. Included field trip ideas, weekly planners, shopping lists, and even STEAM journal pages with tips for using them.
You can snag your own E-Book here! If you prefer the printed version, get your own copy from Amazon.com / Amazon.ca Are you in the UK? No  Worries! Get your copy here: STEAM KIDS UK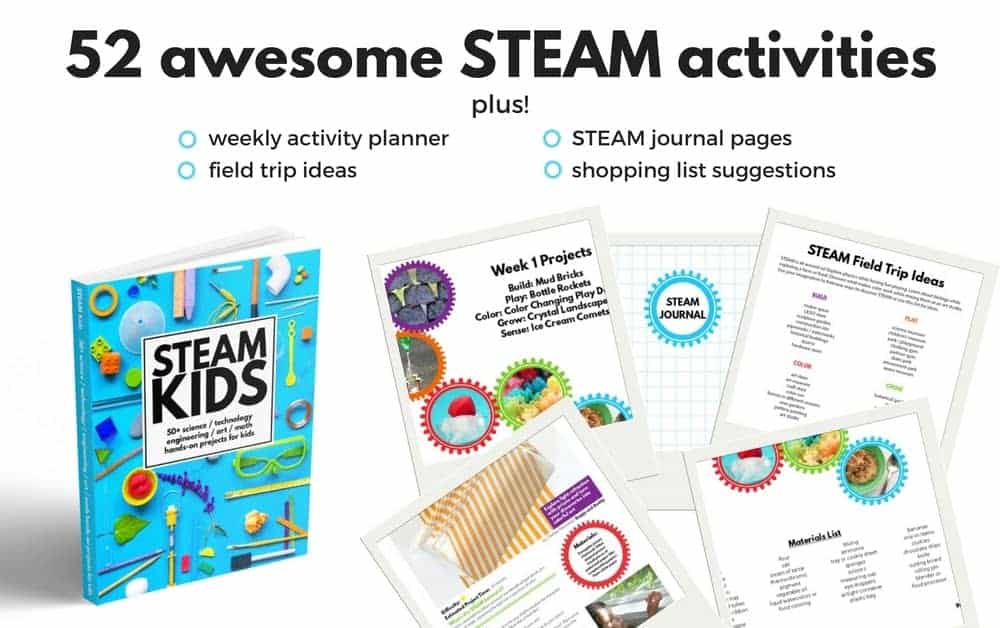 [bctt tweet="Add STEAM powered learning fun to your #homeschool with STEAM KIDS! #ihsnet" username="PracticalByD"]
How I use STEAM Kids To Add Fun Into Learning!
This year I am determined to work around my "stick in the mud children", add fun and sneak some learning into their homeschool day! How?
By having a plan of course!
For one I am giving them lots of time to work on their book work. My children thrive on routine. Therefore, instead of trying to add in STEAM activities into their designated school time. I am saving them for after school time fun.
You know, because then they are finished learning for the day! *wink!
The second thing I am doing is letting them have more choices in what they learn on their free time. When my children have a say in what they are being taught or what they are about to learn,  they feel more in control of their own education and for me, this is an important step.
I know I mentioned how bright and colorful this book is but you really won't understand until you see it yourself, or maybe I am using really dull books, I don't know. When I opened up the PDF download of this book and called my children over they kept saying, "it is so pretty!"
The next thing I did was tell them to go ahead and scroll through and pick two activities each they would like to try over the next month. I let them do this on their own reading and discovering and planning. I had to giggle (silently of course!) as they discussed what they thought would work best.
What My Children are Excited to Try:
Here are their choices. Although I have gathered the materials, including a huge old sign board that was being thrown out (recycle for the win!) for our "sidewalk" as we live in the country and do not have one, we have yet to try these out. This is our "wish list" for next month!
Dewi's STEAM KIDS Picks:
Dewi wants to try Rainbow Reactions (pg 28) which appeals to her artist heart. This activity covers three aspects of STEAM, Science, Engineering, and Art. Looking over the project I can see the difficulty, how long it should approximately take and quickly note what supplies we will need to buy (very few if any). It looks messy but fun!
Dewi chose Color Changing Play Dough (pg 31) This one covers Science and Art and I am so happy she chose it because it instantly grabbed my attention. I really want to play with this one never mind the kids!
C's STEAM KIDS Picks:
C chose Pendulum Painting, (pg 52) which is quite a surprise as he is not crazy about painting at all! This activity also covers Science, Engineering, and Art but can be extended twice. This means you can add on to the experiment for more learning fun. I love how the questions or activities are right there. I don't need to stress about how to make it more engaging.
C also chose the Hare and Hounds Game (pg 60) which does not surprise me in the least. C is a math loving guy and loves to solve puzzles and is very logical. This activity I guessed would be one of his first choices. He is also thrilled the rules are right there!
Those are the activities we plan to try over the next month!
I love how having this book makes me feel like I have a plan to not only teach my children but bring some fun and color into our homeschool!
How are you adding STEAM into your school year?
Grab your own personal E-book copy by clicking on the banner below! Or purchase your printed copy at Amazon.com / Amazon.ca or STEAM Kids UK
Disclosure: I was provided with a digital copy of this book in order to provide my personal opinion on the book in exchange for an early copy. I have to admit I was blown away by this book, the beautiful photos as well as the easy to use format! We are excited to use it in our homeschool and hope you enjoyed this post! 
Hi, I'm Jen. I help working parents balance work and homeschooling by providing encouragement, support, and inspiration. You are warmly invited to Join the Online Community Here!