Black Friday Sales are getting more and more popular. They seemed to have made the jump into Canada although thankfully not quite to the level of the US.
For those of you not familiar with Black Friday it is the day following Thanksgiving Day in the United States. This year Thanksgiving is the 23rd of November.
Black Friday kicks off the beginning of the Christmas shopping season in the U.S., and most major retailers open very early and offer promotional sales. (source Wikipedia )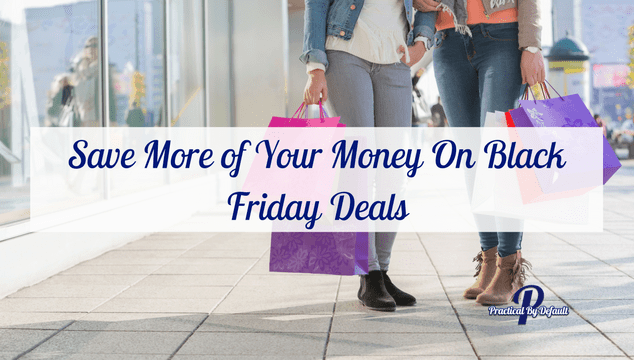 We've been in "save every cent" mode for a long time. We managed to pay off all our credit card debt. Yay!
Which is why I love hunting around for sales, discount codes, flash sales, freebies and more! All of these "savings" add up!
Since keeping these savings to myself is just plain mean, I am sharing a few tips to keep your money in your pocket this Black Friday.
Saving Money on Black Friday
These tips will work for any "sale season such as Cyber Monday, Small Business Sunday, Back To School Sales etc. Don't you just love that?
Have A Black Friday Wish List:
In order to keep yourself from being sucked into every single deal that you "don't want", keep a list of items you DO want to buy. Then stick to it.
I like to use a note on my phone and I keep a list of larger items and gifts I want to buy. This allows me to check prices all year around as sales come and go.
Research Early:
Make sure you know not only what you want but the size, brand, and features you are looking for. Take note of the regular price. Some "sales" are actually higher than the regular price.
By knowing what the must-have items on your shopping list typically sell for allows you to judge how large your savings will be during Black Friday sales.
If the sale isn't good enough, then wait. Something better might come along.
Shop Early:
Some of the best deals happen before Black Friday.
This can be tricky because you aren't sure if there will be a better deal later or not. I wish I could give you an answer but I can't. 🙁
What I can say is ask:
How much you wanted to pay?
How much are you saving off the regular price?
Here is a great example:
I've had my eye on Love with Food for a while now. I have a snack problem 😉 I think this might be the answer…I am trying to get my husband to buy this for me. Ha!
Right now they have a great Pre-Black Friday Sale. LOVE WITH FOOD PRE-BLACK FRIDAY SALE: Save up to 20% and GET up to $35 worth of FREE snacks! Ends 11/22
Notice it ends the 22nd of November? Will they have a better sale after? I am not sure. So keep an eye out and do what you think is right!
Make Use Of Loyalty/Cash Back Rewards:
If the item you want is on sale at both stores for the same price, take the one offering a cash back reward.
We shop at a grocery store that offers Air Miles and one that offers a "points card" on certain items depending on the week. If an item we are going to buy anyway is the same price we choose the one that gives us the most for our dollars.
By doing this we've saved $260 dollars this year alone. On items we were going to buy anyway. It adds up.
This same principle applies to Black Friday.
Make sure if you are planning on shopping online to sign up for Ebates.
You can save when you shop online at all your favorite stores including Amazon and Walmart! This website actually pays you Cash Back every time you shop online and it's free to join! If you haven't signed up click here and get started.
Also available in Canada! Ebates.ca works with over 750 stores that ship to Canada including Indigo.ca, Amazon.ca, eBay, Old Navy, Forever21 and Groupon. You can get started here.
Pro Black Friday Tip:
Make sure you download the app if you shop on your mobile device. This will help you find bonus cash back savings. For example, right now my Ebates says Amazon has 71 Amazon Coupons Up to 6.0% Cashback as you can see in the screen shot below.
Since I shop mostly on my computer I use the Chrome Extension, which you can get after you sign up, as there is one for .ca and one for .com.
Make Social Media Work For You
Are you on Twitter, Facebook or Instagram? Use these platforms to help you find deals and discount codes to save even more money on Black Friday Sales.
Be sure to like and follow the accounts of your favorite retailers and bloggers. This will provide a "heads up" on sales.
You can find me here: Facebook , Instagram and Twitter.
Sometimes bloggers will be given discount codes to share with their readers ahead of time.
For example:
Little Passports has given me EXCLUSIVE early access to their Black Friday Sale to share with you. You can take advantage of the early access starting today, 11/18/17. Use code: SAVE60 at checkout. Click here to shop all the boxes.
As you can see this promotion is valid online only at www.littlepassports.com. To redeem enter code SAVE60 at checkout.
Other information you will want to know: The 60% discount is valid on new subscriptions only and cannot be combined with any other offers and/or applied retroactively to previously placed orders. Offer applies only to the first month of subscription, excluding shipping and taxes. Offer not valid on non-subscription items. Offer valid from November 16, 2017, at 12:00 AM EST to November 28, 2017, at 11:59 PM EST
Do You Have An Alexa?
This was an interesting tip! According to Forbes.com, you can ask Alexa to tell you about Black Friday sales and she will tell you. So make sure to ask her before you head out. (source)
I am not sure if it works with an Echo or the Echo Dot, but if you have one be sure to test it out!
Use Wishlist Features Or Carts:
If you create a wishlist on Amazon, Amazon will email you when that item goes on sale. I know because both myself and my husband use this feature all the time to get sales.
Another idea is to put the items you want in your cart
. Last year I put books in my cart at
Christainbook.com
and they emailed me to send me reminders and tell me about sales.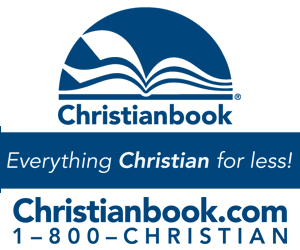 When using carts some sites will see you're sitting on an item. They just might send you a discount in order to encourage you to buy it.
Use Apps to Save:
Since most of us shop online having apps to help us find the best deals going. We already talked about Ebates, you did sign up, right? 😉
Other apps you might want to check out are:
I've used these apps:
Others that have been recommended:
Sign Up for Newsletters
When you sign up for newsletters many companies will send you discounts or incentives to shop.
For example:
I signed up for the Nature Box email because I think they will be the perfect solution to my "I need gluten free snacks to grab and go!" problem.
I really want to try them out but haven't bit the bullet yet. I have gotten several emails with different incentives to buy such as "free gift" or certain percentage savings.
When you visit the site, you will see this box pop up which offers a free gift. (See below)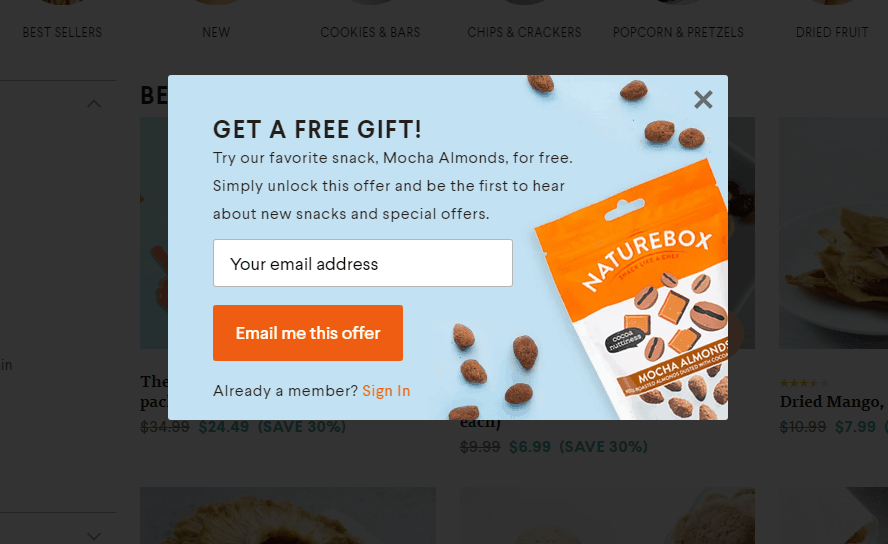 If you sign up they will tell you how to access this free gift and they will email you about any sales they have going on. Neat huh? Sign up here to see what I mean! 
Many other stores will do this as well. Which is great for subscription sites where sales are usually for "new subscribers only" but they will send other sales to those already on their lists or to get them to sign up again.
One example of this is Little Passports. The sale above, see where it says "The 60% discount is valid on new subscriptions only"?  If you are already a subscriber they will send you different sales, discounts, elusive holiday deals and fun DIY activities from the blog. (see photo below!)
Those DIY things are super cool. I know because I get them 😉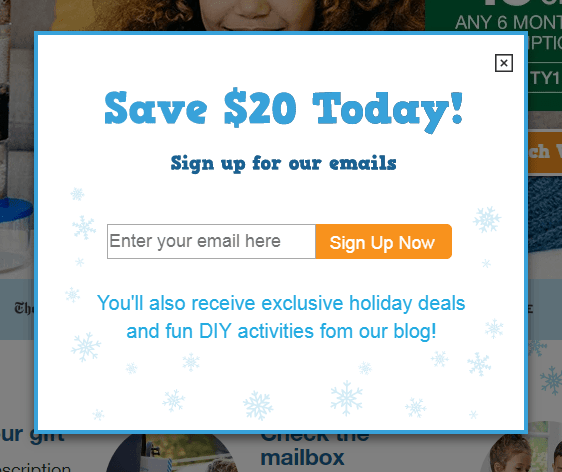 So make sure you sign up for the email list to get notified of sales.
Pro Black Friday Tip:
As a blogger, I get tons of emails because I am on a lot of email lists. 😉 In order to keep my personal friends and family inbox from getting crowded I created a "junk inbox" email address. You can do this too. Both Hotmail and Gmail are free!
How Will You Save Money On Black Friday?
You know what is great about all these tips? They are perfect for year round, not just Black Friday. I use most of these things every time I have something big I want including my Instant Pot, just ask my husband. Ha!
What is your favorite money saving shopping tip?
Ready to shop? Read : Top Black Friday Sales for the Working Homeschool Mom
Happy shopping!
Jen
PS. These same tips can help you save money on homeschool curriculum. For more information be sure to read: You REALLY Can Homeschool on a Budget