Deciding to homeschool or not can be a tough call. Maybe you are wondering if you have what it takes to be a homeschooler?
When people hear I homeschool many objections as to why they "could never do that" seem to come up.
The most common objection I hear from parents is that they are lacking some quality or skill to teach.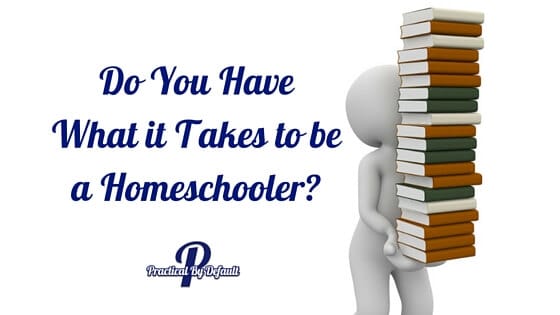 What do you really need to be a homeschooler anyway?
Let's find out what I think is the most important quality you need to be a successful homeschooler. As well as other homeschooling parents say!
Being a homeschooler is your decision:
Before I get to what you really need to be a homeschool parent I want to clarify that this decision is truly yours, and yours alone. While I believe with my whole heart and soul anyone CAN homeschool-not everyone should.
Homeschooling fits with my family and works for us. This does not mean it will work for everyone which is why I never ever tell anyone they should homeschool. 
What I Think it Takes to be a Homeschooler:
The number one thing, in my opinion, in order to homeschool is a love of learning. 
Why? This is because homeschooling takes a lot of research, be it curriculum needed, how your child learns, what you want to teach, what you need to teach and more. Therefore, you need to learn as the home educator.
If you love to learn, it makes finding that information a joy instead of a chore.
Also, if you are excited to learn the topic being discussed your enthusiasm will transfer and ignite a love of learning in your children.
Have you ever tried to learn something from someone who hates what they are trying to teach you? They drone on and on in a boring, bland and monotone voice. You almost fall asleep.
Are you excited to learn? Nope! You are excited when it's over. Ha!
So simply put, if you are excited to learn about the subject, so will your children!
Make Learning Fun-For You!
Let me share with you an example. My children are not crazy in love with Audio books. They are "meh" as my kids like to say. Basically take it or leave it.
I understood as I felt the same way until I discovered Around the World Stories! I was so excited.

How it works: You get one story a week along with "done for you" questions, activities, maps and more! I pick up the ingredients or extras I need on Saturday and I am set for the week.
So far the kids haven't run from the room. They aren't jumping up and down with excitement but they are teens! My excitement encouraged them to try it out and see 🙂
Therefore, my number one thing you must be in order to be a successful homeschooler is a love of learning.
Do YOU have what it takes to be a homeschooler? Find out here!
Click To Tweet
What Others Think it Takes to be a Homeschooler:
Of course, what good would this post be without some other opinions besides my own? I am so excited to say a few other willing and awesome homeschooling parents are chiming and offering what they think it takes to be a homeschooler.
So read on, be encouraged and if you love what they had to say, let me know!
What do you think it takes to be a homeschooler?
"An ability to be flexible, because the lesson plans will not go the way you thought."
Ticia
Adventures in Mommydom
"Not expecting perfection. If you expect your kids to be clear-headed, obedient, and hard-working with a happy heart every day, you will likely be disappointed because real life is real life. Enjoy the few days that everything goes as planned."
Susan Evans 
"A desire to work and learn together with your kids…side by side; relishing the good times, working through the bad, and cherishing it all as the treasure that it is!"
Pat Frenner
"You need to be flexible and resourceful because both the time and materials you use may not go the way you envisioned."
Shannen


"A willingness to listen. Homeschooling will be much more successful if we become students of our children and listen to what they have to say. And as our kids get older, we must be willing to ask for and listen to their feedback about curriculum choices, books, and even subject matter. We need to remember that we are educating unique individuals with various needs and desires – who will go on to fulfill whatever purpose God has for them on this earth."
Michelle Caskey
Homeschool Your Boys
"You need a natural curiosity, a love of learning, and a sense of humor. Also, coffee helps!"
Caitlin Fitzpatrick Curley
My Little Poppies
"A homeschool parent needs to be flexible and adaptable. As you go along your homeschool journey, you'll likely discover things that work better for your individual children – different schedules, different styles of learning, or even special needs solutions- and will need to adjust your own thinking about how things need to be done."
Michelle Cannon
The Heart of Michelle
"You need the ability to laugh and see learning through your child's eyes. You need to be able to relax and realize that you don't have to teach everything in one year. You need grace for your children and for you. Caffeine and chocolate are a great help too :)"
Aurie Good
"I think it is important to never take yourself too seriously yet take your children's education very seriously; to understand that love goes a long way to easing most problems; to compromise, compromise, compromise – this is the children's education and not mine so I seek to allow them a lot of freedom.
Because of this, we rarely come to logger heads over anything because I always believe there is a compromise to be reached where both parties can go away happy and contented with the outcome.
Also, teach your children to love learning, to love hard work and to appreciate a good job done. If they can do these things they are set up for life, whether their goal is to be a stay at home wife/mum, a vet or a belly dancer!"
Claire angelicscalliwags.com
You DO have what it takes to be a homeschooler!
As you can see everyone has their own idea of what it takes to be a homeschooler.
Wrap up points are:
Love of learning
Flexibility
Not expecting perfection.
A desire to work and learn alongside your children
Resourceful
Willingness to listen
Natural curiosity
Sense of humor
Coffee (I agree!)
Adaptable
Relax
Grace
Chocolate (again, I agree!)
Compromise
Did you notice what isn't in the list above?
Perfection. Not making mistakes. It's ok to make mistakes, it is ok to not know, it's more than ok to change directions, change programs or skip and chuck out things.
Question for you homeschoolers out there: What do you think it takes to be a homeschooler? Let me know in the comments below!
Take care,
Jen
PS. Are you are just starting out and wondering what the number one thing that any homeschooling parent should know? Then you are going to love this, read: The One (or 50) Things That You Need To Know As A Working Homeschool Mom It makes my heart happy! Enjoy!