Disclosure: I may receive commissions for purchases made through links in this post.
Are you looking for STEAM / STEM activities for older kids? Grab these STEAM/STEM activities, projects, kits and books for teens and add learning fun to your homeschool today! 
It all started with a bright blue book and a company asking for a review.
A book I spotted, desperately wanted to play with and quickly dismissed because I have "stick to the textbook" kids.
I've always been slightly jealous of those moms who share the newest amazing project created in their homeschool day, while my kids flat out refused to play.
Sigh.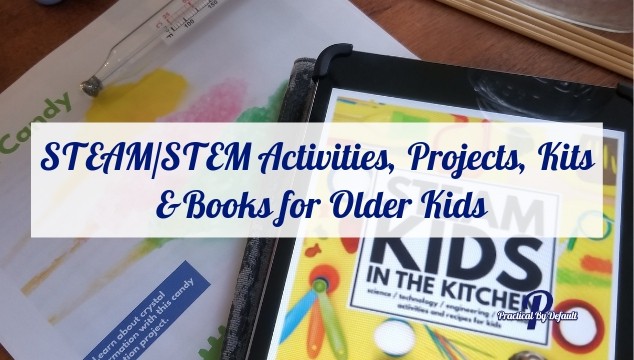 Teach the kids you have, right? And this is great advice.
Along with stop comparing. But you know what I really want to do? Exploring, trying new things, and getting inspired.
I got a little sneaky 😉 Which is vital when dealing with change-resistant kids. The trick is to make them think it is their own great idea.
I brought up the cover on the screen and asked the kids to come here and take a peak. One look at this beautiful book and they asked me to get it.
Never underestimate the power of a book. It might just change your homeschool forever.
This book launched us on a journey to learn what is STEAM/STEM and how to include it in my homeschool.
We started our journey with the Original STEAM Kids and you can read about that here.
Next, I started to invest in science subscription boxes.
Now we do a mix of cool books we have, subscription boxes, and whatever new things I see around the web.
What Is STEAM/STEM:
STEAM stands for Science, Technology, Engineering, Art, and Mathematics. You know, all those subjects that make us want to run to the hills. (Not just me right?)
STEM stands for Science, Technology, Engineering, and Mathematics.
STEMist is an explorer, creator, inventor.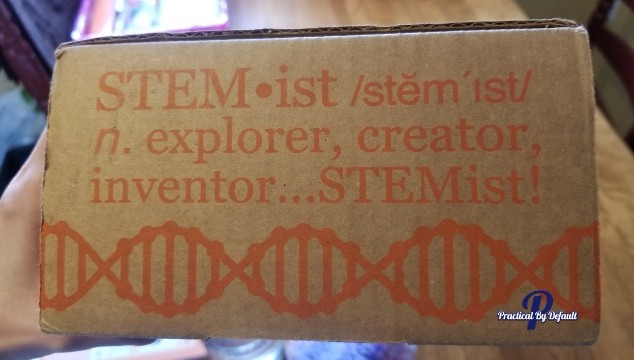 "STEM embraces the 4 C's identified as key in 21st Century education: Creativity, Collaboration, Critical Thinking, and Communication." – Steam Powered Family 
Why I Started To Include STEAM/STEM Activities
The reason I've worked so hard in the last few years to include STEM/STEAM is because it encourages my kids to think, ask questions, problem solve, get involved in the process, and have fun.
I noticed a big change in both of my kids after including these activities in our homeschool. My kids would love to just have the answers provided and because I am busy it was just easier to do so.
But I was failing my kids. They weren't learning to figure things out on their own. This spilled over into LIFE.
My son couldn't figure out how to open a bacon package because no one told him how to do it?! ← true story. That was my wake up call.
Enough was enough.
I stopped answering all the questions. I backed off and let them figure it out. AND I took action by making sure we had a lot of opportunities for them to practice these skills in our homeschool and life.
Basically, I shut up and sat down 😉
Here you can see our Candy Science from the STEAM KIDS in the Kitchen book. It is our newest STEAM KIDS book and we really like it, especially my kiddo that loves to bake.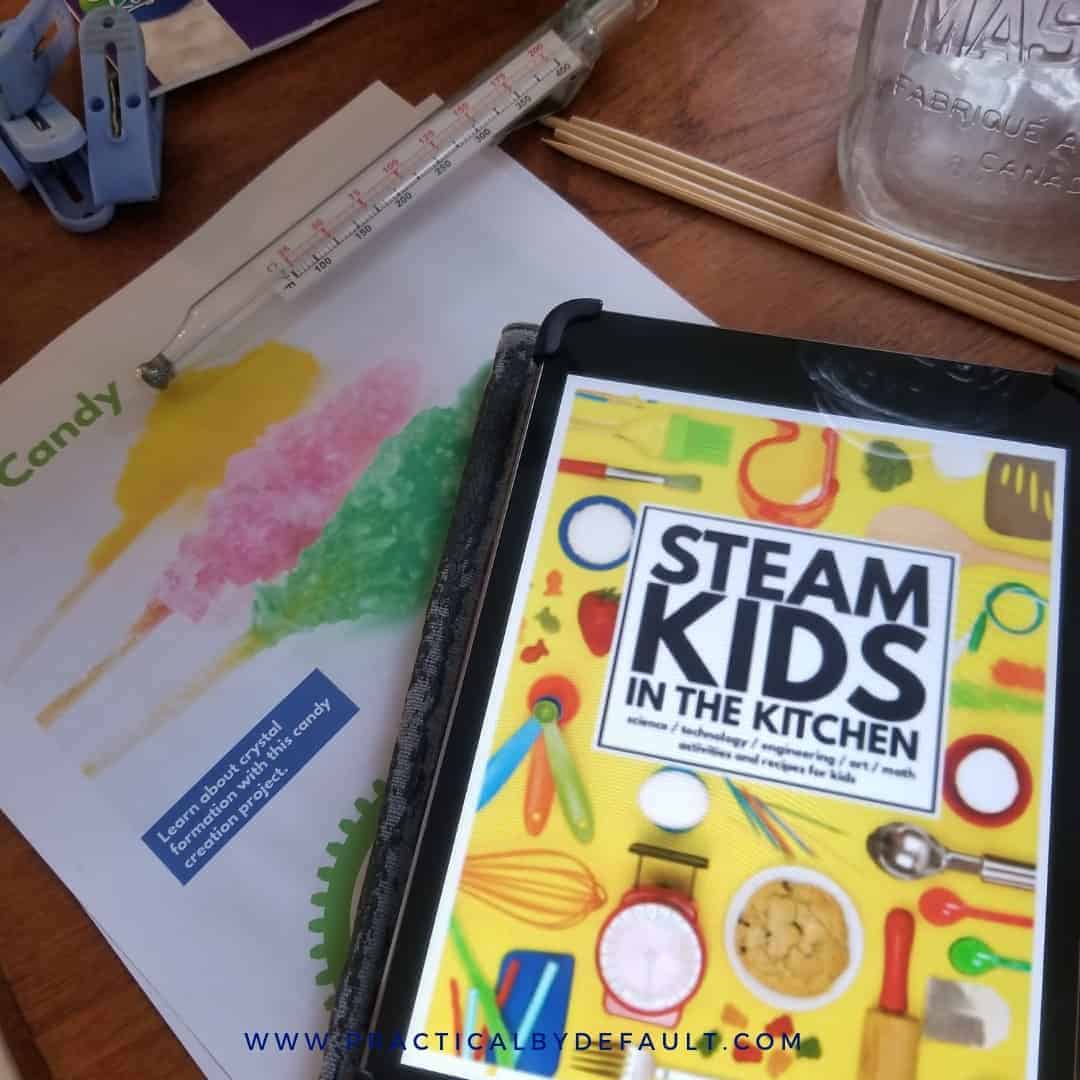 They had to do quite a bit of problem-solving and I love that they did it in ways I would never think of.
And I loved that they learned what happens if the stick touches the bottom 😉
How fun to get science you can eat!
How We Fit STEAM/ STEM Activities In Our Homeschool
My kids need a schedule. They like to know what is expected each week and they love checklists.
Which works for us since I also have a pretty demanding schedule that is not very flexible.
Adding something new and fun ended up being the challenge of fitting it in without overwhelming myself or the kids.
I started with my reason for wanting to do it.
What would be my goal?
Adding fun.
Letting the kids learn and explore something new.
Connecting with my kids.
As a busy mom, finding ways to buy out time to spend with my teens is not always easy. All of us are busy and running around.
I didn't want to add "another thing" to our schedule.
This is how we added in STEM/STEAM and kept the overwhelm at bay.
We ended up swapping one "science block" a week for a STEAM activity.
We choose one day a week and aim to limit it to a one hour block.
Take our time and focus on learning while having fun!
Which means one subscription box or kit will last a month for us.
A book or project can last several months.
We dig out food, drinks, settle in to learn something, and have fun.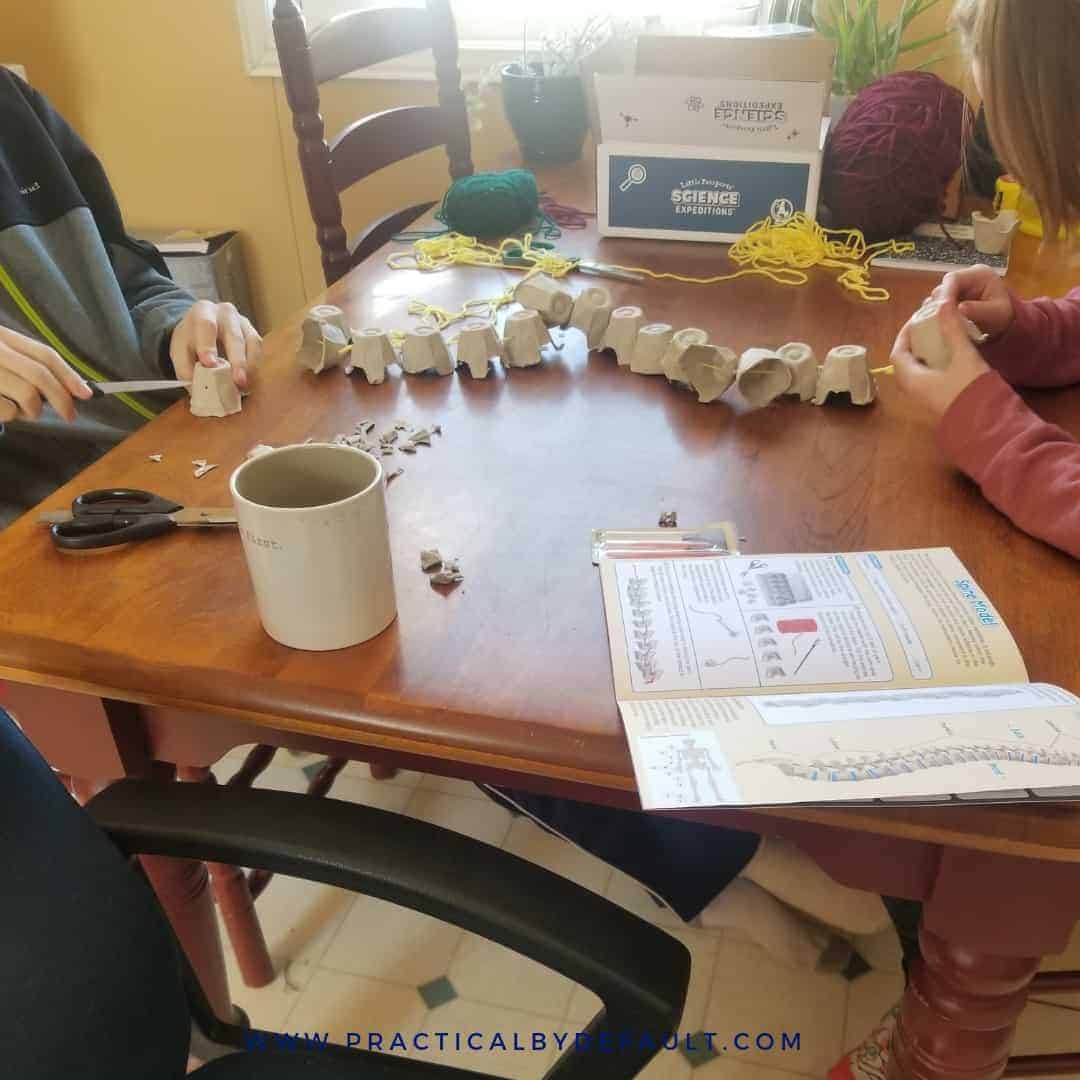 Why I Love Adding Hands-On STEAM / STEAM In Our Homeschool
My favorite part of doing these fun activities with my kids is that I get to connect and learn right along with them.
I also love how we get to explore topics that we would otherwise miss.
Great topics such as:
Caves and Crystals
Solar Energy
Northern Lights
Bones
Space
Geology
Science of Magic
Electricity
Food/Candy
Just to name a few!
Sometimes I need to throw out some great questions to get my kids thinking and talking. Dayna has a 10 questions printable here you may want to check out for getting started with Science.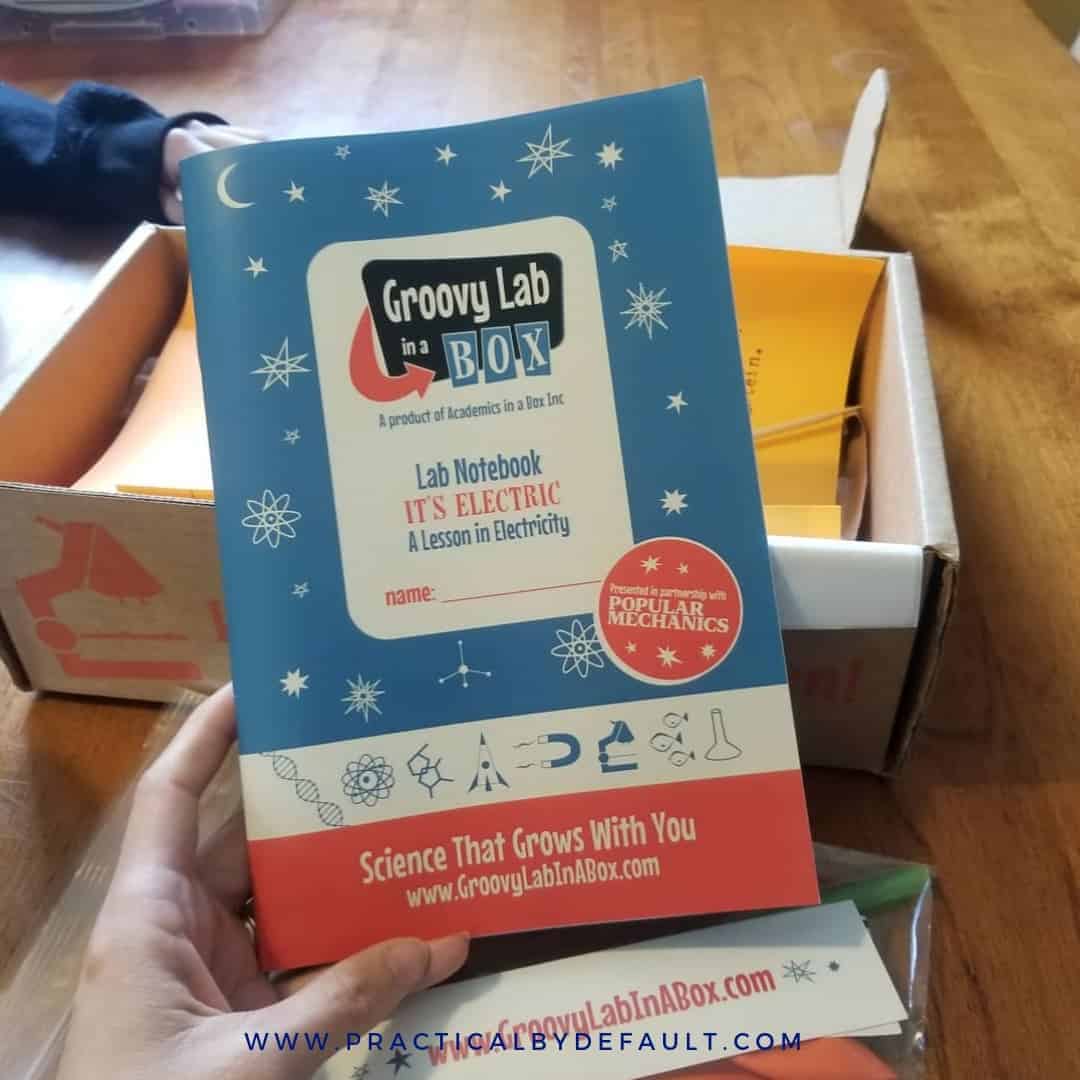 Check out Groovy Box Lab here. 
STEM/ STEAM Resources For Older Kids
Now that you know why STEAM and STEM are important for kids of all ages. You need the "what to use" part.
As a busy mom, I love it when someone else does the work for me 😉
That is why I am sharing some of the resources I've used or that came highly recommended to me. 
This makes it easy on you.
Scan the list below, take note of anything that might be fun to add to your homeschool program OR that you know your kids will love.
Hint: I like to create a list in Amazon so I can check them all when I am done. Here is an example of one of my "Amazon Lists" so you can see what I mean.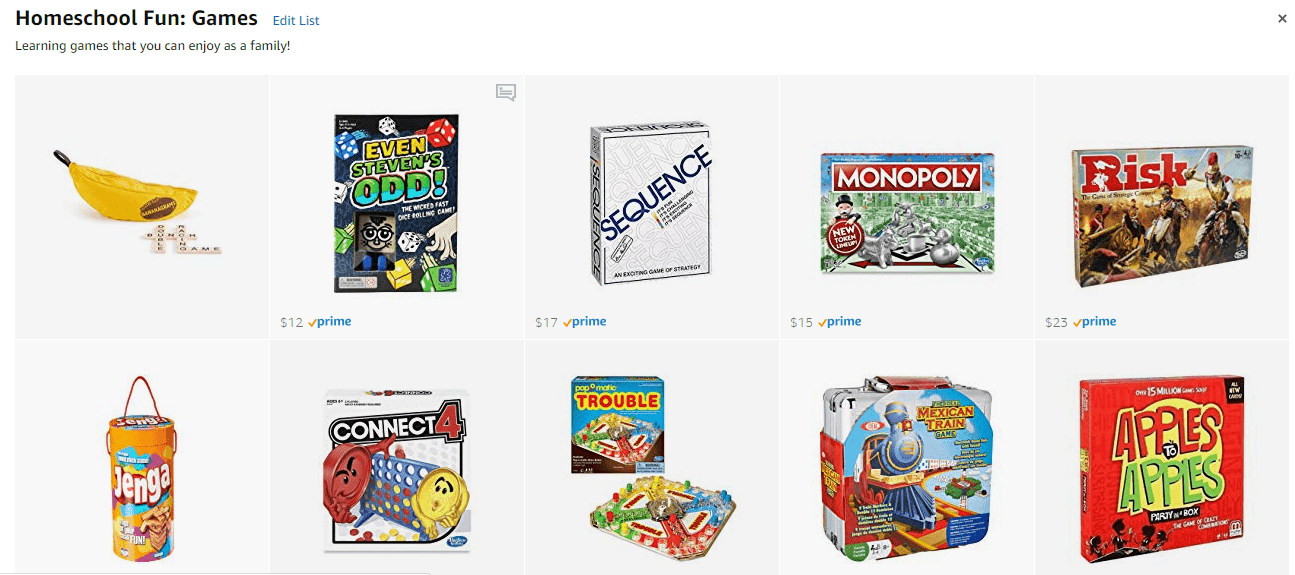 This one is for Homeschool Fun & Games.
For the record, this is not our "main science" program. Three days a week they work on the science program they choose.
I am stating this because some of these activities clearly state they are for younger kids. Or they do not seem to be "high school level".
For me, that is fine. We do it as an added bonus. Plus, you can always add to the programs by digging deeper into anything that catches their attention.
I use them to have fun AND learn. Not to just check off boxes. You do what works for your family.
That said, all of these are aimed for older kids. 
STEM/STEAM Subscription Boxes
Subscription boxes are one of my weaknesses. I LOVE them.
It's like a gift to me because everything is done for you and arrives at your door.
1. Science Expeditions from Little Passports:
Perfect for teens who like to build, learn, discover in science. Give your kids the world! The best kits inspire the imagination and keep kids interested and engaged. That's exactly what you get with Little Passports monthly subscriptions!
Science Expeditions 
is designed for ages 9 and up, reveal mysteries of the world through science experiments & activities.
You'll find our written thoughts on this box along with the unboxing videos of all the boxes we have received here: Science Expeditions. 
2. Groovy Lab in a Box
They provide boxes full of everything you need to learn about and do hands on science, technology, engineering, and mathematics (STEM) experiments for ages 8+.
They do ship to Canada and the box even comes with a section called, "Beyond the Box" which outlines ideas to do the box activities as a STEM Team of four. You can find out more here! 
We are still in the middle of our first box from them. You can watch the unboxing video below to see what came in our box:
Or
click here to watch it on Youtube
.
3. STEM Lab Deluxe Box
For those who are not familiar with the Science Club, from Steve Spangler here is a quick overview:
The Spangler Science Club was designed to inspire the next generation of scientists. They focus on hands-on learning through experiments and inquiry-based activities.
They currently offer 3 different subscription types:
STEM Snack
STEM Lab
STEM Lab Deluxe (this is the one I'm unboxing below)
Each month you receive a box filled with the science tools and resources you need to conduct fun, hands-on experiments at home.
Below you'll see an unboxing video of our first STEM Lab Deluxe Club Box!
4. STEM Club
STEM CLUB from Amazon was introduced to me by a mom in The Working Homeschool Mom Club. Her daughter absolutely loves them!
Don't you love it when those who use the products tell you how awesome they are? I sure do!
How it works:
Delivered monthly to your door hand-picked Science Technology Engineering and Math (STEM) toys encouraging your child to learn through play.
There are 3 different subscriptions sorted by 3 age groups: 3-4, 5-7, 8-13.
You get to keep the toys sent to you. If your children are of multiple ages you may want to have subscriptions to more than one age group and you can skip delivery on any month that you do not want the item(s) offered without having to cancel the subscription or having to restart it when you want to receive another shipment.
One thing I love about shopping at Amazon is being able to read the personal reviews. Click here to do that.
Not available in Amazon.ca
5. Tinker Crate Subscription Box
Tinker Crate is from KiwiCo, which currently offers 6 different boxes for different age groups.
With this crate you get:
All the materials you need to do the project.

Easy-to-follow step-by-step instructions.

Detailed instructions with design inspiration

Video Tutorials
The Tinker Crate is a subscription box is designed for ages 9-16.
We have this one on our list because again, everything comes in the box and I've heard amazing things about it. You can read how Dachelle's kids use it here. 
The Doodle Crate is designed for ages 14+.
With this crate you get:
All the materials you need to do the project.

Easy-to-follow step-by-step instructions.

Detailed instructions with design inspiration

Video Tutorials
STEM Kits on Amazon
I love buying on Amazon because Amazon Prime makes it fast and easy. Delivered right to my door 😉
1. Tinkering Labs Electric Motors Catalyst STEM Kit.
This kit comes with challenge cards and everything you need including 50+ pieces needed to complete the challenge.
A great way to introduce your kid to robotics, electronics and more! This kit is designed for ages 8+.
Check it out on Amazon here or Read Annette's review here of what her son thought of it.
2. littleBits Kits
These kits have great products and wonderful reviews. Some local libraries are even stocking them up for the kids.
Encouraging kids to problem solve, build and create.
Here are a few fun examples:
This one comes with step-by-step instructions for 8 inventions, 1 challenge, and inspiration for thousands more.
littleBits Star Wars Droid Inventor Kit
For your Star Wars fan!
Your teen can "now create their own Droid and bring it to life using littleBits electronic blocks! With the free Droid Inventor app, kids can control their Droid, give it new abilities with easy block-based coding, and take it on 22+ missions." – Amazon 
One of the best seller items on Amazon this game contains 60 challenges from beginner to expert, a game grid, 9 towers, 1 target piece, and 3 marbles, designed for ages 8+. Perfect for those of you who are gameschoolers.
4. Sphero SPRK+ STEAM Educational Robot
These look amazing for kids interested in Robotics.
SPRK+ is Sphero's complete educational robot designed to teach programming and problem solving through hands on activities. Designed for ages 12+.
Don't forget you can add them to your cart or wishlist on Amazon. The great thing about doing that is when the item goes on sale, they will send you an email. It's a great way to save money.
5. Snap Circuits
These have been on my list for a while. The great thing about shopping at Amazon, is you can sort your search by age.
My kids love Lego and this looks like a great way to add STEM to their building activities.
Here are a few kits that have caught my eye. 
Snap Circuits BRIC: Structures ~ Brick and Electronics Exploration Kit
This one has over 20 STEM & Brick Projects.
Complete with 20 Snap Circuits Snap modules 75 bric-2-snap adapters over 140 fully compatible building bricks full-color, easy-to-read idea manual appropriate, ages 8+. You'll need 3AAA batteries, not included. 
Snap Circuits Snaptricity Electronics Exploration Kit
Contains over 75 projects for your kids to explore. Ages 14+

Projects relate to electricity and magnetism and how they are used in the home

Includes: meter, electromagnet, motor, lamps, switches, fan, compass, and electrodes

Includes 40+ parts

No tools, everything snaps!

6. Lego Chain Reactions
This Lego Chain Reaction Set comes with two step by step instruction books and building pieces.
This kit includes:
Set of both Klutz LEGO kits: 2 books and LEGO pieces
Chain Reaction Kit has 33 LEGO unique pieces, 6 plastic balls, string, paper ramps and other components
Crazy Contraptions Kit includes 105 LEGO bricks, gear & axle, all you need to create 16 unique projects
And two photo guide books
According to the reviews great for age 8 and perfect for gifts!
7. Engino
These kits are for ages 8 and up. Engino has kits for mechanics, levers, linkages & structures. Focusing on bringing complex designs into simple focus.
According to the reviews, these kits are great for 12+ both in a homeschool setting or classroom.
By the way, the reviews are a great place to see inside photos and find out more about each item.
Here are a few kits that came recommended:
Engino Discovering Stem: Levers, Linkages & Structures Building Kit
Your child will build 16 working models such as a seesaw, a movable weight scale, a wheelbarrow, a parking gate, a toy with moving figures, a panto-graph and two types of linkages and 8 structures.
Comes with 14 pages of theory and facts, a 4 page quiz, 7 pages of experimental activities illustrating uses of levers and linkages.
Engino Discovering STEM Newton's Laws Inertia, Momentum, Kinetic & Potential Energy Construction Kit
Your child will build 8 working models such as a catapult, balloon powered plane, Drag racer, crash car and more.
This kit includes 12 pages of theory and facts, a 3 page quiz, 6 pages of experimental activities illustrating Newton's Laws, 16 pages of step by step, 3D rendered illustrations.
STEAM & STEM Books
Is there anything better than learning from a book? I love the color photos, flipping through and discovering what's inside, and having them on hand whenever I need them.
My problem with Science books is that sometimes I don't have the materials on hand that are needed. This is the downside of living in a small space.
That said, with a little planning, a list, and a lot of reminders we have had a blast with books. E-books are a great option if you need the space and to save money but I'll admit I'd rather hold the book in my hand.
1. STEAM KIDS
I love and highly recommend the STEAM KIDS books. They use everyday items or easy to find items locally or online.
They break down each step in an easy to understand format. Although the age requirements are 4-10 I would recommend reading reviews and deciding for yourself what will work for your kids and won't.
I currently have ages 14 and 16 who both enjoy digging in, learning, and having fun.
My only regret is I got the PDF copies and wish I had purchased them from Amazon. If you want the PDF copies you can get them here at STEAM KIDS Store. 
STEAM Kids in the Kitchen: Delicious, Hands-On Science, Technology, Engineering, Art, & Math Projects for Kids (STEAM Kids Books)
STEAM Kids: 50+ Science/Technology/Engineering/Art/Math Hands-On Projects for Kids
2. Maker Lab: 28 Super Cool Projects
This book provides a step-by-step breakdown for each of the 28 Super Cool Projects and is appropriate for kids ages 8–12.
It also includes ranks each project as easy, medium, or hard, with an estimated time frame for completion.
Using all "household materials, young makers can build an exploding volcano, race balloon rocket cars, construct a lemon battery, make sticky slime, and more. " –Amazon 
3. STEAM Lab for Kids: 52 Creative Hands-On Projects for Exploring Science, Technology, Engineering, Art, and Math (Lab Series)
This book, STEAM Lab For Kids, caught my eye for my creative kid. I love to find ways to encourage her to connect art, something she loves, to math, something she doesn't.
"Each of the projects in this book is designed to demonstrate that the deeper you look into art, the more engineering and math you'll find. There's a science to great art. From graphite circuit comic books to edible stained glass, young engineers and artists alike will find inspiration. " – Amazon description.
4. The Everything Kids' Science Experiments Book: Boil Ice, Float Water, Measure Gravity
These books are amazing. We've always enjoyed The Everything Kids series throughout the years because they use everyday household items and explain everything so well.
They also include great thought-provoking questions.
Such as:
Is it possible to blow up a balloon without actually blowing into it?
What is inside coins?
Can a magnet ever be "turned off"?
5. Science in Seconds for Kids: Over 100 Experiments You Can Do in Ten Minutes or Less
Science in Seconds provides 108 activities in this book cover twelve different subject areas, perfect for busy moms!
This book boasts that every experiment can be done in 
10 minutes or less. When time is a problem, grab this book and go! 
---
There you have 17 STEAM & STEM activities, projects, kids and books for your older kids and teenagers.
Did you know you can use the FREE Notebooking Pages for your kids to make cool reports to record what they learned? This is perfect for your homeschool portfolios or just for fun.
Grab them here:

Free Notebooking Pages Product Sampler from NotebookingPages.com. 
To find the Science Pages:
Log in
Click on My Member Center at the top right
Choose Free Membership
 Under YOUR FREE NOTEBOOKING PAGES & RESOURCES choose Free Science
Click the one you want, choose your page, print and go!
I love using Notebooking pages for my teens instead of boring lined paper. If you are not familiar with the site, learn how to get started (for free!) here. 
We love adding science experiments to give us a break from our normal work, a way to connect, laugh and learn. Do you use STEAM/STEM activities in homeschool? If so, what is your favorite one?
Take care
Jen
PS. Our adventure into STEAM all started with one book, you can learn more about how STEAM Kids sparked learning fun in my kids here.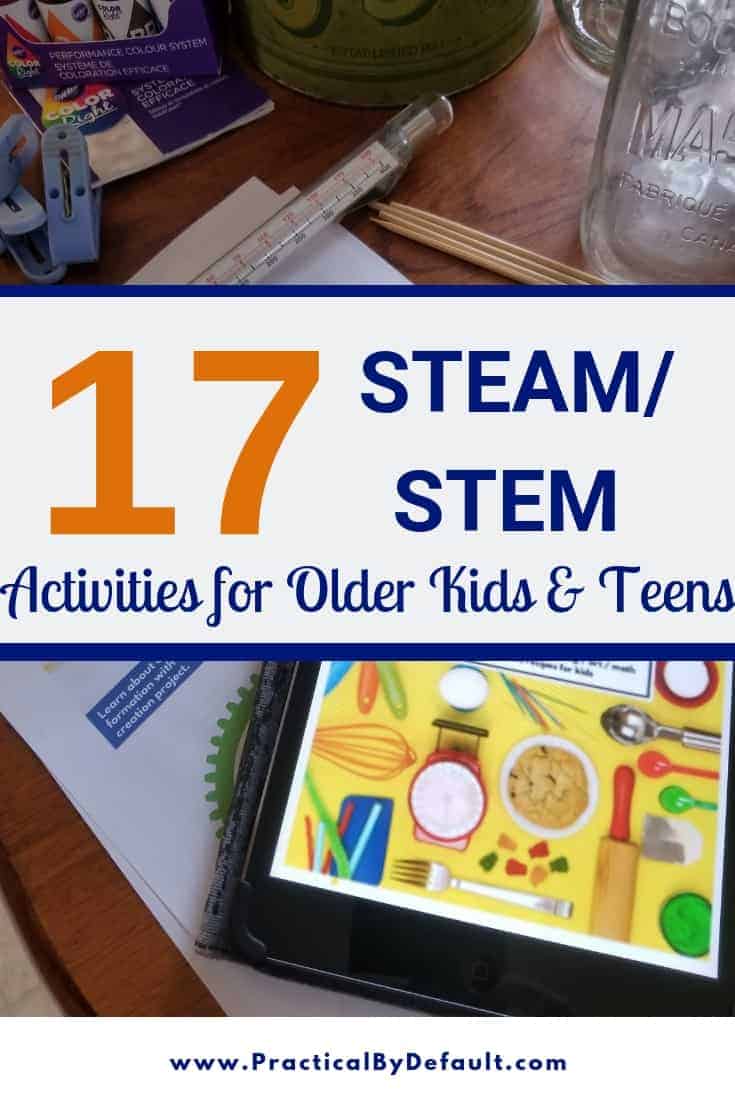 Hi, I'm Jen. I help working parents balance work and homeschooling by providing encouragement, support, and inspiration. You are warmly invited to Join the Online Community Here!