If you are anything like me you always want to do the fun science experiment but it just doesn't get done.
I always say I'm bad about skipping the experiments because I want to track down the supplies needed. By the time I've done that the kids have already watched the video.
Or so much time has passed I forget what experiment I was going to do in the first place.
Or I want to do something fun but I don't know what to do.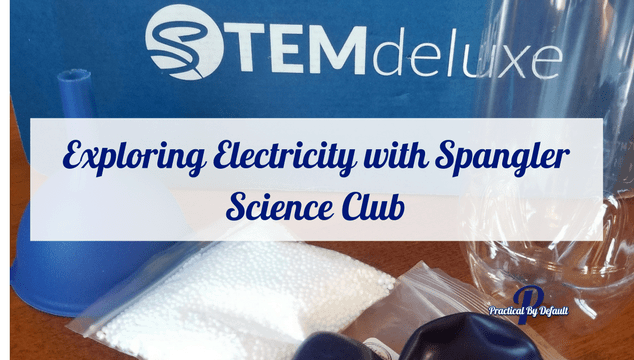 *I received this box in order to provide you with an honest review. All opinions are mine, as always. 
This is where The Steve Spangler Club Box comes in! Everything you need, even the odd "what is that and where do I buy it" stuff! Add a few regular household items you probably have on hand and you are good to go.
I am so excited to dig into our brand new Spangler Science Club box all about Electricity.
Inside the box was everything that we will need for the experiments. That is right, I said experiments. You can get up to 10 experiments in each Science Club Deluxe Box which for us is weeks of science fun I didn't have to worry about, yay!
You can learn more about exactly what is in our box here: Unboxing My First Steve Spangler Club Box
By the way, you can get  40% Off Your First Spangler Science Club Box of STEM Deluxe from October 1st to November 30th. Be sure to use the code SPANGLER16AF all caps and needs to be 3 month or 12 month membership. Shop all the boxes here!
Not only did we receive most of the tools we needed but it included two workbooks. One for the kiddos and one for me! The Adult book broke down each step, how to present the information and what was happening and why in each experiment. Perfect for when you don't know the answer to "why".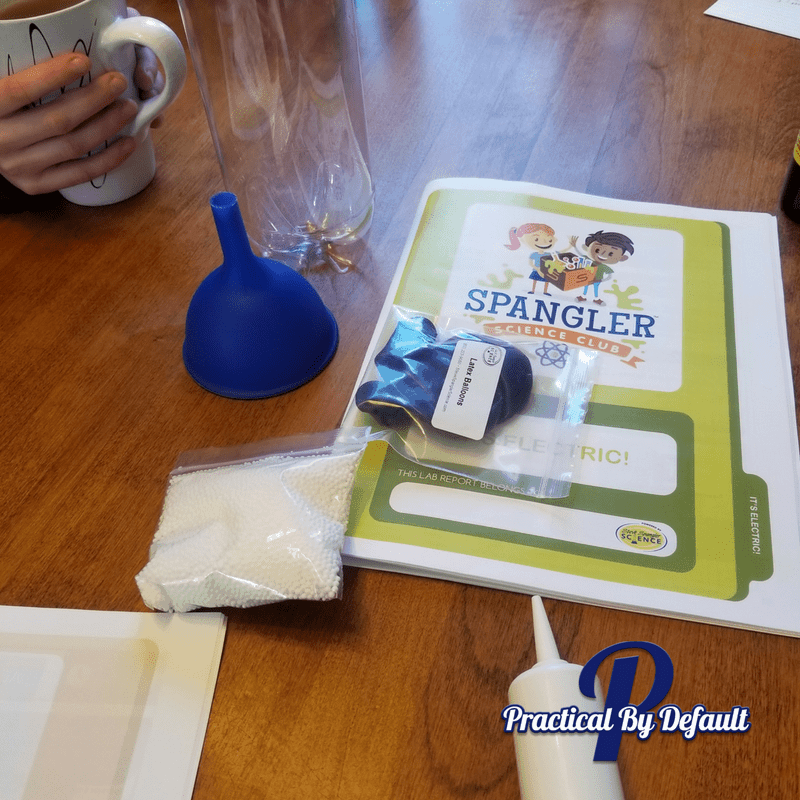 We've currently completed the first 3 experiments and I promised to keep you updated.
Each experiment ties into the word wall page. This page provides the vocabulary words that might be new to the student along with a definition.
We created a vocab sheet where the children put the definition I read to them in their own words.
Each experiment listed materials needed along with a general time required to complete the experiment. This does not include the time needed for the wonderful conversations, rabbit holes and arguments 😉 We took about 45 minutes for each one as we got a tad carried away.
Experiment 1: Soda Bottle Static (Time: 15 minutes)
Our first lesson was about static electricity.
I remember learning this one the hard way in school. We used to drag our feet on the classroom carpet or shuffle along then "shock" a fellow classmate and run! Not that I ever did that or anything…
The box included everything we needed for the experiment. "Technically" we needed nothing else but there was a problem.
Someone (me) can't blow up a balloon which was one of the steps needed.
I handed the balloon over to my teens who discovered they also are unable to blow up a balloon, ha!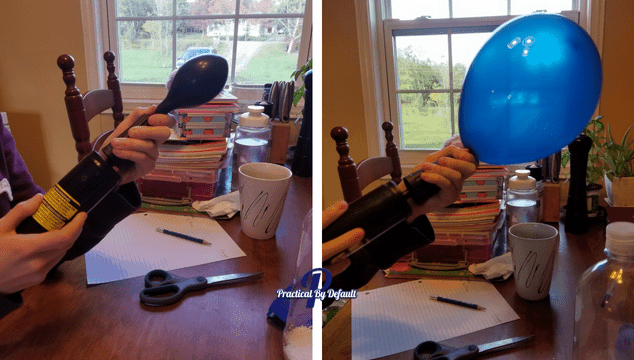 I love rabbit trails, don't you?
Therefore, our lesson began with Google and a "How to blow up a balloon" search. I let each child try out what they had read would work. After a few attempts, we found our Stability ball pump and used that. 😉
Next as the children followed the instructions I read the Adult Helper booklet steps to make sure I understood what was going on and why! (I love this thing!)
After filling our soda bottle with the little foam beads we talked about what we were seeing and why.
It is really important to follow the directions. The children kept rubbing the items "back and forth" when the instructions were "in one direction".
Also don't do this to your hair before you plan on doing a video for work, just sayin! It ain't pretty.
The questions in the booklet are really great for sparking conversations.
The "Top Secret" booklet also has Real World Application. This is so important to me because it allows the children to connect what they are discovering has value in their lives right now.
I really enjoyed the "take it further" section as it moves beyond the page. In this part, the children had to teach me what they had learned today and demonstrate this knowledge either through showing me or drawing out their experiments.
They decided to show me.
Note: They continue to play with the bottle full of foam beads daily and get a kick out of trying to attract or repel the beads. I find it in various places around the house, often upside down.
Experiment 2: The Energy Stick (Time: 10 minutes)
This caught the children's eye before it was even out of the package. In fact, I was more excited to play with it than they were..until today. Today they got to take it out of the package! Ha!
This experiment is all about watching and discovering exactly what is happening. Identifying the results of electrons even though you can't see those.
The Adult workbook explaining the science in the human body was vital and new information for my daughter.
We had been playing with the Energy stick making chains. Unfortunately, we only have 4 members in our house and thus that is as far as we got to build it.  I know this will be brought out at the next family gathering!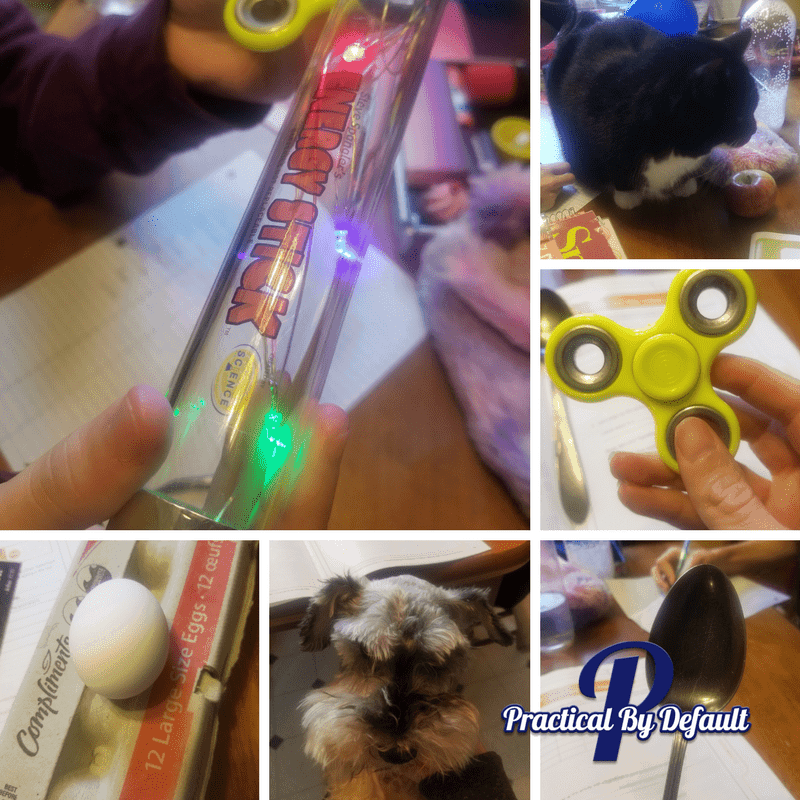 Experiment 3 Identifying Conductors & Insulators (Time: 20 minutes)
We did this one on the same day as experiment 2. We collected various items to test, as seen above.
Such as:
A spoon (this was suggested in the book)
Fidget spinner
Balloon from experiment one (still inflated a week later!)
An egg
An apple
Magnet
Max the dog
Cleo the cat
The children created a chart as shown in the workbook and recorded their findings.
Interesting fun fact, we learned the dog, Max was a conductor and the Cat, Cleo was not. This puzzled my scientist for a bit as we tried different parts of the dog and cat but were unable to get the same results.
They decided it had to do with fur density. Our dog is a Miniature Schnauzer who has hair, not fur. What do you think?
We may have gotten a bit carried away with this one it was so much fun!
Be sure to read Electricity Probe Challenges With STEM Lab Deluxe Science Club for the next 3 experiments! 
So far here are our thoughts on the box:
I really love the step by step instructions, with photos and the adult workbook is vital for me.
PROS: When it is basically open and go, there is a better chance I will actually do the experiment instead of hitting google for a video. Hands-on fun is a great way to learn AND I actually get to do this with my teens.
Since I work there is not a lot of actual "together" family learning going on. Having a box is like having a weekly date with my kiddos.
CONS: So far the only one I can think of is like any subscription there is a commitment. Which is why I love that you can buy one box and try it out.
It was fun sharing our adventure so far!
Take care, 
Jen
PS. By the way, you can get  40% Off Your First Spangler Science Club Box of STEM Deluxe from October 1st to November 30th. Be sure to use the code SPANGLER16AF all caps and needs to be 3 month or 12 month membership. Shop all the boxes here!