As a busy mom, I can NOT tell you how much I appreciate subscription boxes full of hands-on learning landing at my doorstep each month.
We are currently using both Little Passports Science Expeditions and Steve Spangler STEM Deluxe boxes as supplements to our science program.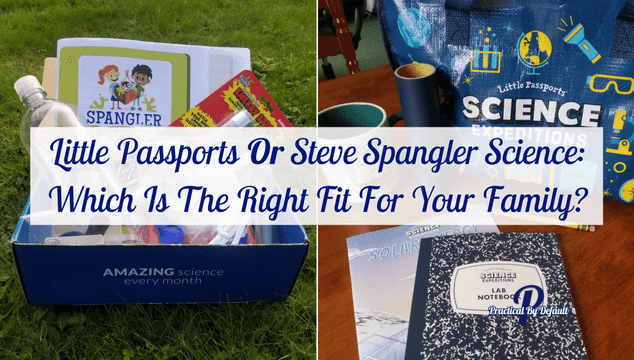 For our main science course we are using Easy Peasy Chemistry which is a free online program, one of many. I chose this one as it works great for my kids.
BUT there is a major downside for me.
Many of the science experiments in the program use "everyday items you have in the house" unless you are like me and you don't keep every single toilet paper roll. For the record, they make great fire starter for the wood stove. 😉
Other things we never seem to have are copper wire, marshmallows (hot chocolate is the culprit this time), or a red cabbage or…well ya know. Life.
Needless to say, if it depended on me my poor children would never actually DO any hand on learning which I truly believe in.
So I had a choice. Accept that I would never remember to buy, collect and save all the things needed OR find something else better for my family.
And because not finding a solution just isn't in my genes….
This is where the subscription boxes come in.
As I said we've been using both boxes and I thought it would be fun to compare the two boxes and share what I didn't like about them and what I do!
This is a detailed breakdown of both STEM subscription boxes, including unboxing videos and candid thoughts from those who use them! AND tips on how to help you pick the right one for your family.
⇒If you are short on time here is a side by side chart but for all the details keep reading! 

Science Expeditions VS STEM Lab Deluxe Comparison:
STEM Box
Price
FREE Shipping
International Shipping
Experiments
Activities + Bonuses
Ages
Completion bonus
Both of these are considered STEM Boxes, STEM= Science, Technology, Engineering, and Math.
Little Passports Science Expeditions Product Overview: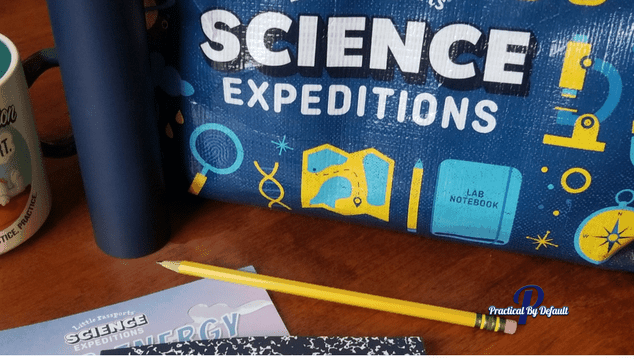 I was VERY excited when Little Passports designed a subscription box for older kids called Science Expeditions.
Before we dig in, here is a quick overview of ALL the different learning subscription boxes provided by Little Passports.
They offer 4 subscription boxes:
• World Edition: Ages 6-10, explore a new country each month with souvenirs and hands-on activities. Click here to learn more. 
• Early Explorers: Ages 3-5, discover a new world theme each month, like Oceans, Music & Dinosaurs. Click here to learn more.
• Science Expeditions: Ages 9 and up, reveal mysteries of the world through science experiments & activities. Click here to learn more. 
• USA Edition: Ages 7-12, learn about two new states each month, with activity-packed State Journals. Click here to learn more.
I'll be focusing on the Science Expeditions.
This hands-on learning box encourages children to solve real-life scientific mysteries through science experiments, hands-on STEM activities and more! Aimed at children ages 9+.
What's inside each monthly package and our thoughts on them:
To begin with here is our latest Science Expedition Box, unboxed!
Or watch all of our unboxing videos for Science Expeditions on YouTube! 
As you can see each box comes with:
16-page comic book with glossary and bonus activities
Solve a new mystery each month with Sam & Sofia
Hands-on science experiments
Achievement badges for each monthly theme
Access to bonus online videos and science content
The first month includes a Science Case and Lab Notebook to keep track of what you learn!

This STEM box is perfect for one child or children who share well. In fact, Little Passports encourages you to buy one box per child. This is a great idea if you have children of all ages and they want to learn different things.
Please note: Currently it comes with 1 notebook in the first box and each box has 1 sticker/badge for completing the assignments.
My kids get along very well (for once!) they share the badges and one claimed the notebook until we got the second one. This came in a review box.
Even though I searched all over the site I was unable to find either the badges or the notebook for individual sale. Can you tell me if you find it please?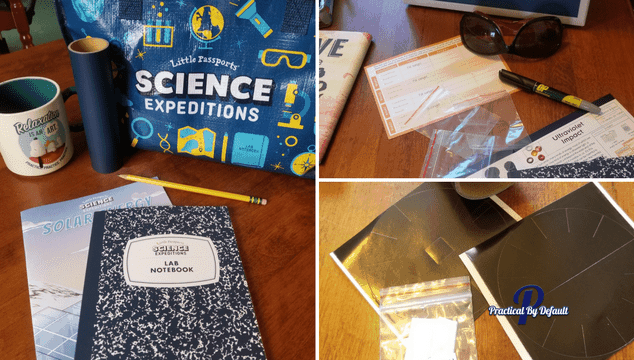 Quick run down of the pros and cons for Science Expeditions:
Pros:
Perfect if you have one child or two close in age that share well
Easy to follow instructions with explanations for mom/dad
Provides all the sciencey items needed.
Great way to explore and learn
The more you buy the more affordable it gets, starting at $21.95 / month. Six months are $20.95 a box and the best deal of all is 12 months at 18.95 a box.
Cons:
Aimed at one child/per box this can add up if you have multiple children.
Although there is one subject in the box, example our box right now is about solar energy it seems to jump around a bit. My kids were not crazy about it that fact. This could be a pro or con depending on your child. For us it is a con.
Steve Spangler STEM Lab Deluxe Product Overview:
I heard about this box from other homeschool moms, which is the best place to learn in my opinion. After all, those using it are gonna know whats up!
They kept saying how it was the best box ever so I had to get my hands on a box and test it out.
Steve Spangler Science boxes focus on STEM for all ages.
They currently offer 3 different subscription types:
STEM Snack – Bite size science snack. Perfect introduction to STEM. Ages 5 -12 Minimal adult assistance required with easy to follow instructions. Click here to read more! 
STEM Lab – Up to 5 STEM experiences each month. Collect all 24 months to build your own STEM lab. Ages 5 -12. Minimal adult assistance required. Experiment cards with step-by-step instructions and easy to understand science explanations. Click here to read more! 
STEM Lab Deluxe –  Up to 10 STEM experiences each month. Dive deep with STEM experiences designed for children and parents to explore together. Ages 5 -12. Designed for children and adults to work together. Comprehensive experiment guides for both the young scientist and the adult science helper. (this is the one I'm unboxing below) Click here to read more! 
What was inside our STEM Lab Deluxe Box and our thoughts on them:
You can watch the unboxing here!
Watch it on Facebook here.
As you can see a ton of stuff came in our box.
Each box comes with:
Free shipping (USA Only)
Up to 10 STEM Experiments
Comprehensive experiment guides for both the young scientist and the adult science helper
Everything you need for the experiments
To see an example, this is what came in our Electricity Box (as you saw above)
Science Club Items:
Student Activity Book (my name for it)
Adult Top Secret Book
Steve Spangler Energy Stick
3 Test Tubes with Covers and stand
Red and Black Probes
1 Clear Plastic 1 Liter Bottle with Child Lock Cover
3 Pipe Cleaners
Small Bag of Foam Beads (very small beads)
1 Latex Balloon (Latex warning included)
We had everything we needed for 6 experiments but the household items such as a spoon, water, milk etc. (Read about all our hands on fun here!)
This box is perfect for all families. It is designed to be done as a family no matter how many children you have, which I love! In fact, they flat-out say, "Designed for children and adults to work together" right here on the page!
We really appreciated how each activity builds on the one before it. You learn a foundation and then dig deeper. This was a highlight for my kids. However, if you like to jump around this may not be to your advantage. 😉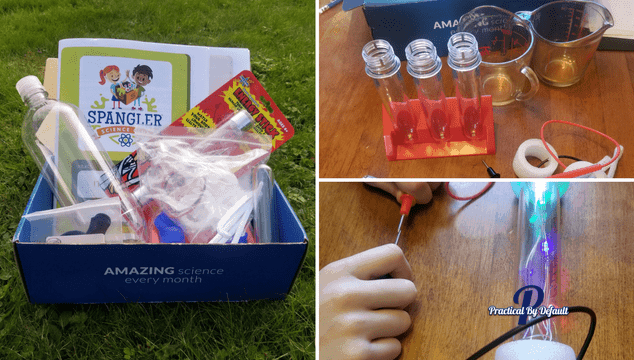 Quick run down of the pros and cons for STEM Lab Deluxe :
Pros:
Easy to follow instructions with explanations for mom/dad
Provides all the stuff you need except household items
Perfect for muliple children
Great way to explore and learn
Many experiments that build on each other
Cons:
And this is where this post goes off the rails a bit, hang in here with me for a second! 😉
For the record, I had a really hard time thinking of a con.
So I turned to my teenagers because if anyone is going to be honest it is going to be a kid, right? BUT Neither of the kids had anything they didn't like about the box.
My next step was to reach out to other moms I knew bought the box and tried it out with the kids.
One said she could probably gather all the stuff, search YouTube and figure it out…but she won't. I agree…hello easy. As a busy mom, I like the "done for you style" of this box.
The next one said she had no complaints but wasn't crazy about her topic in the box. If I remember they had just done another box on the same topic. She did point out though her child will dig out the box later. Which you can totally do since none of the items are perishable.
Why did I ask several friends and poll the kids for something they didn't like about the box?
Because I never trust a review if there is nothing wrong with the item. Nothing in this world is perfect and I don't like bad surprises. This is one of those times it is backfiring big time 😉 lol! I do get points for trying, right?
The ONLY downside for me, it was cost. It is $29.99 USD for the STEM Lab Deluxe box and it didn't get cheaper if you bought more at a time. However, I love the fact you can buy one box at a time and test it out.
Little Passports OR Steve Spangler Science: Which is the right fit for your family?
I can't say but I can tell you how I'd pick 😉 Otherwise I would leave you hanging and that is just plain mean!
Let me just point out that everything in these boxes is not sold separately by other companies.
Which brings me to my next point, I was recently asked if I would rather gather the supplies and make a learning science kit myself?
No. No, I would not thanks.
I would never do that. I am being totally transparent here, even though it may make me look like a horrible parent! I know I would want to but never actually take the time to gather the items listed, to research how they fit and work, the science behind the activities.
This is the REASON I invest in subscription boxes to begin with. They fill a need in my homeschool.
Which one should you get? Let's break it down!
Little Passports
Little Passports is perfect for one child who likes hands-on experiments or likes to bounce around picking and choosing which experiment they want to do.
There is no need to do them in order and the puzzles in the comic book are a blast to do.
It is perfect for busy moms who want to open and go with little to no prep besides making sure you don't eat the candy needed. Just me?
It is also the perfect gift for the long-term as you save the more boxes you buy at a time. If you are worried the pieces you need to keep will get lost no worries. Little Passports has thought of that and provided you with a cool bag to keep them all in. (shown in this photo on Instagram!)
Also, if you are worried about the child being bored you can dig out the boxes to be played with later. Although some things are consumable, think crystal growing powder. Others are not.
Buying Tip Questions you want to ask:
How many kids do I have?
If more than one, do they like to share?
If not, am I willing to invest in one box per child?
Does my child like to jump around?
If this box sounds perfect for your family you can shop all the products here! 
Steve Spangler Science Boxes
STEM Lab Deluxe Boxes are perfect for families who like to learn together. They are designed to be done with a group from 2- as many as you like.
While we feel they are best done in order it might be more tricky if you bounce around. For example, if you don't know that electricity has a current that needs to be closed you might struggle building the bridges later.
A great box for busy mom who want that open and go. You can also do these in as little as a few minutes as the guide points out but we always ended up taking our time exploring and playing.
Why YES this is still kicking around the house! You can see what I mean right on Instagram here! 
Oh! I also wasn't the only mom who had to hide the box. One mom of 5 said her children got into the box without her and had so much fun. 😉 You know it is good when kids are sneaking into the school boxes, right?
When I asked both my kids which box they prefer both voted for Steve Spangler. My son didn't hesitate. FYI: This is a miracle the child thinks for 10 minutes between two donuts at Tim Horton's on a regular base!
He said both are fun and I like getting them but if I had to pick I choose STEM Deluxe because the experiments seem more "grown up" and he loves the step by step idea.
My daughter said while both are fun she felt you get more for your money with STEM Box. I love seeing our life skills lessons kicking in. 😉 She also preferred the step by step process but that she is learning from both.
Buying Tip Questions you want to ask:
Do I have multiple children?
Do we like to learn as a family?
Does my child learn best from building on what they learned before?
If this box sounds perfect for your family you can shop all the products here! 
Here is a quick side by side chart that I hope will help you out:
As you can see both boxes are really great for busy working moms. I'm a big fan of anything that makes learning fun, hands on and easy for mom!
Here is that comparison chart:
Science Expeditions VS STEM Lab Deluxe Comparison:
STEM Box
Price
FREE Shipping
International Shipping
Experiments
Activities + Bonuses
Ages
Completion bonus
I hope this comparison gives you a great idea of which box would be best for your little scientist.
Does your family have a favorite? I'd love to know, so please leave a comment below!
Take care,
Jen
PS. I really love getting subscription boxes delivered to my door. Homeschool and working at the same time can be a real struggle for me. This is just one thing that makes my life easier! I hope you enjoyed my break down, if you have any questions please feel free to ask me! 🙂