Disclosure: I may receive commissions for purchases made through links in this post.
One of the biggest challenges of Homeschooling and Working is finding curricula that will work for you and your family.
Below you will find a list of curriculum resources we personally plan to use for Dewi for Grade 8.
Affiliate links are included in this post for your shopping/research convenience.  Thanks! 
I have divided our curriculum by subjects for easier searching:
Core Subjects:
Language Arts/ English:
English 8-This is an Easy Peasy Program
Spelling Workout F Workbook series that breaks down each spelling list into easy, doable chunks. No prep needed! (Spelling Workout Amazon.ca)
Reading List:
I let the kids pick their own books, I did not care what they read as long as they were reading.
Ellie McDoodle: Best Friends Fur-Ever -When her teacher assigns a report about animals and all the popular animals get snatched up, Ellie McDoodle is stumped for a topic. Find out how she fixed that problem. Grab yours from Amazon.ca
Peter Pan (Scholastic Classics) -I might have chosen this one for her. This little book made the trip camping with us! (You can find this at Amzon.ca as well)
Mud-Puddle Poodle-She loves the Pet Trouble books 🙂 (Find this one here at Amazon.ca)
Friday Barnes, Girl Detective My daughter hates all detective books, she liked this one! (Get your girl detective on at Amazon.ca )
The Genius Files: Mission Unstoppable Pepsi and Coke are on a mission! My daughter actually begged me to read this one. She loved it so much! (Amazon.ca)
Girls Think of Everything: Stories of Ingenious Inventions by Women-we read and made the chocolate chip cookies!
The Little House Collection -My kids pull these from the shelf every month!
The Wind in the Willows – Our read aloud
The Last Safe House– Our read aloud
Jacob Two-Two-'s First Spy Case (Jacob Two-Two Adventures) a favorite from our bookshelf
Stop That Stagecoach (Canadian Flyer Adventures #13)
What Katy Did-this one gets pulled off the shelves again and again.
Danny Champion of The World – Danny has the life any boy would love. My daughter really enjoyed this book.
Diary of a Wimpy Kid Cabin Fever – a favorite series in this household.
MacDonald Hall #6, Lights, Camera, Disaster – another favorite series.
Indian Captive: The Story of Mary Jemison. She said this was okay but then reread it a few times.
(Here is our complete list of favorite books this year!)
Instead of book reports we will be using Notebooking pages! (grab your free resources!)
Mathematics:
Math Step 2-Step 3-This is from Easy Peasy (you can try the offline version, Amazon.com /Amazon.ca)
Science
Chemistry/Physics-This is from Easy Peasy
Notebooking pages just for science here: Basic Science & Experiment Pages!
STEAM KIDS-Adding fun into our homeschool. Read our review here! Amazon.com/Amazon.ca
The Beginner's Guide To Atoms And The Periodic Table – The Homeschool Scientist (read our review here)
Science Expeditions- Little Passports – Unboxing video here
History
Story of the World vol. 4 This program continues to be well-loved in our house. This has been our favorite for years. We have purchased the textbook, I will be purchasing one activity book this year for the activities, recipes, and coloring pages. We also have on hand The Kingfisher History Encyclopedia which I am beyond thrilled to try.
From Canada? Story of the Wold Vol 4: Textbook, Student workbook, and The Kingfisher History Encyclopedia.
Geography
History Geography -Easy Peasy! She will be also reading  Around the World in 80 Days (Around the World in 80 Days, Amazon.ca)
Electives
Music
She will be using Music Modern for music. As she has no interest in learning an instrument we will focus on composers using the following pages.
Art
Dewi is my artist and I hope to really allow her time to work on her art this year. She will be using Art-Modern as a program. We will see how it goes. I've stocked the shelves of our bookshelf with different "how to draw" books such as Learn to Draw Horses & Ponies and Learn to Draw Pets. Schoolhouseteachers.com also has many art programs which we will also be checking out. I found Studio Art for Teens which includes basic lessons and then you can choose a topic. This looks super interesting.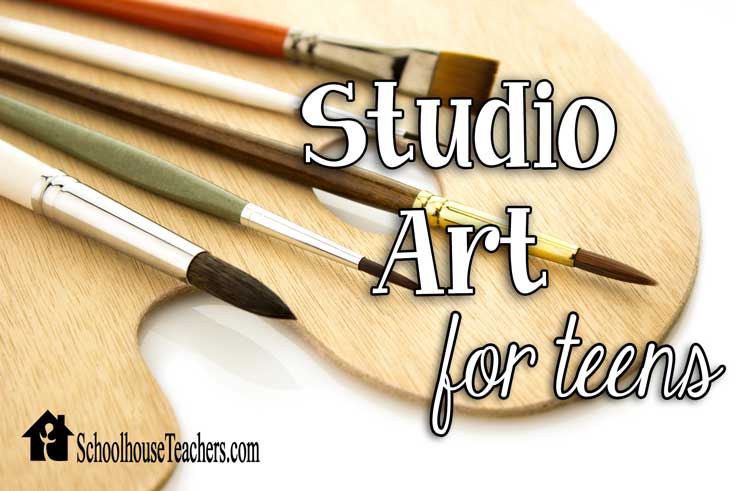 Typing/Computer
For computer, she will continue on where she left off last year with level 3. She will be reviewing internet safety as well as learning programs such as paint and power point.
Here is a list of typing programs (free) we have used in the past:
Foreign Language
ASL Summer Camp
Related posts: The Plan-Curriculum Choices for Grade 8