This is by far the easiest Instant Pot Roast Beef recipe you'll ever make. So easy my kids can make it, and do! 🙂
Meal time in our house can be a little crazy.
Everyone is hungry and everyone is tired. This is when I reach for my Instant Pot.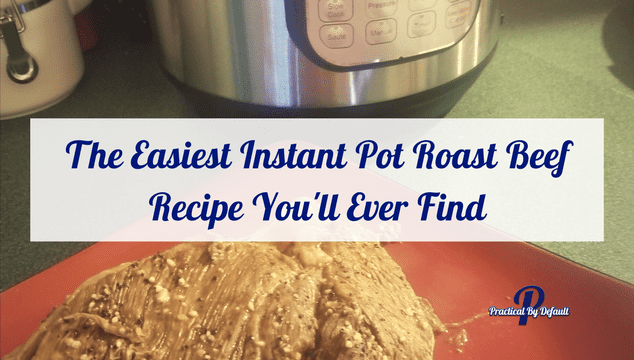 One of the reasons I love my Instant Pot is it allows me to walk away while it does the hard work for me. 
I hesitate to call this a recipe as it is really a chuck it all in and walk away. 😉 Which fits me perfectly.
Instant Pot Roast Beef:
Every time a roast beef on sale I grab one. They are quick and easy to prepare. Great to quickly make when unexpected company shows up!
Hint: Look for one with a lot of marbling for the best taste.
For the record I don't like stiff, dried out roast beef but if you end up with one it is perfect for sandwiches.
This method ends up with a pull apart roast that can be served as a main dish, saved for meal prepping for the week or used as filling for quesadillas, pull apart sandwiches or whatever you like.
⇒Prep time: 10 minutes Cook time: Total: 95 minutes, 70 minutes plus time to come to pressure and time to release
What You Need:
Please note: I am not big on measuring or following a recipe. Ask my daughter 😉 Thus just do what you think is best, really it will be okay. 
Roast
Seasonings of choice
Water/ beef broth
Trivet (optional)
Instant Pot (lol!)
What You Do:
Gather all your ingredients. I'll be sharing the steps using a 6 Quart Instant Pot.
Add the trivet to the bottom of the Instant Pot.
A friend asked what a Trivet is? This is what mine looks like it came with my Instant Pot.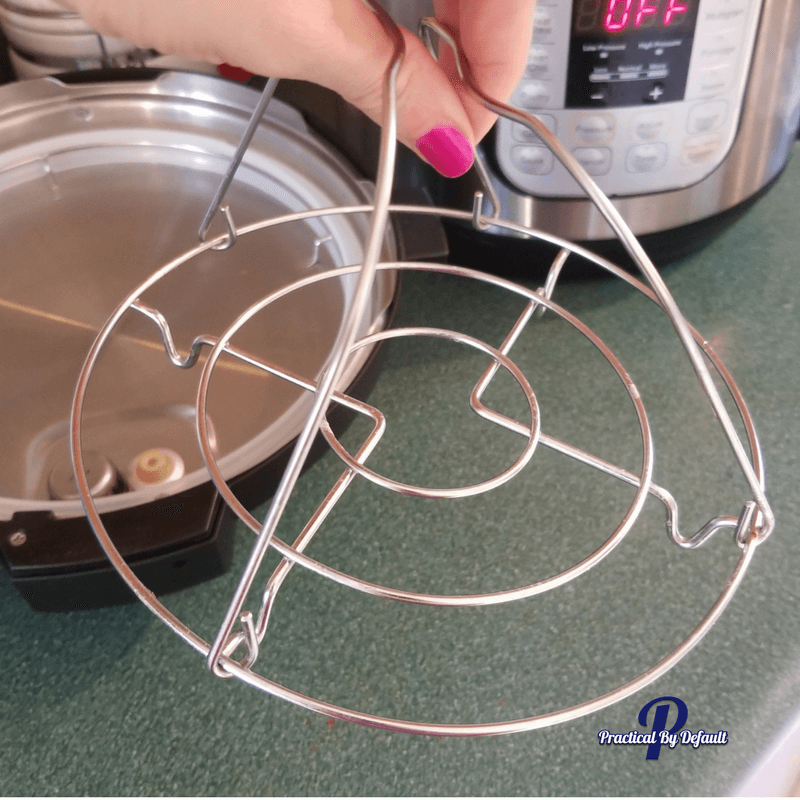 You can buy something similar from Amazon, I recommend this style because the handles are awesome!
Add your roast beef and generously season with your favorite seasonings.
We love Club House Le Grille Montreal Steak Spice but seriously use whatever you like. I don't get hung up in details 😉
Add at least 1 cup of water or beef broth.
You may not want to pour this over the top of the roast as it can wash away your seasonings. Best to pour to the side.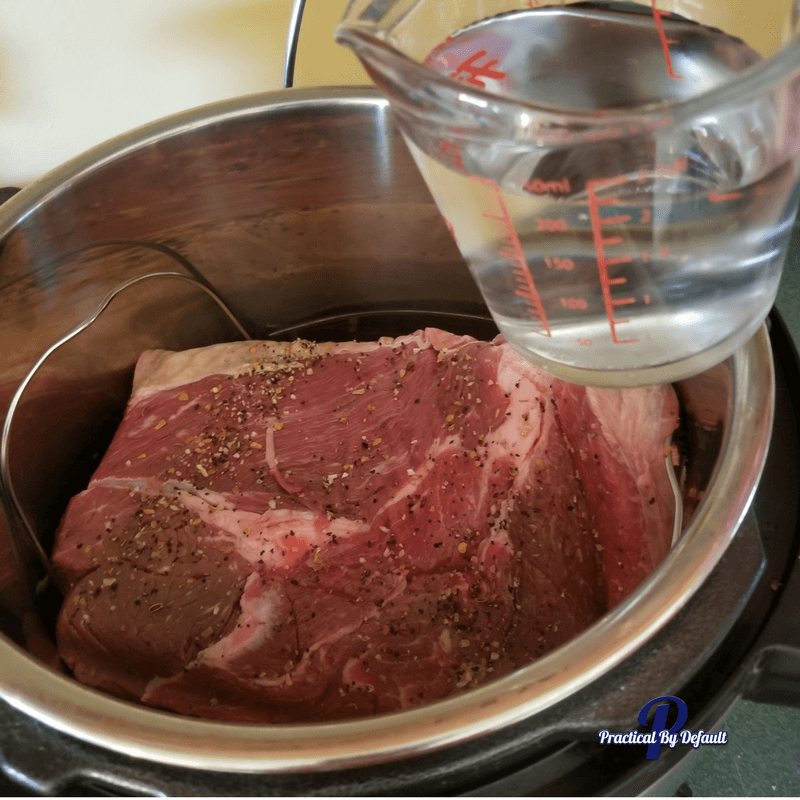 Add the cover, and set the steam release to "seal".
Plug it in if you haven't yet. This is the hardest part of the whole thing, lol!
Press the "meat/stew" button, circled in blue
Using the "-" and "+" buttons, circled in orange
Adjust until you get 70 on the screen
Walk away.
⇒Note: This will take longer than 70 minutes. It will take time come up to pressure, about 10 minutes or so.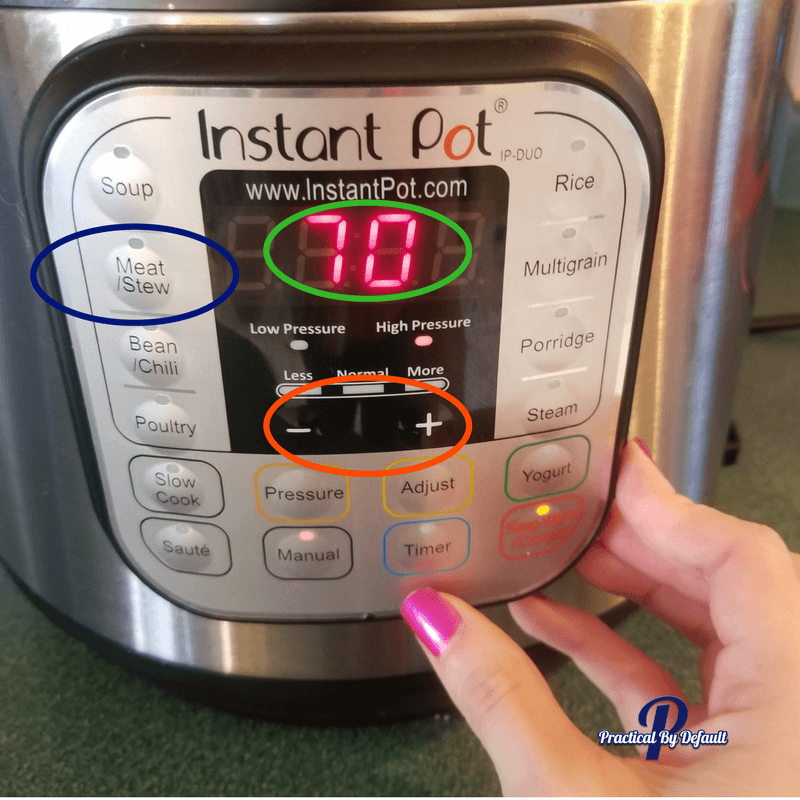 It will beep when done. Let it sit and naturally release for about 10-15 minutes. You won't be able to open the cover while there is still pressure.
If you need to open it after 10 minutes, quick release the Instant Pot.
Steam will shoot out and if you aren't used to it, it might be a bit of surprise. This is the part my husband doesn't like and the kids think is hilarious. LOL!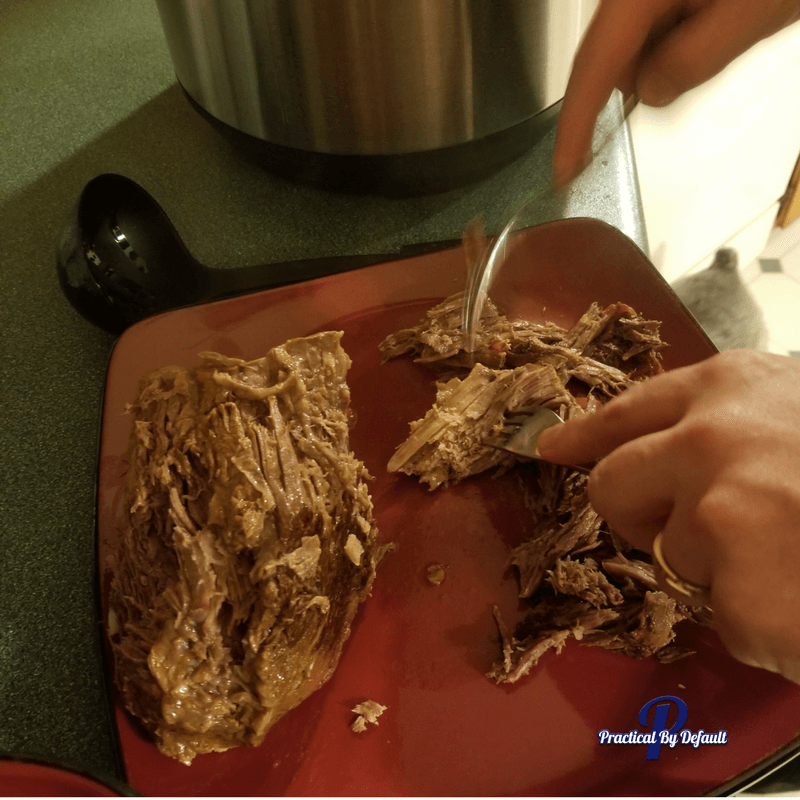 Done!
It's ready to eat, wasn't that easy?!
It took me forever to cave and ask for an Instant Pot but it really does make my life easier.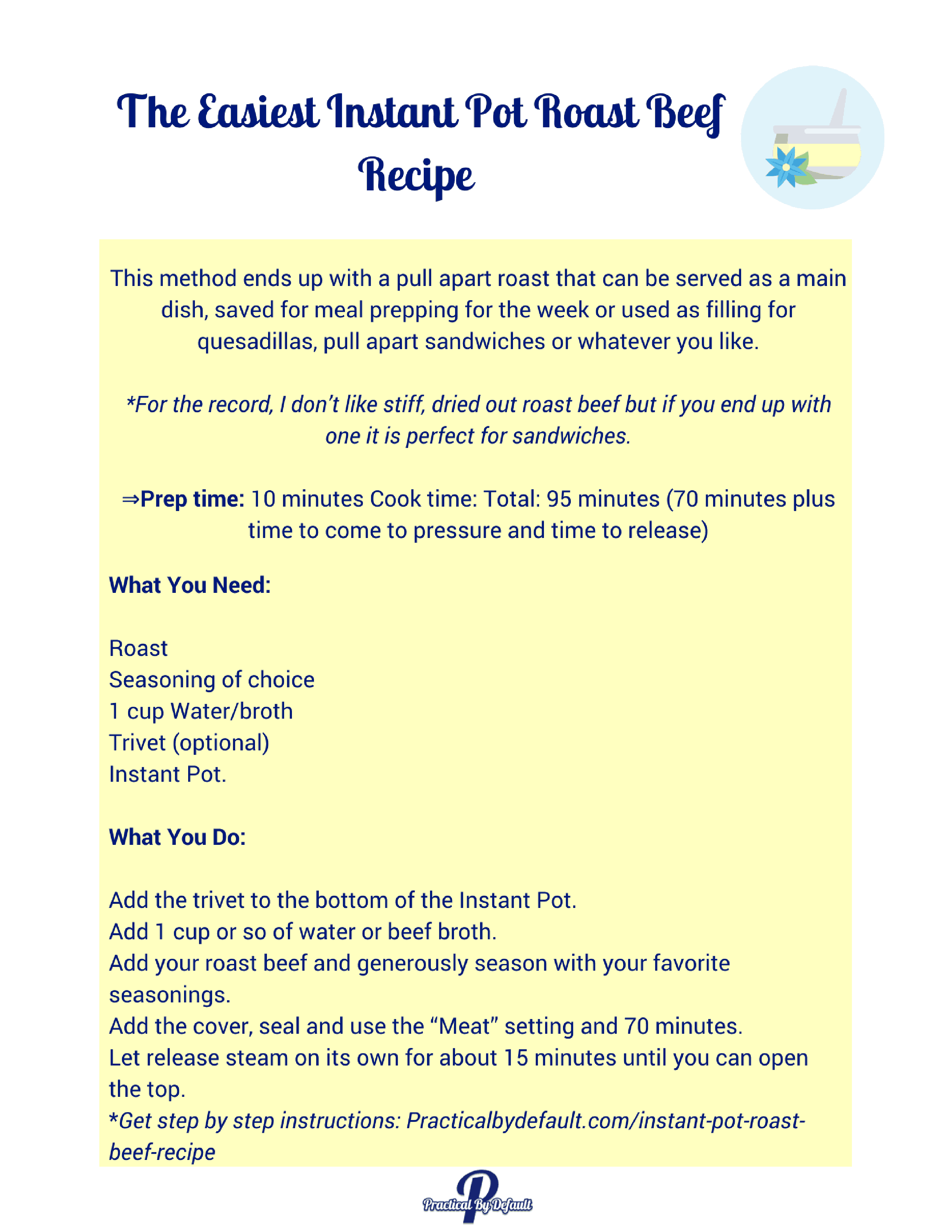 Instant Pot Roast Beef Recipe
Enjoy!
Quick Ways "Dress Up" Your Roast Beef:
The above recipe is how I usually make it but you can always dress it up by adding what your family likes.
For example for Italian flavoring: Add Italian seasoning mix and a can of dice roasted tomatoes. Or Mexican: Add diced onion ( I like to precook) and salsa poured over the top.
How do you like to dress up your Roast Beef?
Take care,  
Jen
PS. Do you have an Instant Pot but it is STILL in the box? Check out my Getting Started Guide here!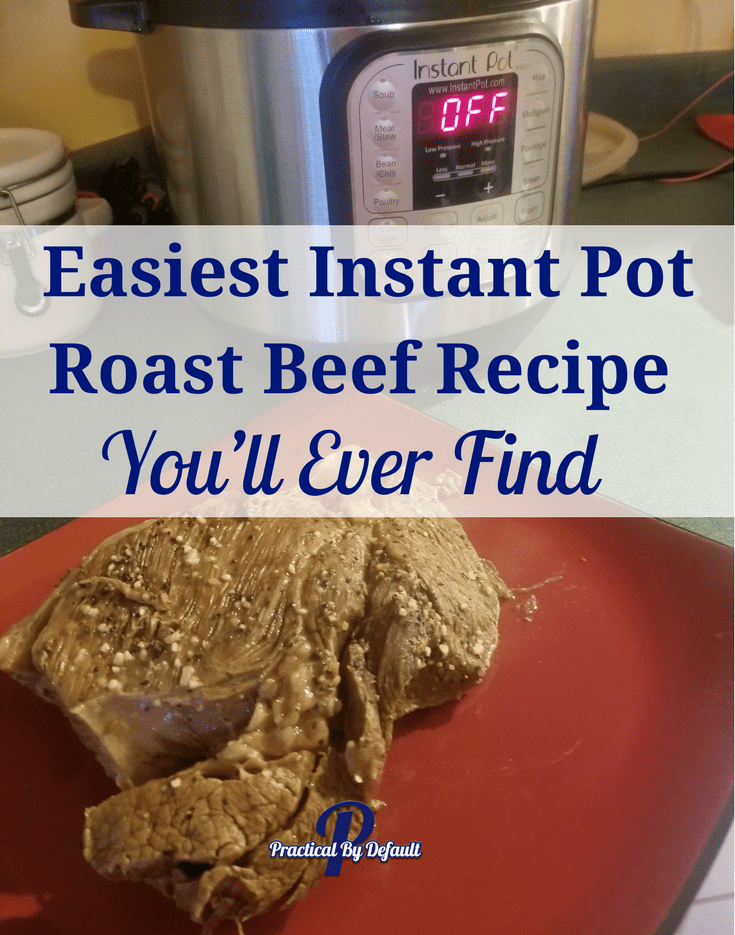 Hi, I'm Jen. I help working parents balance work and homeschooling by providing encouragement, support, and inspiration. You are warmly invited to Join the Online Community Here!