Disclosure: I may receive commissions for purchases made through links in this post.
Cookies! Sorry to disappoint but you don't get to eat these ones.
Unfortunately our cookie policy is boring compared to cookie eating permissions! However, it's necessary that you know how browser cookies are used on our site AND what you can do to disable them.
Let's dig in so you can make an informed decision, ready?
First of all, Practical By Default uses cookies.
What Is A Cookie:
Cookies are small text files that are placed on your machine to help the site provide a better user experience. In general, cookies are used to retain user preferences, store information for things like shopping carts, and provide anonymised tracking data to third party applications like Google Analytics.
Cookies On Our Website:
Practical By Default uses the following cookies on this website, for the following purposes:
To analyse visitor data in order to improve reader's experience on the site and create relevant content
To inform Mailerlite emailing campaigns to our subscribers.
We use cookies to personalize content and ads, to provide social media features, and to analyze our traffic.
We also share information about your use of our site such as pages visited with our social media, advertising, and analytics partners.
Google Cookies:
We use Google Analytics to analyse the use of this website.  Google Analytics generates statistical and other information about website use by means of cookies, which are stored on users' computers.  The information generated relating to our website is used to create reports about the use of the website. Google will store and use this information.
In addition, this site uses cookies from Google to deliver its services, to personalize ads and to analyze traffic. Information about your use of this site is shared with Google. If you would like more information about how Google uses cookies, please click HERE.
Email Information:
When you provide your email address we use it to send you communications which you have requested and that may be of interest to you. These may include new blog posts, information about campaigns, promotions of goods and services, promotions of affiliated companies we work with (our relationship will always be disclosed).
We will hold your personal information on our systems for as long as is necessary for the relevant activity, or as long as is set out in any relevant contract you hold with us.
Your Choices:
Cookies will make your browsing experience better. However, you may prefer to disable cookies on this site and on others. The most effective way to do this is to disable cookies in your browser. We suggest consulting the Help section of your browser or taking a look at the About Cookies website which offers guidance for all modern browsers.
You have complete control over whether or not you wish to receive information from us. If you do not want to receive direct marketing communications from us about the work we are doing and products and services, then you can unsubscribe at any time using the 'unsubscribe' link that is present at the bottom of all of our email communications.
For Information about our Terms of Use Statement and Privacy Statement-Disclosure Policy
Since you made it through that you deserve a cookie!
Read the story behind these cookies and the recipe here: Gluten-Free Chocolate Chip Cheesecake Cookies Recipe!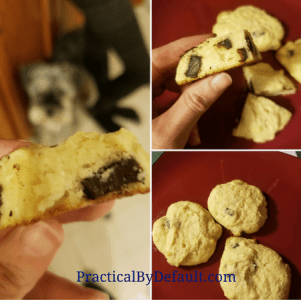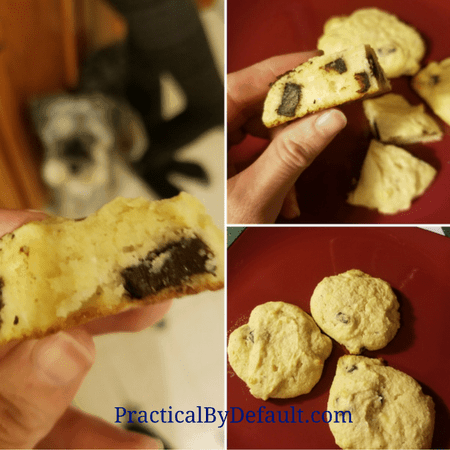 Gluten-Free Chocolate Chip Cheesecake Cookie Recipe
These are so easy to make and only 7 ingredients!
Ingredients:
2 Cups of Almond Meal
2 Eggs, beaten
1 Tbsp of butter
1 Tbsp of Maple Syrup
1 Tbsp of Vanilla
½ Cup of Cream Cheese
6 tbsp of Dark Chocolate Chips
Preheat your oven to 325 degrees and line your cookie sheet with parchment paper.
The original recipe called for whipped cream cheese but I used block because it was on sale. ?
I beat that with my Kitchen Aid Mixer, which is not ideal for the job. If you have a hand mixer use that. I don't so I used what I had. I just held the bowl up so the mixer could reach the bottom of the bowl.
Next, add in everything else. I hand mixed this with a fork. Add enough Almond Meal to get the right consistency. These are not moldable cookies.
In fact, they are more liquid and you might think they are not going to turn out. I gently spread them around to the size I wanted.
Spoon your cookies out on your cookie sheet. I choose large sized cookies and since I was still clearly remembering my last two fails, I chose 4 cookies with zero chance of running into each other.
I baked mine for 20 minutes and let them rest for 5.
I made a total of 8 BIG cookies! They were worth the wait! Not sweet at all, but so good.
AND zero aftertaste! Yay!!
Aren't you glad you chose to read up about cookies?! So now you can make an informed decision before clicking that "I ACCEPT COOKIES" button.