Are you looking for an easy and affordable alternative to pasta that is gluten-free? Make Zucchini Noodles with the one tool you already have in your kitchen!
When working moms ask me about balance I often tell them: It is about knowing what needs to be done and what needs to be done by YOU.
As a self-proclaimed control freak, asking for help and letting those helping do it their way is hard for me. Can you relate?
I struggle not refolding the towels after the kids. Not sweeping the floor again. The only thing that doesn't bug me is dusting because I hate it.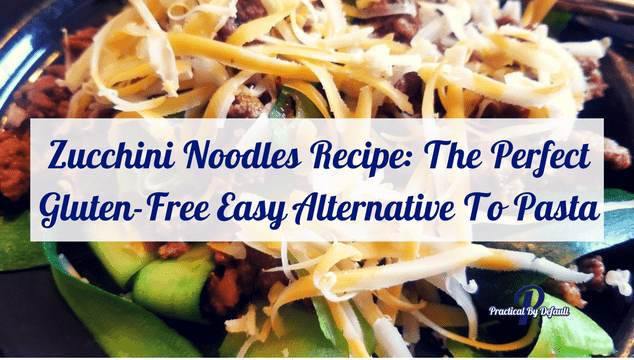 After my burnout experience that I vow never do again, my husband started cooking on the weekends.
I can not tell you how much help this is. For 2-3 days a week, I don't worry about meals and cooking.
The kids make their own breakfast and lunches and he makes supper.
Is it what I would make? Nope.
Is it when I want it made? Nope.
Is it done neatly? Hahaha! I mean, nope.
But I thank him every single time.
Because it is one thing I don't have to do.
The Perfect Gluten-Free Alternative To Pasta: Zucchini Noodles!
One of my favorite meals is pasta. I LOVE pasta.
My husband, not so much. Since I am gluten-free we have less pasta than I wish.
He picked up premade Zucchini Noodles from the grocery store a few months ago and I was skeptical. I am NOT a fan of Zucchini. The only way I like it is shredded in chocolate cake 😉 Or so I thought.
They turned out so yummy, even the kids liked them. We topped them with pasta sauce and ground beef, just like spaghetti.
Buying them pre-made is faster when you are in a rush but we like making our own for a cheaper alternative.
We looked into getting a spiralizer but are still on the fence. In the meantime here is how he makes our Zucchini Noodles.
UPDATE: He caved and bought a spiralizer off of an Amazon sale. It's easy to clean if you clean it right away before the noodles dry on the spiralizer or just throw it in your dishwasher.
BUT the method below is still faster and more fun in my opinion! 🙂
Zucchini Noodle Recipe:
⇒ Prep Time: 5 Minutes Cook time: 1-2 Minutes
This recipe is super easy to make. No special equipment required.
What You Need:
2-3 Zucchini washed
Veggie peeler
Knife
Cutting board
Pot
Water
Strainer
Toppings of choice
What You Do:
Wash zucchini well and dry.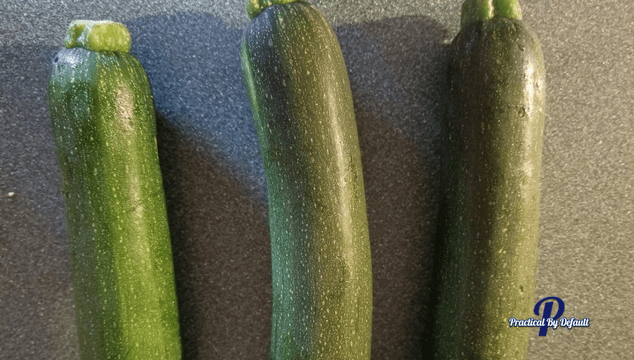 Cut off ends with a knife.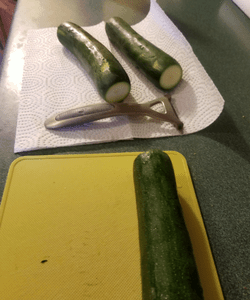 Using your veggie peeler, peel until you get the seeds. (See video)
Add water to your pot.
We eyeball the amount of water needed. You want enough to submerge the noodles.
Bring water to a boil then add noodles.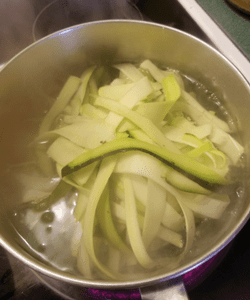 Cook for 1-2 minutes. The key is to understand how crispy you want your noodles. The shorter cook time the crunchier they will be.
Remove and drain well.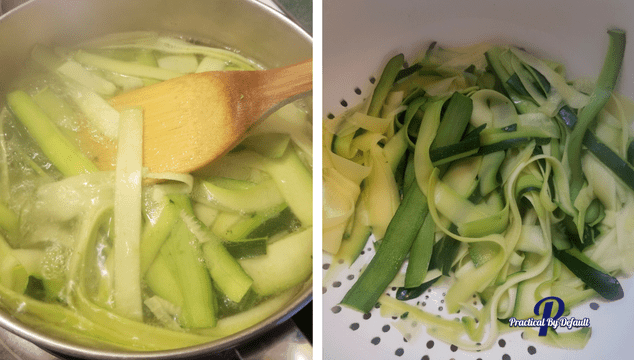 Top as you would any noodles.
Printable Zucchini Noodles Recipe:
Click and download this recipe to add to your recipe binder.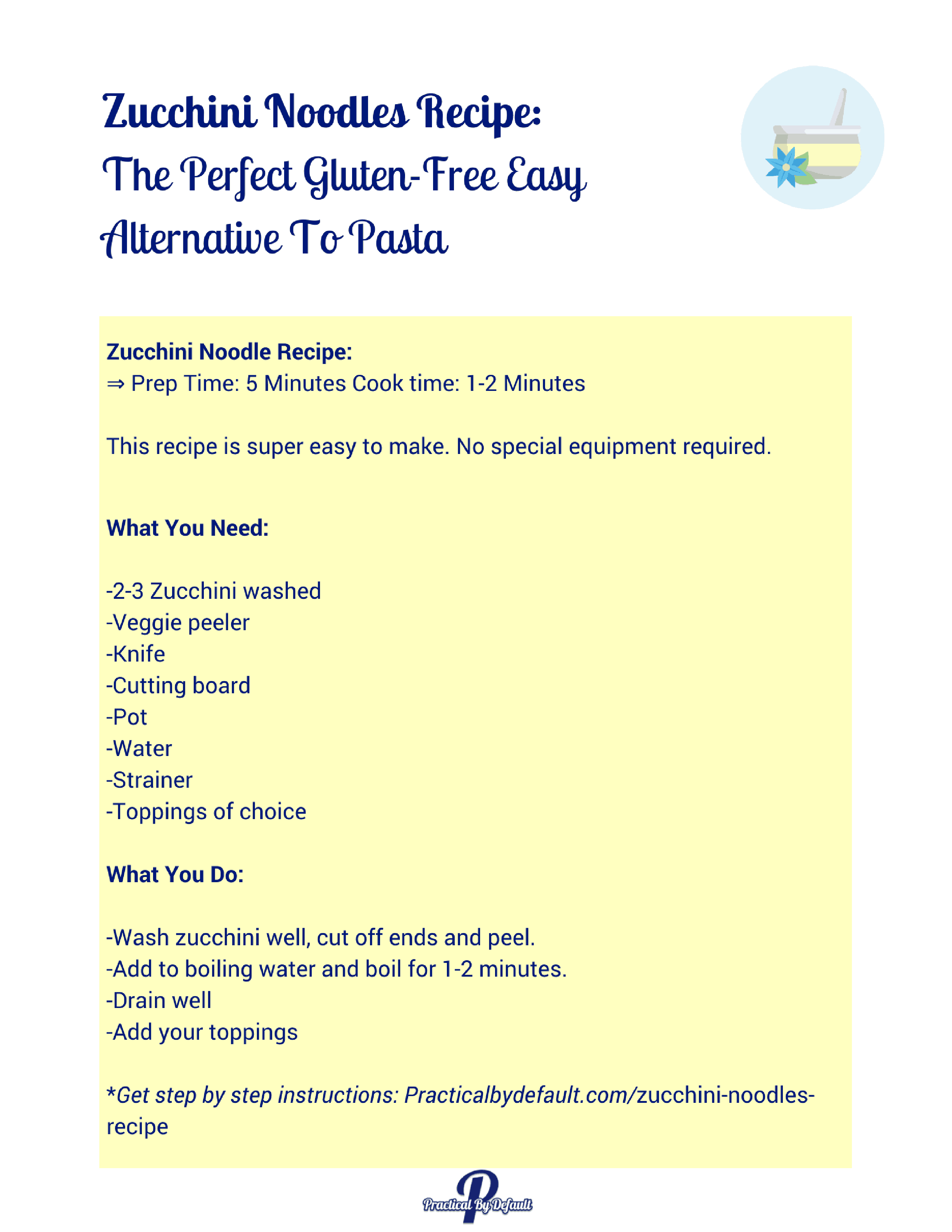 Zucchini Noodles Recipe
Our Favorite Ways To Top Zucchini Noodles:
Our favorite is ground beef, onions, garlic and a can of pasta sauce. Easy and fast.
Another favorite is cooked chicken, a jar of Alfredo sauce and fried mushrooms.
These zucchini noodles are the perfect easy alternative to pasta if you are gluten-free. The longest part of making them is peeling the zucchini and maybe waiting for the water to boil!
Have you ever made zucchini noodles? What is your favorite way to top them?
Take care
Jen
PS. If you are looking for more easy simple gluten free recipes check out the ones our kids have been cooking up here: Recipes Gluten-Free
PLEASE PIN ME: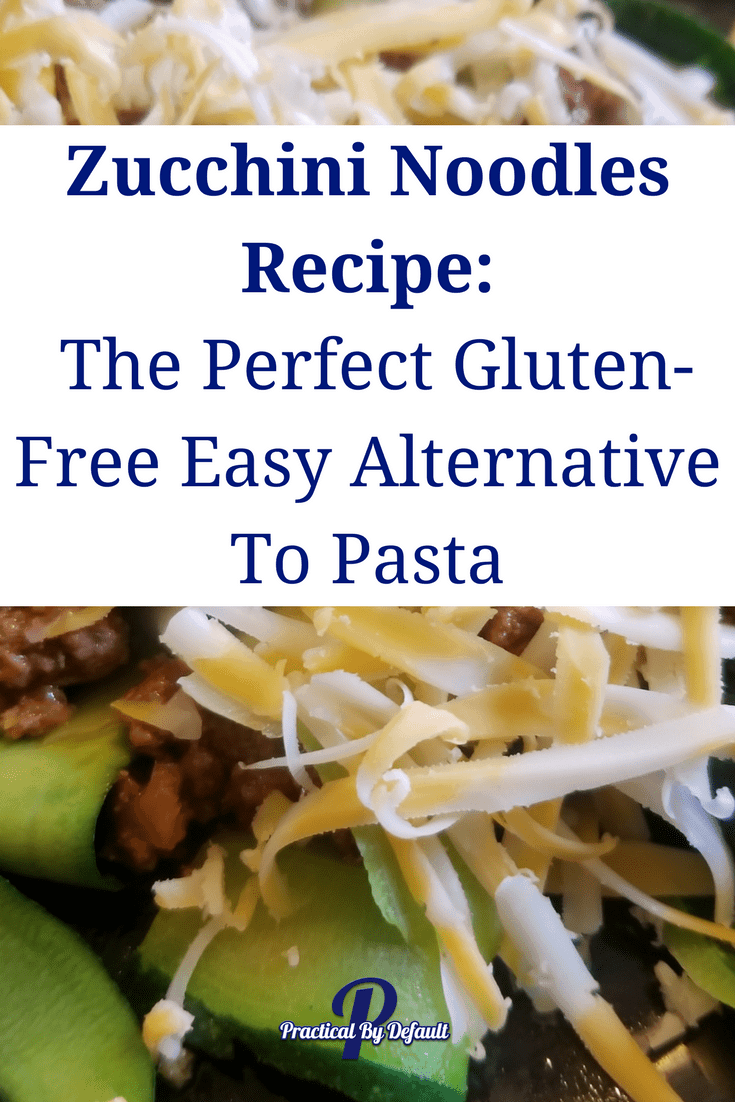 Hi, I'm Jen. I help working parents balance work and homeschooling by providing encouragement, support, and inspiration. You are warmly invited to Join the Online Community Here!