Looking for a super fun way to discover healthy snacks for your family? We are trying the  Love With Food by SnackNation subscription box. Find out what is in the box and don't miss the coupon code!
What's the first thing people warn you about teens? The bottomless pit. How teens will eat you out of house and home.
Since teaching my kids to cook I don't hear "mom I'm hungry" as often but it still comes. Finding healthy snacks for your family that you can grab and go is tough.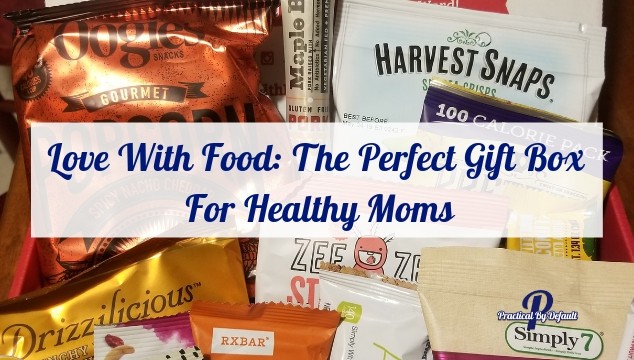 I've been scoping out the  Love With Food by SnackNation Subscription box for over a YEAR! And to be honest, I wasn't looking for the kids. 😉
This box combines my two very favorite things: Food + Subscription boxes. Needless to say, I was super excited to be selected to receive a box and show you what was inside.
And in my opinion, this box is perfect for the busy mom who is looking for healthy snacks for herself. 
But since most moms are like me and end up sharing, you'll love how I turned this box into a great family fun filled evening.
What is Love With Food?
Because I was struggling to find grab and go healthy snacks for my own lunches I went hunting for a snack box that was affordable, offered a gluten-free option, and shipped internationally.
This is when I found Love With Food by SnackNation.
Love With Food by SnackNation is the snack-subscription service that delivers monthly curation of healthy foods. This means that the products in the box are a variety. It's a great way to try out new foods at a fraction of the cost! Plus, you can cancel anytime.
Discount codes *just* for you!
NEW** Special Offer | 40% Off First Deluxe Box! 
NEW** Special Offer | 40% Off First Gluten Free Box!
New** Special Offer | 40% Off Tasting Box!  
It now comes with a gift option! And yes, you can buy just one box of the Deluxe Box & Gluten Free Box if you wish, although the annual plan is the best deal. They also have both a 3- and 6-month option. (Don't forget to use Ebates!)
Plus with every snack box delivered to you, Love With Food by SnackNation donates at least one meal to an American family in need through their partnership with Feeding America. Since 2012, they've donated over 1M meals!
Snack Smart, Do Good club starts at $7.99 a month, ships free to USA & Territories and for the first 5000 international boxes, shipping is a flat rate of 3.99.
There are 3 different options for the box:
What's In Our Deluxe Box?
I cracked this open on Facebook to show you all the snacks that came in our Deluxe box.
Click here to watch on Facebook and read all the comments.
Right now you can get this box for 40% off! Click here. Click here.
Next, we planned a family fun night of taste testing. I created this little sheet with the name of each product and what we all thought of it.
You can download your own blank sheets, just click Download Now and print as many as you like.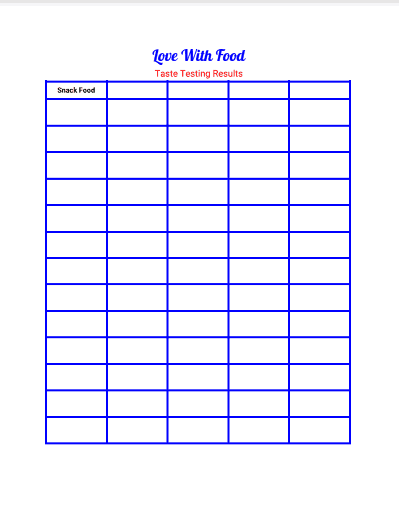 Love With Food Tasting Sheet
Have FAMILY Fun with a food tasting party! Use this one page instant download and keep track of everyone's reactions to the new snacks in your Love with Food box 🙂 Learn more about our Love With Food Box here.
That's right, we are CRAZY!! We tried all of them in one night.
I am sharing the list, our thoughts, and where you can get them.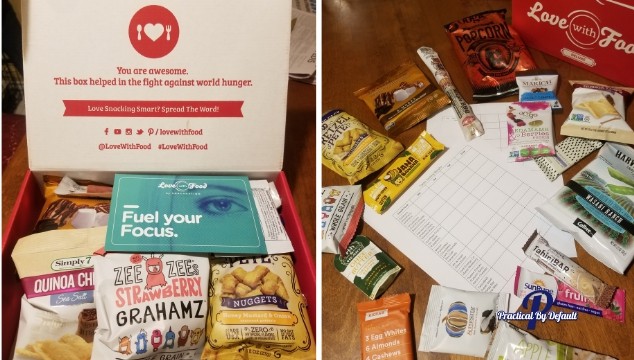 Our Snack List:
Here is what was in our box, most of the items were BRAND NEW to us. Fun!!  Only two were items we were familiar with.
I'm sharing the link for Amazon so you can price compare and read the reviews. It is my favorite way to research something before I buy. That way you can order (or reorder) individual products at the cheapest possible price. 🙂
These were a hit with everyone. They reminded me of animal crackers as a kid. They are whole grain, vegetarian, nut free with no artificial colors or flavor. See them on Amazon here.
 To die for. My daughter snagged these as her own. Made with rice, chia, quinoa & flax. Non-GMO and gluten-free. See them here on Amazon.
Nope. No one in our house liked these. LOL My husband did eat a few more than the rest of us but even he gave up after halfway through the package. According to the Amazon reviews, those that love them LOVE them. See those here. 
Fruit roll ups, anyone? But a healthy version. We have these in our local stores and knew these would be good. 100% fruit, no added sugar, color, flavors or preservatives. Gluten-Free, vegan, peanut free and allergy free. See them here on Amazon. 
So good. I kinda wanted to steal these and hide them. But that would defeat the whole "sharing with your family" thing. However… I would totally do it had they not seen them first! Learn more about how they are made with real food here. Check tthemout on Amazon here. 
This is the only thing left blank on our sheets. I am unsure of how to use this or even taste test it. Any ideas? According to the package, it is grass-fed, no antibiotics, no dairy and perfect for those on a Keto  or Paleo Diet. Learn more and read the reviews on Amazon here. 
I love energy bars and this was delicious according to the adults in my family. The kids were not a fan. Which is probably best since it is a caffeinated bar. Learn more about Verb Energy Co here.  I did find one on Amazon but it is a mix box and includes the one I tried.
If you love spicy food, you'll love these. I do not. Ha! But my husband enjoyed it immensely. This treat is Non-GMO, gluten-free, and 100% natural. Find more information on Amazon. 
These are soft and so yummy. My daughter claimed the rest as her own. We all loved them. Gluten free. Find out more about the other flavors on Amazon. 
Banana bread. This was the taste for all of us… Banana bread in a bar. Made with natural Green Banana Flour and no sugar added. Learn more here on Amazon.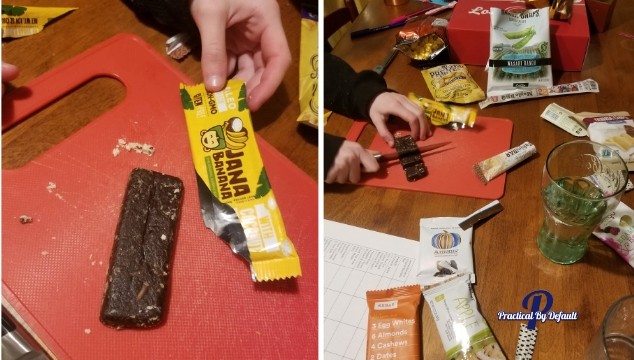 I loved this bar. Probably my second favorite thing in the box and yes packaging was a massive hit for me. The entire ingredient list is on the package. The taste was great and everyone but my son liked it. Find out more on Amazon. 
This is what I love MOST about getting a subscription box like Love With Food. Often you can't buy a single item out of the box… for less than the price of the ENTIRE box itself. 
Because right now you can get the entire Love With Food box with ALL the products starting at $7.99 + free shipping in the USA.
This is a small bag of trail mix. I wasn't expecting it but it was good. My daughter wasn't a fan but the rest of us liked it.  NON GMO, Gluten Free, Preservative Free, and Low in Sodium. Learn more on Amazon. 
If you like mustard you will like these, I do not. ICK! My husband got to enjoy the whole bag on his own as the rest of us were not a fan. Made from Made from non-GMO ingredients. No saturated fats, no trans fats. Learn more here on Amazon.
I am not a fan of Pork so this was not a favorite of mine at all. My son thought it was good, but no one was blown away. You can learn more about it here on Amazon. 
This was my favorite product in the whole box. Seriously, I gave each person like 2 to try and kept the rest for me. I have been hunting locally for them. Which is crazy because I do not like chocolate with salt., but this was good!! Allergy friendly, non-GMO, organic and no shells. Learn more here. 
This was a good bar. We all liked it for being a great bar to grab and go. I love that the kids have a healthy option that they like. Learn more here on Amazon.
View this post on Instagram
These were good! None of us could taste the Quinoa which is good because we are not a fan of Quinoa. 🙂 Of all the things I miss with food allergies, potato chips are one of the things I miss the most.
This would definitely fill that need. Certified Gluten-Free Snack, Vegan, Non-GMO Project Verified, Kosher, Vegetarian, Soy-Free, Nut-Free. Learn more here. 
---
We had so much fun unboxing and taste testing the snacks in our box. I gave one to my mom ♥
The  Love With Food by SnackNation Box is perfect for healthy moms who are looking to discover new snacks. I love that almost every snack was brand new to us.
The gift option is great!🎁 Don't forget, right now you can get this box for 40% off! Click here. Click here.
I would really love to hear what you've tried from this box so far, what you loved and what you didn't, or what you would like to try from the list if you didn't get this box.
Although it takes a lot of time to hunt down each product in the box, but I wanted to do the research for you – and give you links where you could find the products individually. Because it's FUN to discover new healthy foods & fresh options to mix things up a bit – even if you don't subscribe to "the box."
Here's to keeping your family fed!
Take care
Jen
PS. Don't forget, right now you can get this box for 40% off! Click here. Click here.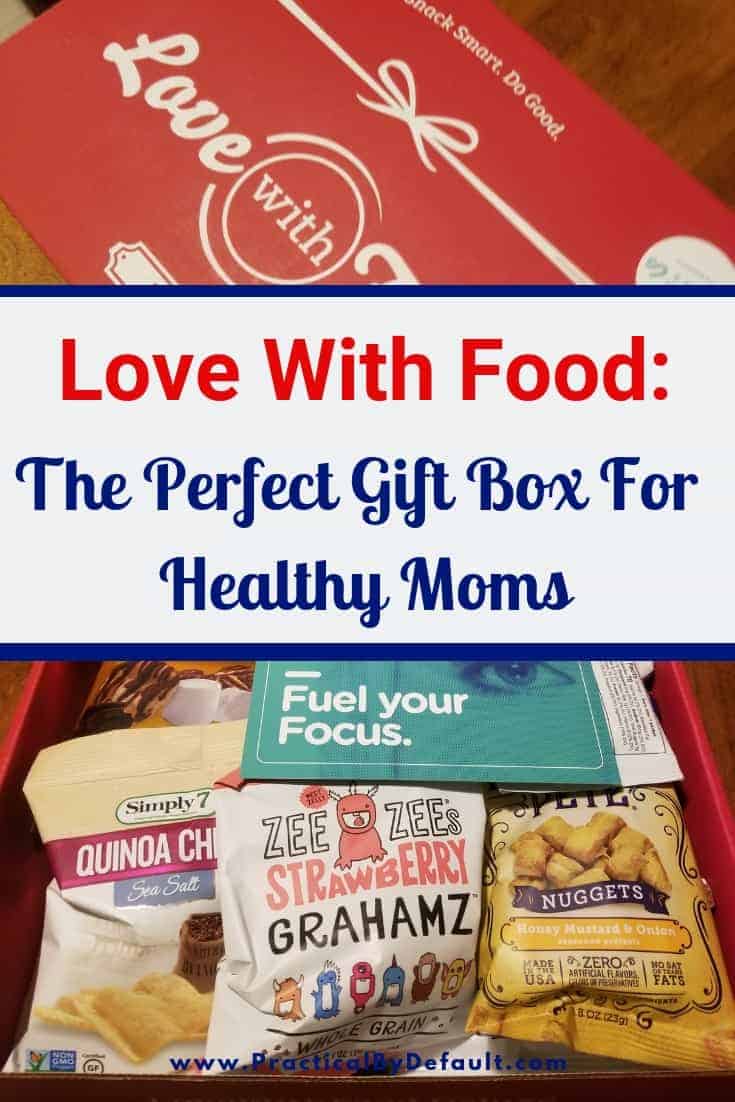 Hi, I'm Jen. I help working parents balance work and homeschooling by providing encouragement, support, and inspiration. You are warmly invited to Join the Online Community Here!