Teaching poetry in high school can be as easy as having the right tools to help you get the job done! Check out this online high school homeschool course Poetry & A Movie.
"But, you aren't going to homeschool high school, are you?"
My kiddo was 5. I didn't know I was going to be homeschooling next week never mind in 10 years! It's okay not to be sure and it's okay not to know.
Half the fun of homeschooling is figuring out what your homeschool will look like and learning as you go.
Jump ahead 10 years and I can now say yes, we are homeschooling high school and having a blast! And, you can too!
One key that has saved me from my doubts and fears is the knowledge that if I don't feel confident teaching something I can outsource it.
Earlier this year we had a problem with finding the right Language Arts program for high school.
After two very emotional stressed out days and having her HATE (yes, all caps!) every single language arts program I could find, I gave up!
Yup, I said forget it and called a friend to vent. Little did I know she just released a brand new language arts program for high school called Poetry & A Movie.
She asked me if I'd be willing to test it out and share my thoughts. I made a judgment call and said, "thanks but no thanks" to the offer to check it out. After all, my kiddo hates poetry and movies.
Of course, she made a liar out of me as kids do and said yes she'd like to try it out. Ha!
Here we are, teaming up with Literary Adventures for Kids to bring you this review!
Ready to dig in?
When I am considering something for my kids I like to be armed with as much information as possible to make an informed decision.
Keep reading as I crack this open for you by sharing:
supplies you'll need and where to find them
how the program is designed to work
how we use it in our homeschool
what we changed to fit our needs
what poetry tea time is
and get your questions answered in a Q&A video.
Poetry & A Movie: Overview and Coupon Code
First, let me give you the overview.
Poetry & A Move:
Is an online course for grades 7+.
Is self-paced, start whenever you want and go at your child's pace
Is a one time purchase giving you lifetime access to the course.
Is a course that includes multiple formats for all learning styles
Is a study of 10 master poets and their poetry
Includes a study of literary elements, writing, grammar component and fun elements such as poetry tea time and trivia
Is flexible enough to be used as a full high school credit or half credit
Literary Adventures for Kids – Poetry and a Movie: I'm teaming up with Literary Adventures for kids to provide you a special discount code, use WHSM for 20% off!
Teaching Teens Poetry:

Let's be honest, teaching classic poetry to teenagers can be difficult.

Why on earth would they want to study poets who have been dead for decades or even centuries? What does that have to do with their tech-heavy world?
Poetry & A Movie for high school not only teaches your teen about poets and their poetry but also teaches them how classical material is still utilized in our modern culture.

For the record, while watching one of the movies my daughter informed me how it was connected to the poet she was studying.
Here is how it works:
They start by teaching how poetry can be approached from multiple angles: history, form, and analysis.
Next, they teach the literary elements found in the poems and turn this new knowledge to create their own poetry.
And then, they learn how modern screenwriters incorporate the master poets into modern movies.
Supplies List & Where To Get Them
I really appreciated getting an inside peek that allowed me to see now only how the course worked and the platform it uses but also the supply list.

Here is how you can get to the preview to check it out for yourself:
Click here: Poetry and a Movie page
Scroll to about half-way down you will see a link to a free preview. (shown below click where the red arrow is pointing)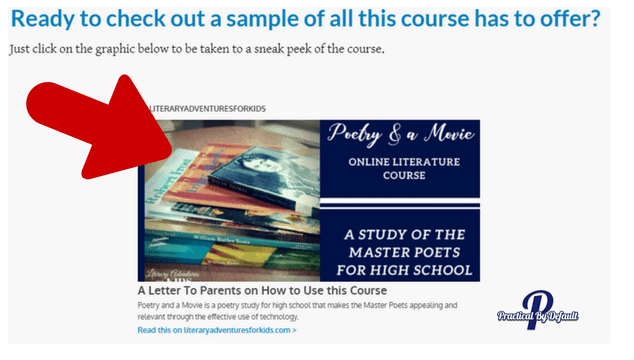 I wanted to share with you a quick checklist I made for her since she dashed off to find the books and movies, (I know right?! YAY!!)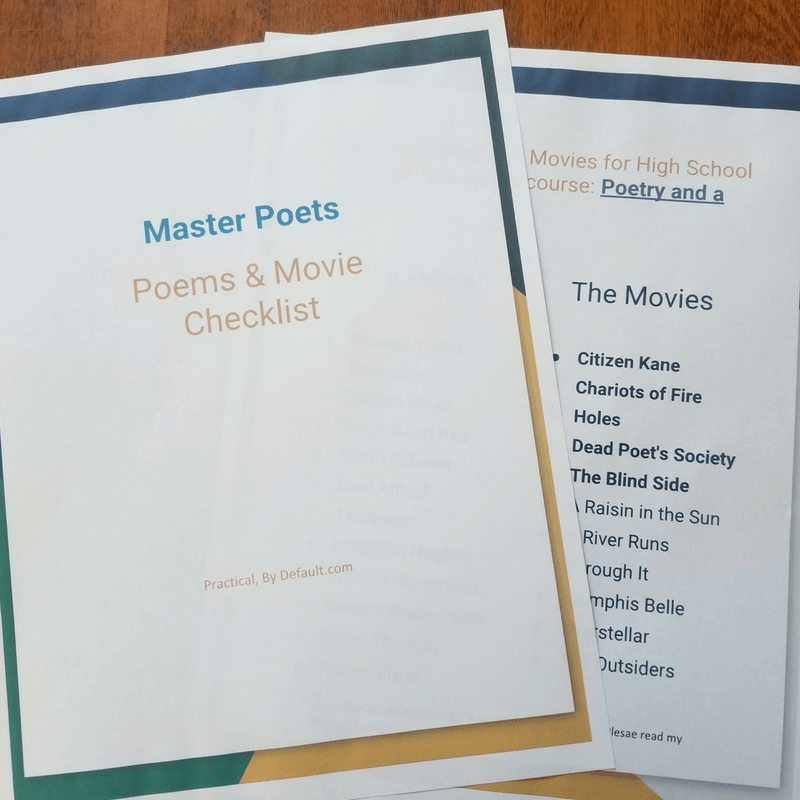 Master Poets Poems & Movie Checklist
We use Amazon lists to create buying lists and help us keep track of books and supplies. You can see our list for this program here.
There is one book missing because it didn't have the option to add to the list. Instead, I added it to my cart, that way Amazon will email me when it goes on sale. Neat huh?
Because books can be pricey, I highly recommend taking this list with you and checking your local library, friends bookshelves and used bookstores.
I shared my favorite ways to save money on books here if you want more ideas!
What Is Poetry Tea Time?
As I mentioned, outsourcing to online programs is what has saved my homeschool as a working mom. BUT the problem of outsourcing so much is I miss the connection and learning beside my kids.

This is where the Poetry Tea Time & Movie comes in.

Let me confess, I hate reading out loud and my kids are not a fan of it either. However, Poetry is meant to be read out loud.
Also, I had no idea what Poetry Tea Time was, to begin with.

Put simply, Poetry Teatime is a time to set down with your kids to read poetry while enjoying snacks and tea."



– What is poetry tea time?

First of all, here we are doing our version "poetry tea time".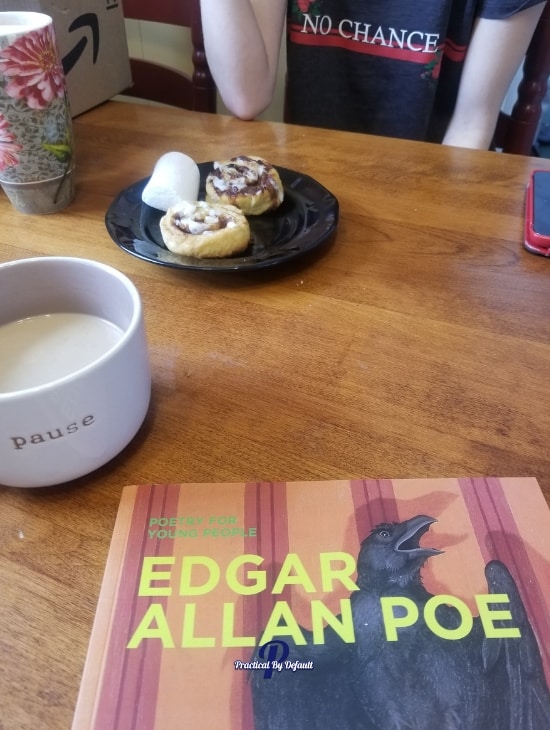 This book, in the photo above, is amazing by the way. It is one of the Poetry for Young People books which is super cool. It explains words and phrases plus a little history of each poem. We got it from Amazon here.
Remember, homeschooling is a personal journey and should look different for you.
Fun facts about our "Poetry Tea Time":
We don't drink tea, hot chocolate for her and coffee for me.
We don't set a weekly date.
I hate reading aloud but I do it.
She eats whatever she's baked and managed to hide from the boys. In this case, homemade cinnamon rolls.
And we take turns laughing and reading together, mostly her making fun of my messed up reading.
We don't fit the mold. So we do it our way.
Guess what? You should do things your way too. Whatever works in your homeschool, do that. ❤️

What does poetry tea time look like for you, if you do it?
Poetry & A Movie In Action
My favorite part of this course is how it fosters independent learning.

Because I work outside the home as well as inside the home, I need something that is "done for you" on my end as well as engaging, interesting and does the teaching for me.
Here is how we use Poetry & A Movie in our homeschool:
She logs in and clicks "Start the next lecture".

Each lesson includes an estimated time and clear instructions that are easy to follow.
She reads, watches the videos or prints off the poems and adds them to her binder.
When she needs me to check something, she leaves her work on a clipboard and I check it after work.
We plan our poetry time for my day off and she gets a baking day to make her own treats before we read.
We plan our movie day for lunchtime or afternoons after work.
We love the flexibility of the course!

Poetry & A Movie Sneak Peek!
I had fun with this video on my Facebook Page. In it, I am answering questions about Poetry & A Movie.

Watch the video and let me know if you have any questions I missed.

Quick Questions:

I wanted to note the most popular questions here in case you didn't have time to watch the video above.
What age is Poetry & A Movie designed for?
This course is designed for high school and to count as a full credit. Students in grades 7 and up should be able to complete this course.
How long do you have access to the material?

From the time of purchase you get unlimited access to this course for as long as you like – across any and all devices you own for the lifetime of Literary Adventures for Kids, which means you buy it once and you can reuse it for each kid.

For users, you get 5 downloads. So you can use them for other users in your household. If you need more because you have more than 5 children, you can email and they will help you get set up.
Can my student work through this course independently?
This is a tough one as every child is different and you know your child best. That said, Yes, they can but may need help.
My daughter works pretty much on her own, with me checking in for odd things. And of course, we read and watch the movies together.
How long is this course?
This course is designed to be completed in a year. Each poet is a month-long study for a total of 10 months of instruction.

However, this is a self-paced course. There are no starting or ending dates. Feel free to use at your leisure. Start and end when you want.

How much time does it take for the parent?

The course includes a teacher's guide for the literary elements portion. This is not found in the course but is a PDF.

The grammar portion is through Khan, so is self-graded.

However, the course is designed in a way to get children excited about the master poets. So, much of the grading is subjective.

They suggest grading the creative writing portions based on your child's abilities and try not to be too critical when a child is learning their writing voice. To put it bluntly, did they put their energy into the assignment?

All that to say, that it should require 1-3 hours of teacher time per month. The student would probably require 30-60 minutes per day.

What if I hate the course?
No worries, within 10 days of purchase you can get a full refund.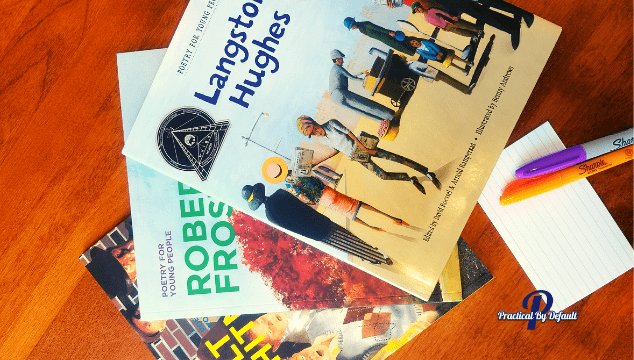 Poetry & A Movie: Pro's & Con's
Let's start with the good stuff:

The course is taught using multiple formats which is great for all learners and keeps it interesting for your teen.
When learning to write their own poetry the course makes it totally doable. They can also leave the poem in the comments to get feedback.
Links to the movie reviews are appreciated. I can decide how to handle any situations.
Self-paced no rushing
The course uses the teachable platform which is easy to navigate and you can sign in on any device.
Lifetime access
Perfect for teaching your kids independent learning because of the guideline.
A great way to mix offline work, writing, reading, and note-taking with online work!
Little to no prep work for busy parents.
I had a really hard time coming up with a cons list. After we brainstormed here is what we came up with:
If you live in Canada the movies do not seem to be found on Amazon Prime Video
Some books may be hard to find as well. There was one I am still looking for. But you can print off the poem you need.
This course is not good if your child prefers textbooks
It uses online learning, so if your child does not like to use a computer they may not want to use this program.
Grading is subjective. Because the goal is to inspiring kids to relate to and want to read and write poetry the focus is not on mechanics. Therefore, you will not always have definitive answers to for the writing.
Seriously that is all I have for cons. This is a really great program for getting your teens excited about poetry while giving them a solid foundation in literature and learn to appreciate the figurative language.
So, if you are in the market for a language arts curriculum for your 7th grader or up that's already prepared for you and is appealing to kids, then click here to check this out!
h
Quick Product Overview:
How To Purchase: Visit Literary Adventures For Kids Poetry & A Movie
Don't forget to use our special coupon code WHSM to save 20% off!
Grade level: 7 and up
High School Requirements: Full or half credit
Course Type: Digital online course. No physical product will be shipped to you. You will need to find books/movies and a few supplies.
---
There you have our full review. I hope you enjoyed digging into Poetry & A Movie with me.
If you have any questions, please feel free to leave them below!
Take care,
Jen
PS. Teaching poetry in high school can be as easy as having the right tools to help you get the job done! Check out this online high school homeschool course Poetry & A Movie.
PLEASE PIN ME: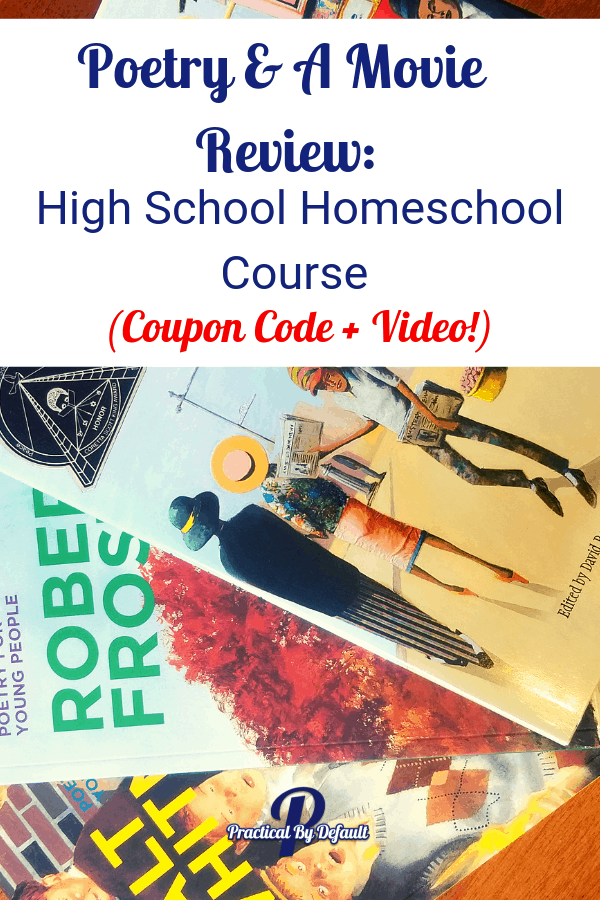 Hi, I'm Jen. I help working parents balance work and homeschooling by providing encouragement, support, and inspiration. You are warmly invited to Join the Online Community Here!