Inside: Does the very idea of your child handling sharp knives freak you out? It's never too late to teach your kids knife and safety skills.
I'll admit it. I have a crazy need that drives me to make sure my kids can handle whatever life throws at them.
And I thought I was doing okay. Until my son reached for a serrated knife to cut cheese from a block.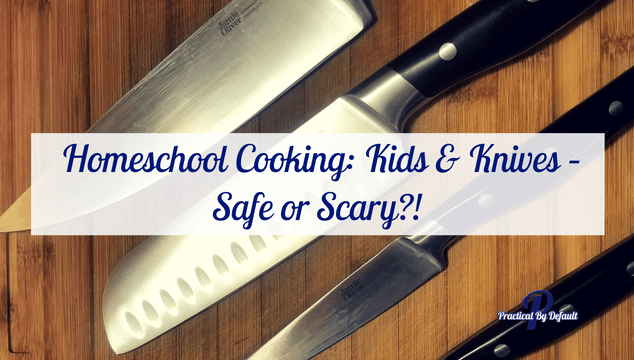 I did a double take. Because if you've ever tried to cut a slice of cheese from a block with a steak knife you'll know how that turned out.
Let's face it.
Life is about learning.
Discovering new things.
Or in this case, realizing you totally failed and forgot to teach your kids how to use a knife.
At that moment I realized I HAD FAILED.
And as a homeschool mom, it was a nightmare coming true. Something I completely forgot to teach!
For the record, you will never be able to teach your child everything they need to know. It's impossible as life changes too fast.
But it is never to late to realize you missed something and fix it! 
When a friend told me about Kids Cook Real Food cooking program I checked it out. It's a complete cooking course for kids, you can read more about our experiences with the full cooking program here.
After witnessing the above I decided to go with the Knife Skill Class.
Knife Skills & Saftey Course:
Investing in teaching my kids the right way to use a knife was the right choice for our family.
Not only is it vital, since knives are pretty important when cooking, (and my children do a lot of cooking! ) but I also had all these thoughts of what would happen if or when the knife he was using slipped.
My son is not a fan of blood. 
I could tell you so many stories of trying to teach this kid anything about blood including first aid, how your body works and more.
I start into the lesson and turn around only to find him slumped in a chair feeling ill.
Can you imagine what would happen if he sliced his hand open because he didn't know how to use a knife?! Oy!
Yes, accidents happen but as a mom, it is my job to do what I can to prevent them and keep my kids safe. 
Here is a preview video you can check out:
>>>Click here to learn more: Knife Skills Class For Kids<<<
Btw: For a limited time, you can get a free 10 minute lesson to get your kids comfortable in the kitchen!
A mini summer camp at home where all the work is done for you — and you just get to have fun with your kids in the kitchen!
I purchased the knife skills course for two reasons:
1. I like to test any program if possible before buying it. Most people purchase the full Kids Cook Real Food All Level VIP Program because it is the best value for your money.
But I didn't. I started with the knife skills course because I didn't want to spend the money on a full course if I didn't like it or it didn't work for my kids.
2. Because I didn't know how to use a knife properly I wanted to make sure my kids were better equipped than me.
I know I have bad habits.
In fact, I may have used a steak knife for veggies more often than not. And I don't want my kids learning from me.
And I know it is important to teach our kids knife skills and kitchen safety.
Plus, I learned a long time ago that online programs we can do at our own pace works best for our busy schedule.
And this course is online and includes printable elements which is perfect for us.
Armed and excited about our new learning adventure I dug into the resources to see what was all there.
What's Included In The Kids Knife Skills Classes:
5 videos to help you start teaching your kids to cook
Easily skimmable PDF lessons plans for each skill level.
Printable flashcards to help you remember the memory phrases you'll learn.
Access never expires.
Take a weight off your shoulders, spend quality time in the kitchen, and teach your children vital skills that will last a lifetime.
Appropriate for ages 2 to teen.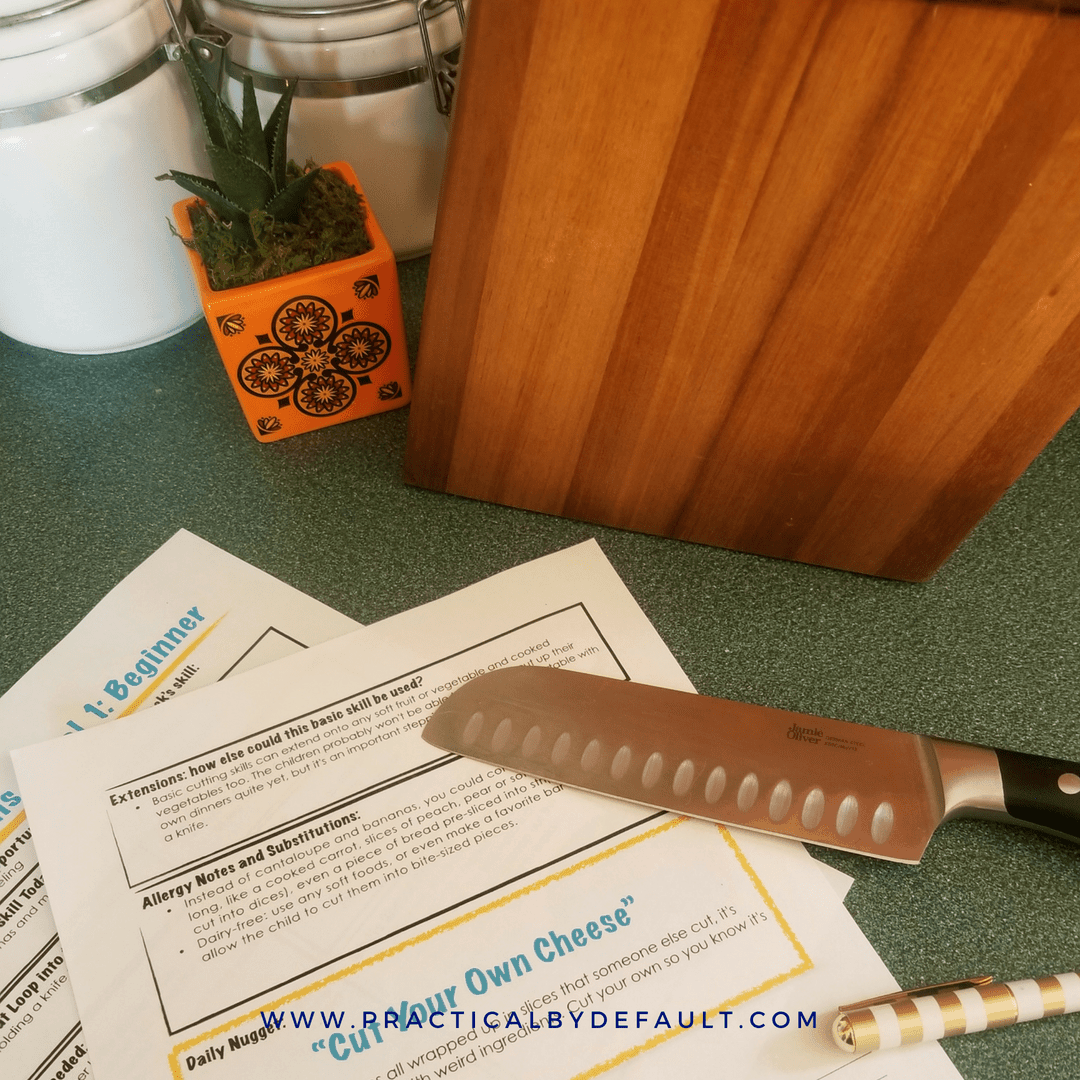 Backlash Over Teaching My Kids (Or the lack thereof…)
When I told a few people I decided to invest in an ecourse to teach my kids how to use knives, I got a bit of backlash.
Seriously…
I guess purchasing a knife skills course for teens shocked a few people. After all shouldn't they know this already?!
I started to feel like a failure as a parent. I am sharing my "why" and maybe you can decide for yourself 🙂
Here is my answer:
As promised here is the link to the
Knife Skills Class
I purchased.
As I mentioned in the video above, I got the Knife Skills Class right at the end of Summer.
I wasn't sure if they would agree to begin during "summer break". We decided to "test" it and they agreed to try one or two and let me know what they learned and thought.
My kids are teenagers. The children in the videos are much younger. There was a bit of eye rolling going on. But one of the great things about video courses is the teacher never loses her temper or gets annoyed 😉
Remember I said that I didn't know how to use a knife properly either? I made the time to watch the adult videos and practice my own knife skills.
I learned the proper way to hold things and used the skills I was learning. Setting the right example is so vital for kids of all ages.
I have found as my kids get older they watch, listen and imitate even more. They needed to see me learning something and trying to break old habits.
I love spending time with my kids and cooking together is a great way to connect with them while knocking out a much needed task.
And the best part was I didn't have to teach them or nag them to practice. I don't know about your kids but sometimes my kids will listen better to someone else-yes even a video-better than they do me.
It wasn't long before they were reaching for my super sharp Jamie Oliver knife set and handled them like a pro. Remember? These were the knives only my husband used because the rest of us were afraid to use them! 
Before watching the lessons I didn't even like using these knives. Yes, the knives you see below.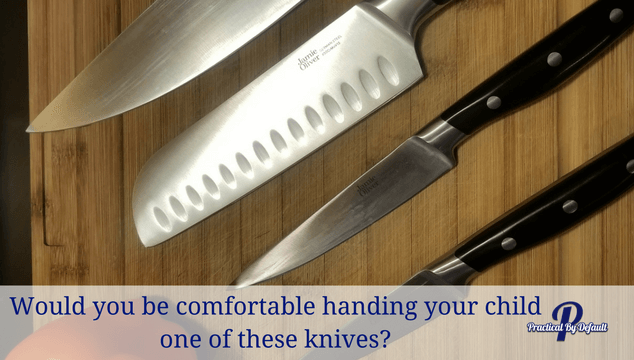 Now they are the most used knives we own.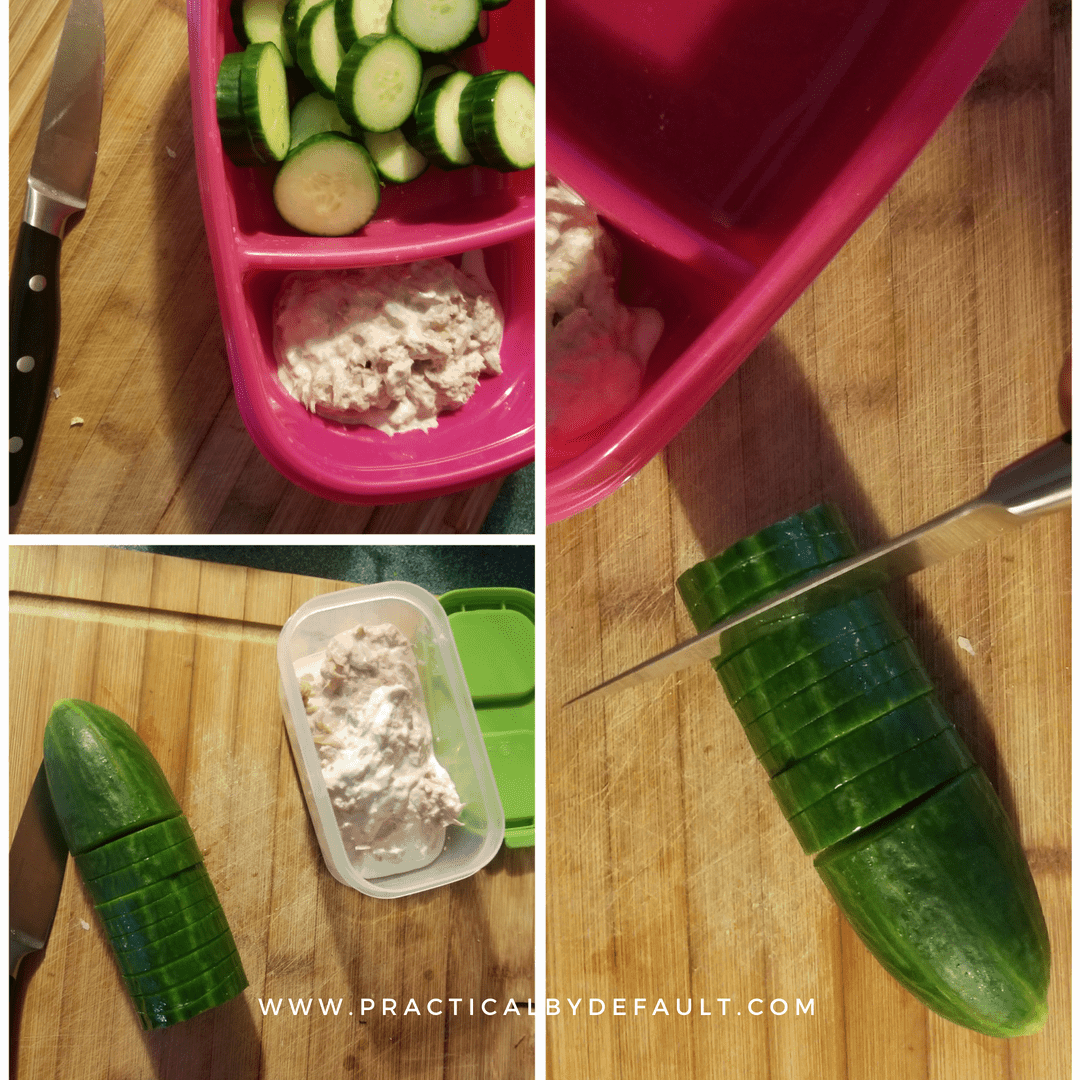 If I had only one cooking course to recommend, it would be the Knife Skills Class.
As much as I love my Instant Pot and the Instant Pot Course For Kids, I feel knife skills are a necessary skill because they are used every single day in preparing and cooking food.
Plus, this course helps to avoid the 7 mistakes you're making in the kitchen with your kids!
Some kids have parents that are chefs. Some kids have parents that know these things. Mine do not.
When my husband and I got married, I knew how to cook. And he learned fast. But I wasn't comfortable with sharp knives and I absolutely wasn't going to hand my kids a butcher knife.
Not without making sure they knew how to it safely.
Now they know!
Which is awesome since my kids are assigned cooking once a week this year. Those knife skills are about to get a workout in my kitchen.
Tell me, are your kids comfortable with sharp knives? How do you teach them proper knife skills and safety?
Take care, 
Jen
PS. Teaching your kids how to use sharp knives safely is important. Be sure to check out Knife Skills Class For Kids, currently on sale for 65% off! Click here!  
If you want to test it out first like I did I highly recommend the Knife Skills course, click here to check that out! Although most people buy the All Level VIP because it is the Best Value for your dollar. You can check that out here!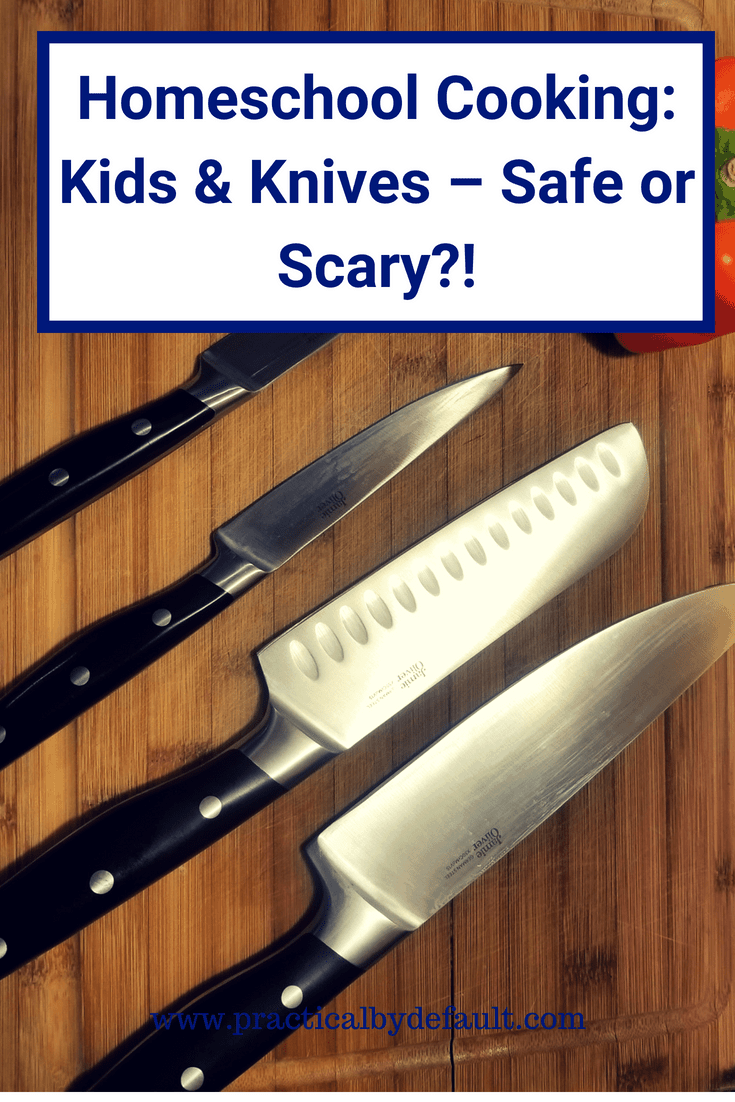 Hi, I'm Jen. I help working parents balance work and homeschooling by providing encouragement, support, and inspiration. You are warmly invited to Join the Online Community Here!