Chatting with other working homeschool moms is one of my favorite things to do.
These interviews are designed to encourage busy moms by sharing what homeschooling looks like while working and juggling other things.
It is always nice to know we aren't alone.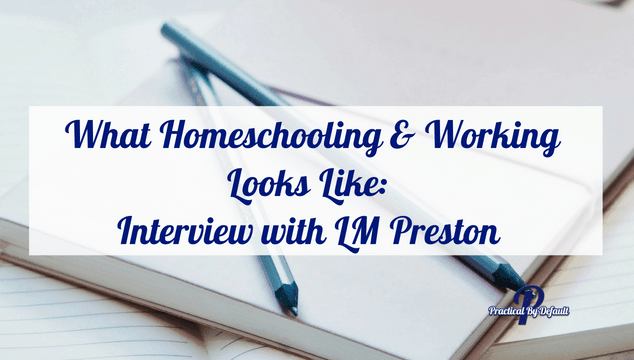 Today I am happy to introduce you to LM Preston.
LM Preston's a homeschooling parent, a wife of 25 years, an engineer by day, and a best selling author. She has a passion for juggling many things and loves to share how.
In spite of managing a career, a home, and a writing business, she and her husband were able to graduate two of her homeschooled children from college as early as 17 years old, and her traditional student also graduated early while playing sports compared to his peers.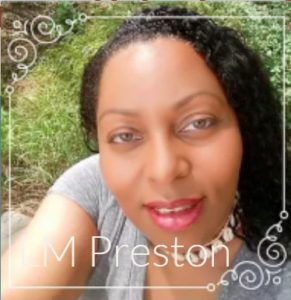 Her mindful words are, "Can't mean's Won't. But I know that I can and will." 
I personally met LM Preston when she first joined my online community The Working Homeschool Mom Club. She was one of the first members of the group back in 2016.
What stuck out to me was how positive about the whole working and homeschooling life LM Preston was.
Question 1: One of my favorite things about you is how you are always so positive and encouraging about being a working homeschool mom. Can I ask how you developed this positive attitude?
The attitude has a lot to do with my upbringing.
Being the product of a teen mom, whose own mother died when she was 17 years old, I had been rather observant of her and my Aunts that helped raise me. They helped each other, and yet, I never saw them complain.
They were happy to have jobs, some were married, others were widowed or divorced, but those women – they were real life survivors.
Question 2: What systems have you and your husband developed to help you juggle all the moving pieces?
We had to be flexible.
My husband gave up his chosen career to work around mine and make it so our kids always had a parent home (most of the time).
He worked three jobs, a paper route, a nighttime security job and as a Realtor up until our kids were old enough to be home for longer stretches without as much supervision.
We also, paid my mom to babysit at times, since it caused her to have to cut her work hours at her job. We did hire a nanny here and there, put our kids in aftercare or before care so we could work those hours.
We used Sue Patrick's workbox system, we had to use a curriculum that taught our kids for us and in which we just reviewed the work, and helped.
Also, we had to hire tutors for classes that we didn't have the time or energy to study up on and teach them.
Question 3: How would you describe your homeschooling style?
We have a traditional homeschool environment where our kids have up to 4 to 5 hours of instruction or work a day.
We also use various curriculums (boxed, online interactive, DVD based) that teach the same subjects to solidify the topics of Math, English, and Writing.
Question 4: What is the hardest homeschooling challenge you've had to overcome?
Childcare is the hardest for a working parent.
The other difficult part is separating parenting from schooling.
Discipline is about learning yourself and your child's triggers. There were times I had to give my kids and myself a break. We all have days that we just don't want to do anything, so I had to be able to allow us to take those breaks.
Question 5: Share a homeschooling win with us that stood out to you?
For us, being able to graduate all of our homeschooled kids from college early and at a much cheaper price than my oldest son.
Also, the relationship I have with my homeschool kids is so much deeper than I thought possible.
Homeschooling allowed us to travel off-season, to expand our kids' interest deeper into subjects they were passionate about. It's been fun for all of us.
Question 6: What was one fear you had when it came to working & homeschooling?
Fear that I would not be able to do it all. Keep the career I'd worked hard to build and properly educate my child.
Question 7: Can you share an example of what your day might look like?
Typically, my husband and I go to work, and schooling takes place for the kids when we are at work with their online classes.
We check in with them during the day by either dropping home for lunch, skyping, or texting.
When we get home from work, we will review their work, or tackle a subject that requires our help or attention. They have sports, meeting with a tutor, and other extracurricular various days of the week.
On the weekend, we finish any work that wasn't done as planned during the week.
Question 8: What advice would you give to others?
Realize you have the ability to be flexible with curriculum, time you teach, and how many days of the year you teach.
Focus on Math, Reading, Writing in the time you have to spend with your kid each week, but make other subjects fun with movies, projects, experiences, and self-study. Kids will amaze you.
Question 9: You wrote a book entitled Building Your Empowered Steps. Can you tell us a bit about the book, why you wrote and who would benefit the most?
Building Your Empowered Steps is the book I personally was looking for when I started trying to think and do things in my life beyond my own limitations.
It works as a guide in helping the reader evaluate themselves, their lives, and their dreams, while building their own pathway to making their objectives come to life, for them, their own way.
You can find Building Your Empowered Steps on Amazon & Barnes & Nobles
Question 10: You also have a mentoring and coaching program. Can you tell us more about that?
I work with 2 life coaches as a collaborative team. I mentor in career focus, education focus for adults changing careers or going back into the workforce, homeschooling and working, college, writing books.
We will listen to your vision and help you create the path exactly as you see it.
You can learn more about those services here: Empowered Steps Coaching & Mentorship For All Ages.
---
Thank you so much for taking the time out to share your journey, how you overcame roadblocks along with a great peek into your day.
If you'd like to learn more about LM Preston membership program I highly recommend you check out her site here or follow along with the blog here.
Reading interviews like this can be very inspiring. What was your biggest takeaway? Leave it in the comments below!
Take care
Jen
PS. LM Preston is also a member of our online community, The Working Homeschool Mom Club. You can find out more about that here!
You can read more examples in the whole series here!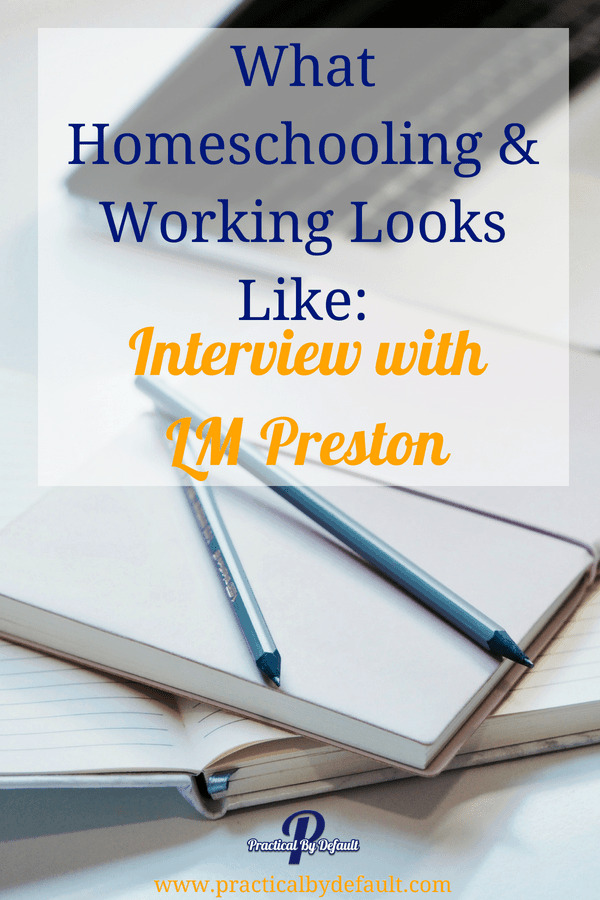 Hi, I'm Jen. I help working parents balance work and homeschooling by providing encouragement, support, and inspiration. You are warmly invited to Join the Online Community Here!