One easy way for me to add hands-on fun to our homeschool is by using science subscription boxes that encourage hands-on learning.
We've been exploring electricity with our STEM Deluxe Box from Steve Spangler Science. One of the main reasons I love subscription boxes is that pretty much everything you need comes in the box. Perfect for the busy homeschool mom, like me! And I am guessing you?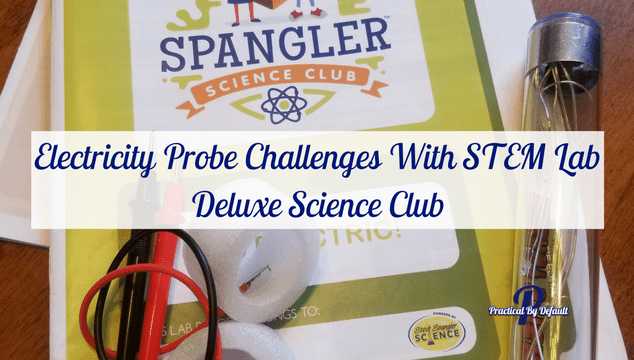 *I received this box in order to provide you with an honest review. All opinions are mine, as always.
The STEM Deluxe Box includes everything that we will need for the experiments. You can get up to 10 experiments in each Science Club Deluxe Box, this box came with 6. You can read all about the first 3 experiments here: Exploring Electricity with Spangler Science Club.
And you can learn more about exactly what is in our box here: Unboxing My First Steve Spangler Club Box
By the way, you can get 40% Off Your First Spangler Science Club Box of STEM Deluxe. Be sure to use the code SPANGLER16AF all caps and needs to be 3-month or 12-month membership. Shop all the boxes here!
As I mentioned our box came with most of the items you need and included two workbooks. The Lab Report is for the kids and the Top Secret For Adults Only Report is for me!
This box is perfect for families with children of all ages. You can break it down for younger children and the older children can help out by using the Adult Helper workbook.
The Adult book broke down each step, how to present the information and what was happening and why in each experiment. Perfect for when you don't know the answer to "why".
We've currently completed all the experiments and I promised to keep you updated. You can find the first 3 here: Exploring Electricity with Spangler Science Club. You'll want to check that out first if you haven't read it yet. Then come back here and find out what happened next!
Please note you are given estimate time needed for each experiment. We took much longer as we ventured off into rabbit trails.
However, for your convenience, I have included the time given in brackets after each title.
Experiment 4: Adding Probes To The Energy Stick (Time: 15 minutes)
We learned an easy way to convert the Energy Stick toy into a useful lab tool by adding probes.
Be sure to read the safety reminder especially if you have curious kids.
Example, kids that like to stick keys into electrical outlets like my husband did as a child. Also, that kid pulled them back out so he wouldn't get in trouble!
After chatting about circuits, testing the probe, and discussing how it works you will use your new tool called a conductivity tester to test solids.
You will determine if the solid item is a conductor or an insulator. If needed review Science Secret #1 with your kids before starting this activity. It provides information about conductors, insulators and developing a hypothesis.
Next the kids gathered solid items to test with the probe.
They chose:
Metal Spoon (listed in the chart)
Plastic Spoon (listen in the chart)
3-Hole Punch
Pencil Sharpener
Egg- my kids are obsessed with testing eggs
Dime (Canadian 10 cent piece)
Penny (Canadian 1 cent piece no longer used)
Plant
Metal Bottle Opener
Water Bottle
Candle
Large Eraser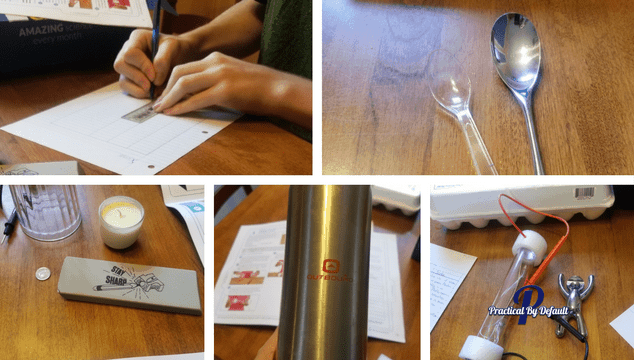 The coins turned into researching what they were made of and a whole new discussion 🙂 We learned our Dime is made of 92% steel, 5.5% copper and 2.5% Nickel which lead to us testing our German Steel Jamie Oliver knives.
This is a massive win for me as my kids never liked to venture far from the lessons and I've been working on this for years! Yay!
Experiment 5: Test Tube Probe Challenge (Time: 15 Minutes)
So far the children have only been testing solids. Now you will move on to testing liquids.
Again be sure to read the warning about electricity and water-for all ages.
Be sure to lead the discussion but let the child observe what is happening. My favorite is the line in the Adult helper that says, "The science gets really complicated from there but basically…" and then pares it down so you can understand it. Your big kid can dig into the more complicated science should they wish.
Next you will take it further and create a chart similar to the one created above. This time you will gather liquids to test.
We tested:
Vegetable Oil (suggested)
Distilled Water (suggested) We tested tap water since we didn't have distilled water.
Dish Soap (Method Lime)
Vinegar
Lemon Juice
Omega 3 Oil
Milk
Make sure you use the two questions at the bottom of the chart to get them thinking 🙂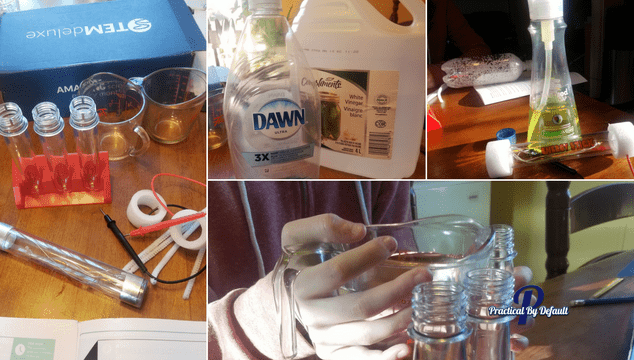 Experiment 6: Electric Test Tubes (Time 15 minutes)
This one was really neat. You are going to build electric bridges.
The probe allows you to be very specific in your testing and it was interesting to see the children get different results and figuring out why when using the dry pipe cleaners.
I love that they discussed and tested without me nudging them.
Don't forget to use the Take it Further Box I like did! Ooops. I never noticed until I was typing this up. So we will be doing that at some point this week.
When you have completed the whole box you can award your STEM Lab Scientist with a colorful award.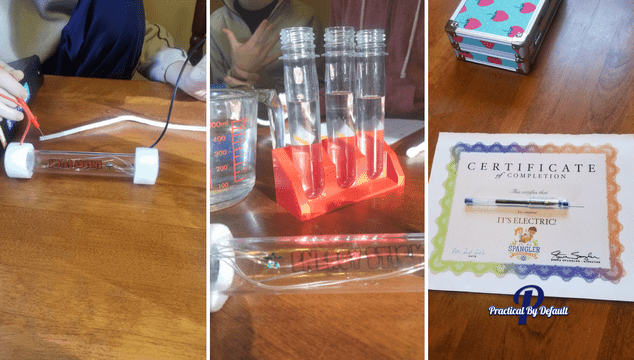 Our thoughts on the STEM Deluxe Science Club Box:
I really love the step by step instructions, the photos, the charts and the adult workbook which is vital for me.
PROS: Basically open and go. This means I can say "Yes!" easier when the kids want to do a hands on experiment. Hands-on fun is a great way to learn AND I actually get to do this with my teens.
Since I work there is not a lot of actual "together" family learning going on. We make a date once a week to play in our subscription boxes. Having this type makes it so easy for me!
CONS: So far the only one I can think of is like any subscription there is a commitment. The best deal price wise is a 12 month box. However being able to buy one-off is great for testing to see if it is going to work for you and your kids.
I think this box is perfect for families with children of all ages. They make it so easy to include everyone.
The static bottle still makes it way around my home and the Energy Stick is our favorite item of all.
Take care,
Jen
PS. By the way, you can get 40% Off Your First Spangler Science Club Box of STEM Deluxe from October 1st to November 30th. Be sure to use the code SPANGLER16AF all caps and needs to be 3 month or 12 month membership. Shop all the boxes here!