Inside: Anyone else excited about barbecue season coming up? I am! Once I realized my kids have not grilled anything on our barbecue yet I started gathering a list of easy recipes for them to get started.
We dusted off our barbecue last weekend for basic hot dogs and sausages just to ease our way back into the barbecue season.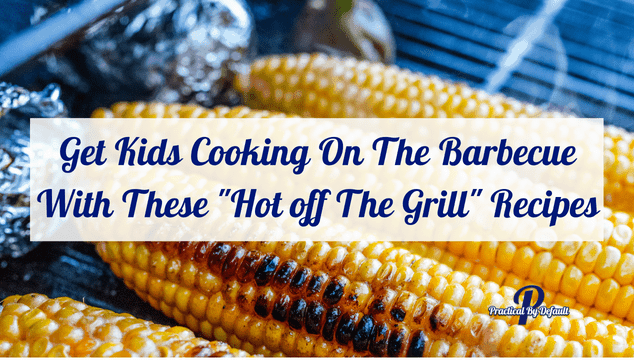 As I watched my husband get the barbecue ready I realized that this is one "cooking" area we haven't really worked with the kids on.
From experience, I know how scary the barbecue can seem. In fact, it wasn't until after I had kids I attempted to use the barbecue and I was terrified!!
With the warm weather heading our way, I hope, I decided now is a perfect time to plan to teach the kids to get comfortable with grilling food on the barbecue.
Before we dig in I want to point out my kids are pretty comfortable in the kitchen. We use the Kids Cook Real Food eCourse.
⇒You can read all our thoughts on this program including why I started out with the knife course and how I wish I hadn't  😉  right here: Homeschool Cooking Curriculum We Love – Our Experience With the Kids Cook Real Food Program 
If your kids are brand new to cooking, I want to encourage you to make sure they are comfortable with knives and basic sanitary skills.
Barbecue Basics for Kids:
Cooking outside on the barbecue is a wonderful skill to teach children and it is a great way to connect with your kids as a busy mom while snagging some fresh air.
Here are a few things to keep in mind to get started with the barbecue:
Make sure you are always with them 100% of the time. Do not leave them unattended as burns can happen quickly.
While the barbecue is off, show them where things are, and explain what surfaces are hot and which ones are not.
I like to keep my cell phone handy and make sure they know how to call 911 if needed. Safety is key.
Make sure you have the right cooking utensils for the barbecue. We like to keep a flipper and tongs on hand at all times.
Teach them to prep as much ahead of time as possible so they are not running inside and outside carrying hot plates, food, and knives!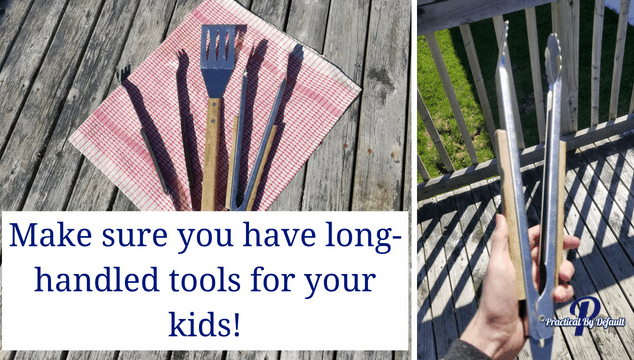 Remember, teaching children to cook on anything takes time and patience but it always pays off!
Recipes For The Barbecue Your Kids Can Cook!
As I mentioned, I am planning on teaching my kids to use the BBQ this summer. We'll start with getting them to help light it, prep the foods and with supervision, cook!
My kids are teens but if you look carefully at all the steps involved in making a meal children of all ages can help.
I scoured Pinterest for a few recipes I want to try. Here is what I came up with so far. If you have a favorite recipe I'd love to hear about it.
1. Yummy Beef Rissoles
This recipe is great for kids to make. They can add the veggies and spices they like and toss it on the grill. Get the recipe here: Yummy Beef Rissoles
I wasn't sure what a "Rissole" was so I had to check. According to Google Dictionary, it is a compressed mixture of meat and spices, coated in breadcrumbs and cooked.
You can make them with any ground meat you like, here is a recipe for Chicken Rissoles for the BBQ.
2. Southwest Grilled Turkey Mini Meatloaves
These are perfect finger foods for summer parties, potlucks, and family barbecues. I love ground turkey but have never thought of making mini meatloaves to cook on the grill.
Get the recipe here: Southwest Grilled Turkey Mini Meatloaves. 
By the way, my kids hate avocado so we will be skipping that and using bottled BBQ sauce or Ranch dressing.
3. Mini Ranch Burgers
A very simple easy recipe for homemade hamburgers. No fillers, which I love! The best thing about burgers is kids can top them with the veggies they like.
Get the recipe here: Mini Ranch Burgers
4. Grilled Pineapple With Cinnamon Honey Drizzle
We make grilled pineapple all the time but I never thought of using this drizzle on top! Sounds delicious. Get the recipe here: Grilled Pineapple With Cinnamon Honey Drizzle
Fresh pineapple is always best for this but it can be really hard to cut. Here is a step by step guide with photos to help you guide your kiddo, How To Cut A Pineapple
Make sure they are comfortable handling a sharp knife!
You can use canned or buy it pre-cut as well. I find canned is not as tasty and you'll need to adjust the cooking times as they are normally sliced super thin, but works in a pinch!
5. Perfectly Grilled Corn On The Cob
Corn is one of my favorite things to cook in the barbecue. The trick to this is to keep the husks on the corn cob.
This recipe includes a video and two recipes for seasoned butter. Get the recipe here: Perfectly Grilled Corn On The Cob
6. Grilled Tomato Bruschetta Recipe
I know my kids are going to think grilling bread is fun and odd. They love "odd" so this will be right up their ally. Perfect for tomato lovers.
Get the recipe here: Grilled Tomato Bruschetta Recipe
7. How To Make the Best Grilled Pizza
I've always wanted to grill pizza and every time I try, I burn it. Ugh! Maybe the kids will be better at it than I am.
I am including this article because it starts with tips on how to grill and has a collection of different pizza recipes at the bottom. Get the instructions and recipe list here: How to Make The Best Grilled Pizza
Anyone know of a yummy gluten-free pizza dough recipe?? I have yet to find one that doesn't taste like cardboard 🙁
Stick Recipes For Kids:
Kids love eating things off sticks. Don't forget to pre-soak your skewers the night before if you are using wood. The metal ones, like these Master Cook Skewers that are flat,  might be a better idea.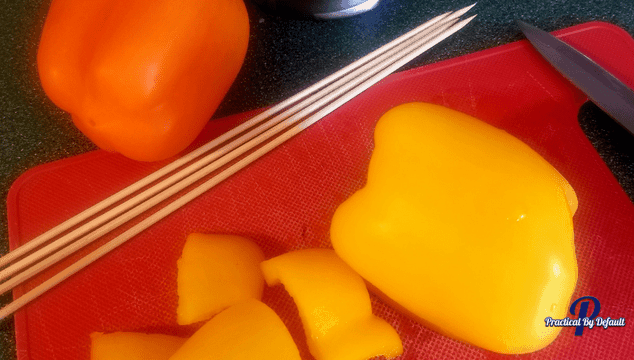 For skewer grilling, try to encourage your kids to chop the meat, veggies, fruit etc the same size. This will help them to know all the pieces are cooked through.
I also like to keep the same ingredient or close to it on the same stick. It is not as pretty but it is easier.
8. Beef Skewers With Asian Marinade
I love how simple this is, you need beef eye fillet, lemon, sesame seeds and sticks. Perfect for kids to make!
By the way, it includes a homemade recipe for the sauce but if you are rushed grab your favorite bottled one at the store 😉
Get the recipe here: Beef Skewers With Asian Marinade
9. Hot Dogs On A Stick
Perfect for little ones to make, you need hot dogs and a can of soft breadstick dough and sticks.
Get the recipe here: Hot Dogs On A Stick
10. Grilled Key Lime Chicken
A great yummy twist on chicken skewers. I find chicken can dry out on the grill but she says it stays moist. I'll have to get the kids to make it and find out.
Get the recipe here: Grilled Key Lime Chicken
11. Grilled Pineapple and Watermelon Fruit Kabobs
A meat-free recipe for those who want something a little different on sticks. She adds a simple pina colada glaze made with coconut milk which I think I need to taste yum!
Get the recipe here: Grilled Pineapple and Watermelon Fruit Kabobs
There you have it! My recipe list for kids to cook this year.
With the warmer days coming, I love having a few of our favorite recipes like these grilling ones or like these cold lunch ideas really helps me avoid using the stove and inadvertently heating the house up.
Do you have a favorite recipe for the barbecue? I'd love to know, let's chat!
Take care, 
Jen
PS. Many of these recipes can also be used while camping. Have you seen our favorite camping recipes? You can read our Easy Make Ahead Camping Meals right here!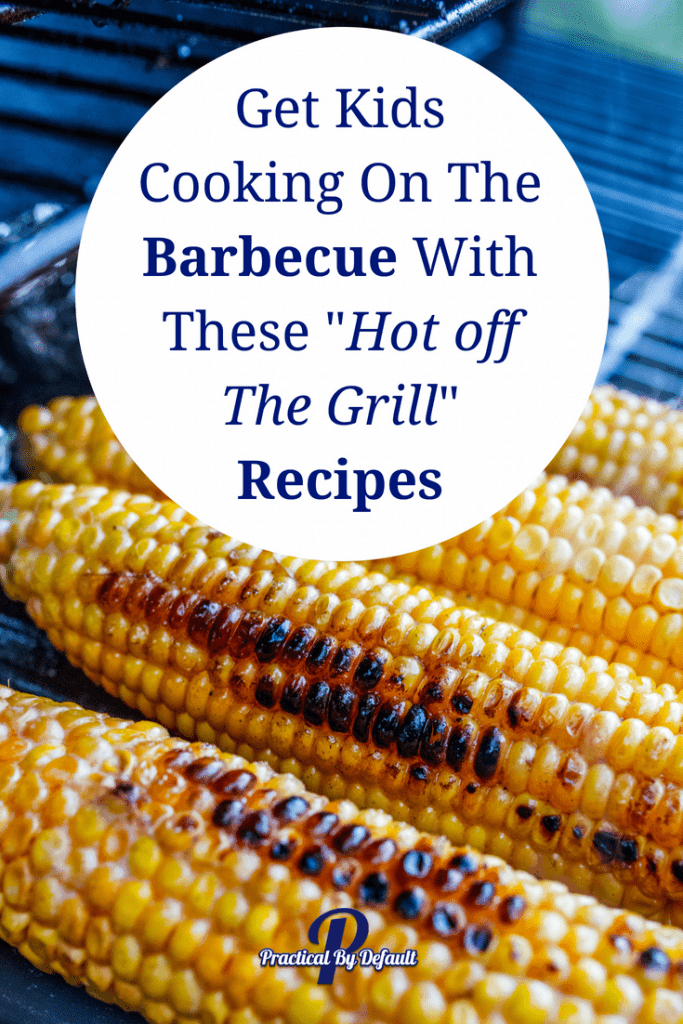 Hi, I'm Jen. I help working parents balance work and homeschooling by providing encouragement, support, and inspiration. You are warmly invited to Join the Online Community Here!