After two failed recipes I was about to give up this whole gluten-free cooking idea, but I am so glad I didn't! These super yummy Gluten-Free Chocolate Chip Cheesecake cookies are easy to make and only take 7 ingredients! 
I do not bake.
I probably should not bake. Ever.
But when you have a daughter who loves to bake and you are gluten free you have a few options.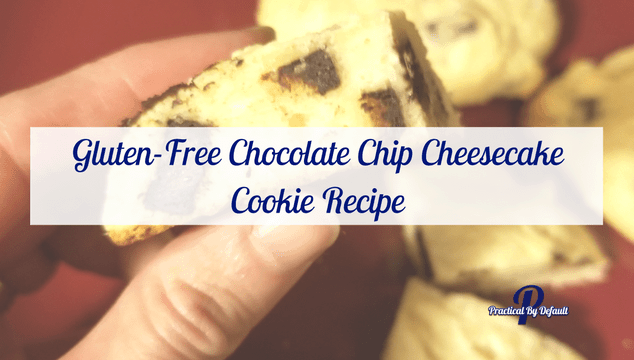 And since telling her to stop baking would be plain mean and undermine all our hard work of building her confidence up in the face of the whole "I hate math" thing.
Read about that here: Why Homeschool Math Programs Don't Work For My Daughter…And What Does!
I decided maybe I should try my hand at this gluten-free baking thing.
I learned a few things. Mostly, keep asking and trying and you'll get something really good!
This recipe was well fought for and let me tell you I mean it when I say I should NOT bake. 😉
Chocolate Chip Cookie FAIL!
My daughter's all time "go to" thing to make is chocolate chip cookies.
I love chocolate. Really dark chocolate. YUM!
I've been wanting chocolate chip cookies for a long time. My husband surprised me with Bob's Red Mill Gluten Free Flour and Dark Chocolate Chips.
He also gifted me with a basket of peanut-free and gluten-free snacks! I love food gifts! Check those out here: Easy Healthy Grab and Go Snacks: Gluten-Free & Peanut-Free!
It took me almost 2 weeks to find the time to bake with my girl so I squeezed it in between work and work. She helped me through each step and offered suggestions as we went. Reminding me to use parchment paper for easy cleanup.
Well, this isn't quite what I had in mind. The aftertaste of the dough was revolting! *gag*
Watch the Slideshow here on Facebook!
Needless to say, I was REALLY sad.
And desperate.
Yes I may or may not have peeled them off the cookie sheet and ate them anyway.
Note: This is the recipe I used. I'm sure they will turn out great if you know what you are doing. Gluten-free Chocolate Chip Cookies 
Sugar Cookie FAIL!
When winter sets in around here it begs for baked goods. My kiddo was cooking up awesome sugar cookies and I wanted one!
She made Pinwheel Sugar Cookies (find that recipe here) and I was thinking maybe it wasn't the flour but the recipe.
Maybe it is just me.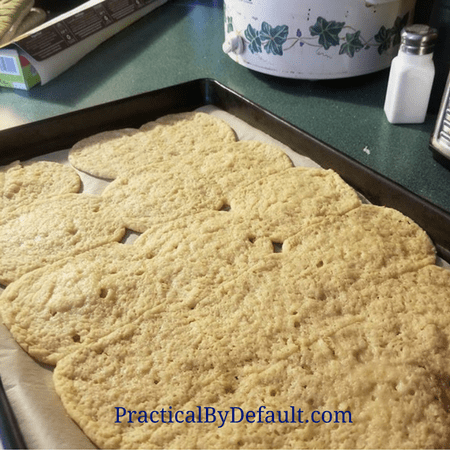 Again these were not too bad. Until you swallowed. UGH, that aftertaste is nasty.
My husband swiped one and a few minutes later I hear, YULK! Lol!
The suggestion was maybe next time less liquid. *sigh* I was starting to consider giving up.
Low Carb Cookies To The Rescue
I'm going to be honest I would never had thought to look at a low carb recipe since I am not doing low carb. That is why you gotta love friends that encourage you to think outside the box and recommend things they've tried and loved. 
When I friend saw my fails on Instagram and how frustrated I was she asked why I didn't try Almond Meal.
I always assumed Almond Meal would be out of my price range. She said for some reason it lasted longer than you'd think AND shared with me her favorite Low Carb Cookie Recipe.
If you are doing Low Carb you will want to check that out in all its unchanged glory here: Low Carb Cookie Recipe
I asked her about how to fix the amount of peanut butter since I was no longer trusting my instincts on this whole gluten-free cooking thing. As I proved above! Lol!
She said just use cream cheese. Huh?! What?? You can do that?
Turns out you can.
I had to make a few adjustments for the missing peanut butter and since I figured I already created the worse cookies, how bad could it get?
People. These were SOOOO GOOD!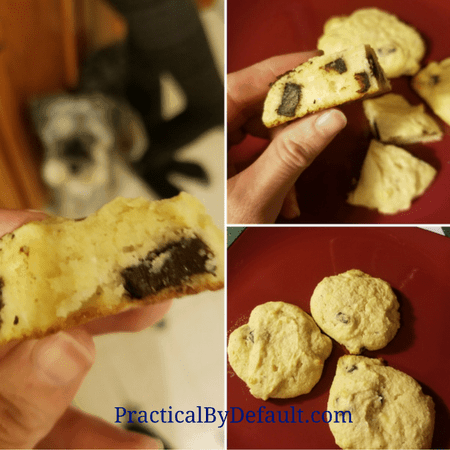 Chocolate Chip Cheesecake Cookie Recipe
These are so easy to make and only 7 ingredients!
Here is how I made them:
Ingredients:
2 Cups of Almond Meal
2 Eggs, beaten
1 Tbsp of butter
1 Tbsp of Maple Syrup
1 Tbsp of Vanilla
½ Cup of Cream Cheese
6 tbsp of Dark Chocolate Chips<–these are gluten-free!
Preheat your oven to 325 degrees and line your cookie sheet with parchment paper.
The original recipe called for whipped cream cheese but I used block because it was on sale. 😉
I beat that with my Kitchen Aid Mixer, which is not ideal for the job. If you have a hand mixer use that. I don't so I used what I had. I just held the bowl up so the mixer could reach the bottom of the bowl.
Next, add in everything else. I hand mixed this with a fork. Add enough Almond Meal to get the right consistency. These are not moldable cookies.
In fact, they are more liquid and you might think they are not going to turn out. I gently spread them around to the size I wanted.
Spoon your cookies out on your cookie sheet. I choose large sized cookies and since I was still clearly remembering my last two fails, I chose 4 cookies with zero chance of running into each other.
Which sent my kiddo into a lecture on wasting electricity by baking 4 cookies at a time. (!!)
I baked mine for 20 minutes and let them rest for 5.
I made a total of 8 BIG cookies! They were worth the wait! Not sweet at all, but so good.
AND zero aftertaste! Yay!!
That's it! An easy peasy Gluten Free Chocolate Chip Cheesecake Cookie Recipe. These are perfect for morning coffee. And delicious enough for the gluten-free eaters in your family!
Enjoy!
Jen
PS. As much as I prefer not to bake, having cookies that didn't taste like cardboard and were really good was nice! Plus I was kinda happy to add them to my collection of grab and go snacks!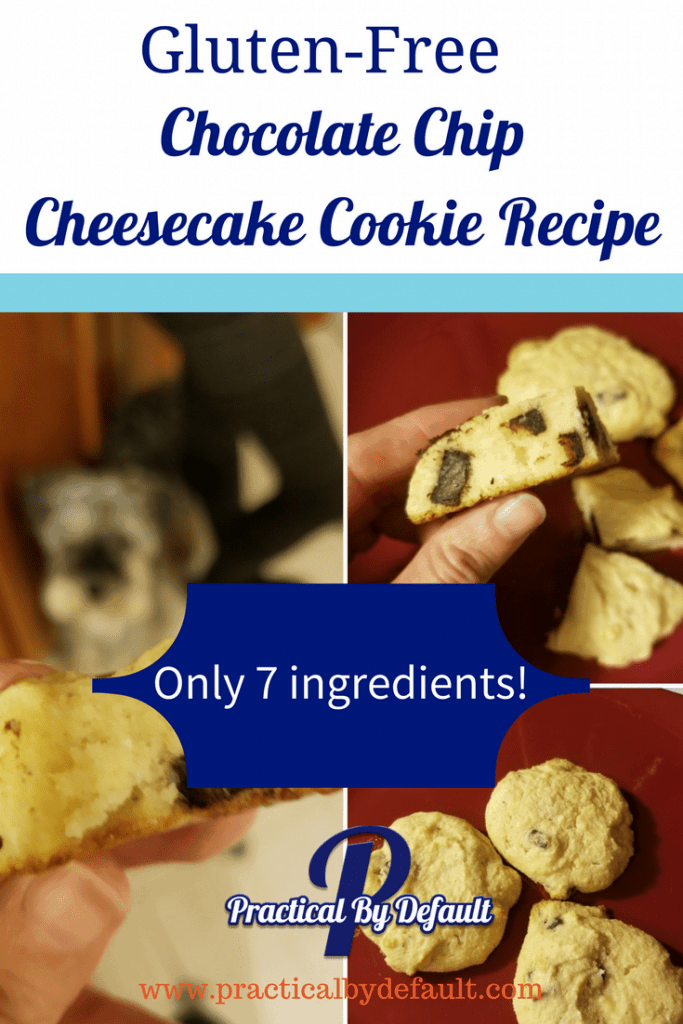 Hi, I'm Jen. I help working parents balance work and homeschooling by providing encouragement, support, and inspiration. You are warmly invited to Join the Online Community Here!