Inside: Do you find yourself scrambling for a quick breakfast that your kids will love? Everyone loves pancakes! Make this pancake mix ahead of time, use the topping ideas to dress it up and enjoy your family. 
Pancakes! An icon of breakfasts across the country, thus the influx of pancake houses and pre-made mixes easy to be found in any grocery store.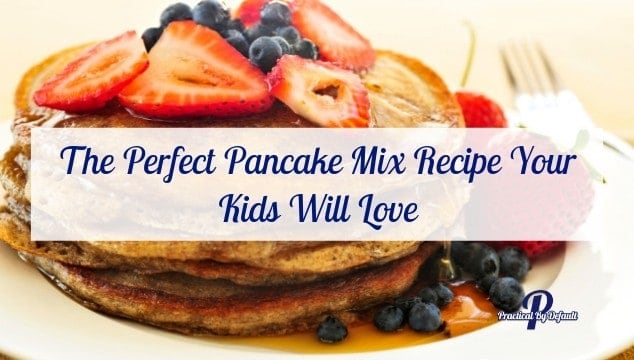 Boxed mixes can be great.
But I'll bet you already have everything in the house to make a great make ahead pancake mix that is not only good for you but saves you time and money.
Plus, you don't need to worry about added junk! I hate searching labels. I do it but ugh! 
This recipe is perfect for busy moms because you an make the mix, add a sticky note with instructions to the top and your kids can make it themselves.
The first thing I taught my kids to make was their own breakfast. You can read some of our favorite breakfast ideas here. 
Having grab and go breakfast items on hand really makes mornings more enjoyable.
Pancake Mix Recipe:
Recipe Type: Breakfast
Prep time: 5 mins
Cook time:5 mins
Total time: 10 mins
Serves: 12
This super simple recipe can be made by any skill level, even children. It is perfect because you can make it right away or stored in an air tight container as your own homemade pre-made mix!
Ingredients:
The dry ingredients are:
1 1/2 cup flour – I like to mix whole wheat and white fours
1-2 tbsp sugar (honey, stevia etc will do)
3 tsp baking powder – this is what makes your pancakes fluffy
1/2 tsp salt
The wet ingredients are:
1 egg
1 3/4 cup milk
2 tbsp butter, melted or use coconut oil
Instructions:
With this pancake recipe you can make it as a mix to be used later or make it right away to eat.
Pancake Mix Recipe Instructions:
Mix the dry ingredients into an airtight jar or container
Mix the wet ingredients into a container (optional)
Set the wet ingredients in the fridge to keep cool. If you choose to do this, use within 1-2 days.
Add a note to the dry ingredient container with the cooking instructions found below.
Read the NOTES section below for more information.
Pancake Recipe Instructions (To Eat Right Away!)
Mix dry ingredients (first 4)in a bowl
Mix Wet ingredients next in a separate bowl
Mix the two together. Do not over mix. This is a common problem which makes your pancakes heavy and flat.
Let sit 5 minutes at least <– this is key! Letting it rest gives the baking powder time to work.
While waiting, preheat and lightly oil your pan.
Pour in the amount of batter you want for the size of pancakes you'd like to make. (I use 1/4 cup for medium size).
When bubbles appear on the surface, flip.
When the bottom is golden brown remove, add toppings if so desired. Keep reading for topping ideas. 
Notes:
For the mix, we mix the dry ingredients and choose not to mix the wet. This is because I never know when the kids will want to make them.
If your life is busy and unpredictable like mine, be sure to make the dry mix up and add the written instructions to the top.
It is ready to go when they are 🙂 Yum!
5 Ways Make Pancakes Fancy!
We like to "dress our pancakes up". Topping homemade pancakes is almost as fun as eating them! *Almost*
Here are a few of our favorite ways, don't be afraid to get creative and have fun!
Cinnamon and banana in the mix.
Before cooking, add cinnamon to the dry and mashed banana to the wet. You may need to cook a little longer.
Whipped cream and berries.
We love using heavy whipped cream and whatever berries are in season.
Blueberries and maple syrup.
Add the blueberries right into the mix before cooking. Doing it this way, I find adding them to the pancakes as they cook best, topped with maple syrup.
Sliced fruit.
Fresh fruit is always a treat. You can add it to the top of cooked pancakes along with sprinkled icing sugar or whipped cream cheese.
Or you can add slices to the pancake once it is in the pan. Add then flip!
Healthier Versions
I like to add ground flax seeds, oats, and chia seeds to my dry mix for a more filling healthier breakfast.
Not Healthy Version
As a treat once in a while I let the kids go nuts.
They add ice cream, chocolate chips, marshmallows, sprinkles and whatever else is in the house.
I'll admit this is rare but it sure is fun.
Perfect for your first day back to homeschooling after a break. 😉
Grab the blank recipe card below and let your kids make their own breakfast!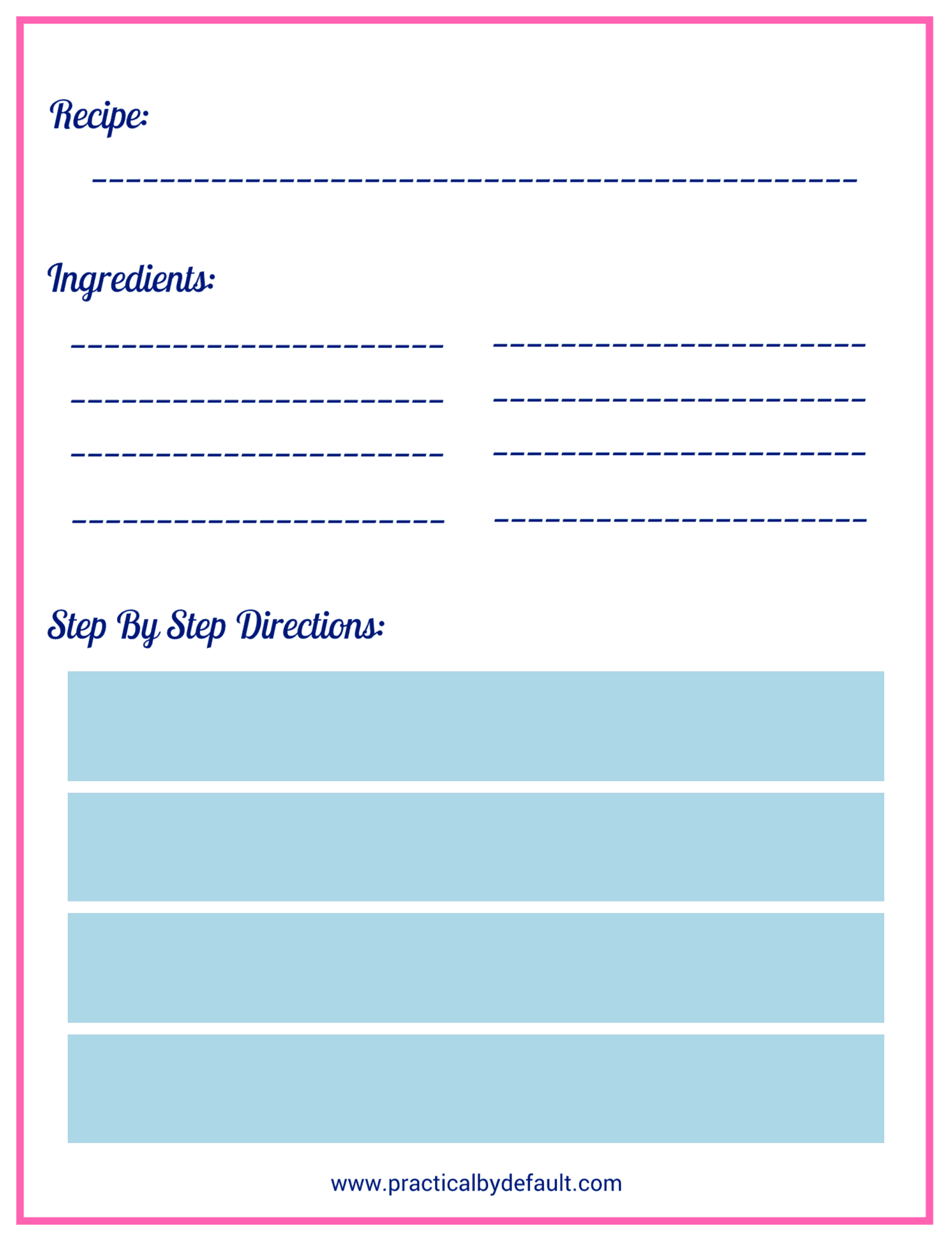 Recipe Card For Kids
Please note, this is an instant download. 
What's your favorite way to eat pancakes? Share in the comments below!
Take care,
Jen
PS. Teaching your kids to cook is a skill they need. We use the Kids Cook Real Food program. You can read about it here! 
Linked To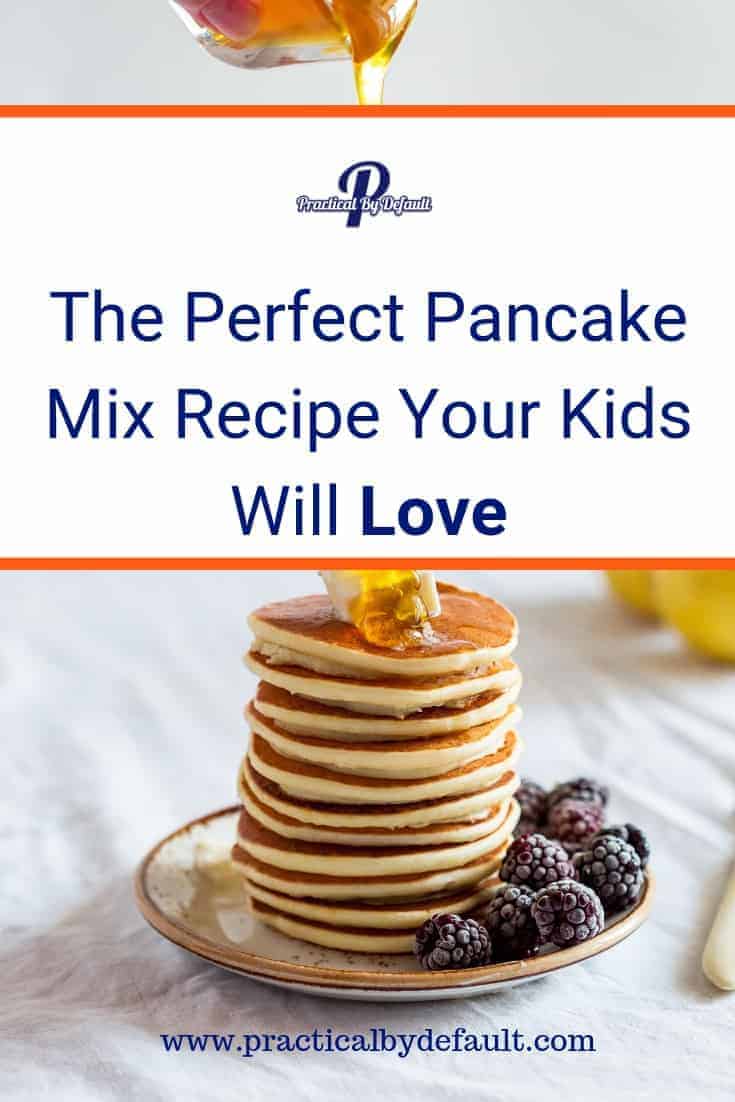 Hi, I'm Jen. I help working parents balance work and homeschooling by providing encouragement, support, and inspiration. You are warmly invited to Join the Online Community Here!