Disclosure: I may receive commissions for purchases made through links in this post.
Have you ever found a program you were so excited to discover, that might just be EXACTLY what you are looking for??
Earlier this month a friend told me about Skill Trek!
Have you heard of it?? I think it is pretty new! I LOVE life skills. I think this (along with self-care for moms) is one of those things I will rock the boat over.
You all know I am all about doing what is right for you but seriously take care of yourself and teach your kids stuff they need to know! (LOL) #endofrant
However my problem is…*I* don't know all these things. So I was looking for a program to teach me and them.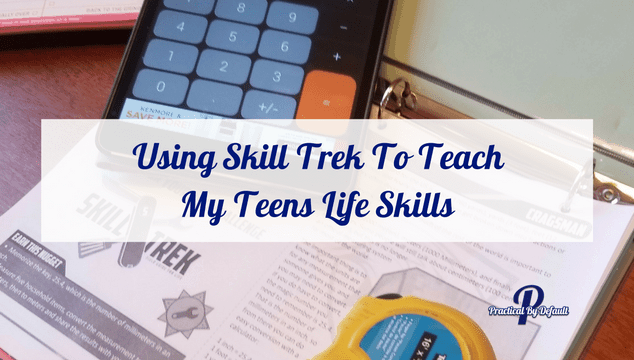 *We received access to the program for 14 days in exchange for this review. We tested it for a month. All opinions are mine, of course. 
 For one week only, 
January 24th – 31st
,  YOU can save 15% off of an annual family membership AND receive a FREE Winter Skills Set of your choice.
CLICK HERE
and use the coupon code SKILLTREKJANUARY.
Skill Trek To The Rescue
This is where Skill Trek comes in.
Skill Trek teaches life skills and is way more than reading a book and calling it a day. In fact, look at the saying below:

And it is true, right? How many of us learned to tie our shoes reading about it? Not me.
Skill Trek is a membership-based program allows for enrollment of one child or the entire family.
As the parent, you get to control the access and oversee everything. Therefore, while Skill Trek may place your child in one level based on age, you can move them based on the needs of your child.
The lessons are online and made up of a series tasks which include printed lessons, videos, assignments, and hands on practice.
I was talking to the mom of the family who developed Skill Trek, which was kind of cool! One part that drew me in was this program was the same one she used with her children.
She said
"We have 7 children including kids with special needs, so we needed it to work for our family."
I love supporting homeschool families <3
Over the last month, I've been sharing what we thought of the program on my Facebook Page and Instagram.
Teen vs. Fly
First task up learning to wash windows.
Gonna be honest, I am pretty sure I wasn't taught this one before I left home. (If I was my mom will chime in shortly 😉 )
After logging in I read the list of choices aloud. Ladies, there are so many to choose from, over 500 at this time.  You can adjust what level your child works at which is a great idea. Not all kids work at the same level.
I decided on windows since as I forgot to teach her. Ooops! I printed off the paper and handed it to her. We read the instructions-which took maybe 5 minutes max.
I let her decide when to do it. (Mistake lol)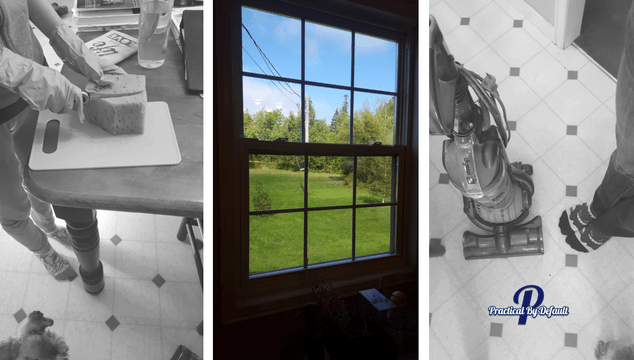 My daughter decided to start her skill in the middle of chaos. It was one of those days where every plan went flying out the window.
Therefore I decided instead of doing all the windows, we would do one together. For my sanity and her safety. (LOL) I had printed off the sheets and we talked about the process (again).
She IS NOT a bug loving girl and was checking all the windows for the one with the less spiders. We pulled out the vacuum, cut sponges into smaller sizes, and scrubbed together.
When the one window was done. I assigned her to pick another window and clean it on her own. She did this two days later and did a great job earning her nugget!
A nugget is a reward. Each time your child learns a new skill you can award them a nugget. In turn the nuggets auto-populate on their nugget board. These can later be spent on items in the store.
Quick review of this task: Easy-seriously, print and hand it to her. She is 13 so she can gather supplies on her own and move stuff out of the way. I walked/talked/showed her through. It was very flexible. I changed it to one window instead of all the windows. I just didn't have time.
Build a Bird Feeder, So He Thinks
My son's task was to build a bird feeder. Now I picked this out for him as he is a "follow the rules, instructions kind of guy" but ask him to problem solve and well we could be here all day long.
We know as working moms how vital it is to learn to solve problems. So I knew this would be perfect for him. Even better? He had no idea he was working on problem solving-to him he was building a feeder. 😉
The feeder did not have instructions instead had requirements he had to meet but he could meet those in any way he chose.
Needless to say he hit some snags which his sister figured out how to solve in .5 seconds (I also told her to not tell him, lol) but he did figure it out.
Quick review of this task: Perfect for a busy mom. Again, I printed off the task and let him have at it. I ended up printing it twice as he lost the first one. This task had requirements to meet but he could use any materials in order to meet these requirements. Awesome for moms who forget to buy what is needed. Just me?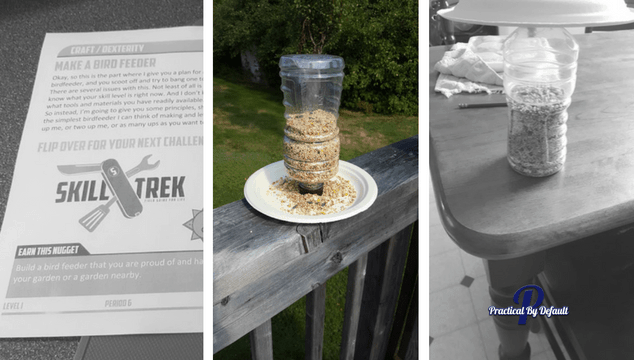 Inches to Meters Without Tears
My kiddo picked this skill out on her own when I was reading the list. Noting that she struggled with conversion in math she wanted the extra practice.
After printed out the task, I handed it to her and we talked about when it was due. She had 7 days.
I love that she recognized the need to put in some extra work on conversions! Math usually brings buckets of tears when she doesn't get it. For both of us. Needless to say, she did great finding things around the house and completing her task tear free! 
Skills she didn't realize she was learning included how to use and read correctly a measuring tape and using a calculator.

She was very excited to earn her "nugget".
Quick review of this task: The explanations in this task were very well thought out. She was happy she could keep a hard copy for future reference.
Formulating a Spreadsheet
I picked using a spread sheet out for my computer guy. We've been working over the last two years with the kids on not only the importance of saving money and using it wisely but also keeping track.
I still remember meeting my husband and he had a notebook ledger. I didn't even know what that was! Yes, I was careful with my money and knew to save for bills but he had a whole tracking system laid out.
I was very excited to see the spreadsheet lesson. My son not so much.
He's not too excited to try new things and was grumpy when I gave him the printout.
A few minutes later and he was like, okay this is neat. He walked me through each step he took, showed me how to do a few things, replicated the whole thing again.
This is how I "test" my kids. I know if they can teach someone else they understand it.
Next, we talked about how we would use this in life-banking, tracking things etc.
Quick review of this task: This one was probably my favorite as it was the most practical and one I never even considered teaching. Which is odd as that is how we track our spending etc. The step by step instructions were super easy to follow and I even learned a trick or two.
My Personal Thoughts of the Program:
I knew this program was going to be perfect for busy moms, like me. It is easy to use, easy to navigate and flexible.
Another great thing is this company listens to feedback and makes changes. Not kidding I've updated this post twice before I even hit publish. You know a company cares when…lol
For example, my only complaint was you had to pay for each child that joined. No longer. They now have only two options, single child or family.
Skill Trek Express.  This will be a budget option for those who want a simpler experience of Skill Trek and will be available in both an e-kit and physical product. 

Skilltrekk.com provides over 500+ programs so I can't speak for all of them but they ones we did try out were easy to adjust when our plans changed. This is essential for my crazy life.
That said, we will not be continuing at this time.
Do what is right for your family.
The reason we are not continuing at this time is my children can only handle so much. I am very careful of allowing them to have a say in what they are learning about.
As much as we love Skill Trek, after one month they felt it was just one thing too much to do.
We will be working through the cooking course starting in October but we are hoping to return to being a skill trekker in the spring.
Remember: No matter how awesome a program is always do what is best for you.
I hope you enjoyed this peek into Skill Trek, we certainly had fun testing it out.
Thanks for following along with our adventure, be sure to like or follow my Facebook Page and Instagram where I share much of our homeschool journey.
Take care,
Jen
PS. Don't forget to see if Skill Trek will help you teach your children the life skills they need before they leave home. Click here to find out more!