Ah, winter. The fluffy white snow. Cold crisp mornings. Fire blazing. A hot cup of coffee and a good book. Just like a greeting card, right?
Sometimes.
Other times, it looks a bit more like a scene out of a Black Friday commercial. Rushing around, shoveling knee deep snow, dealing with power outages, over-scheduled weeks, work days, meals on the run, colds…you name it, it's on your to-do list.
It's exhausting. This year I said ENOUGH!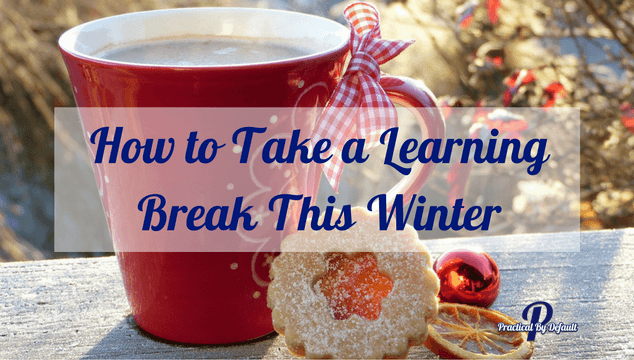 Why Taking A Break From Your Routine Is Needed
You know those lists we make when choosing our priorities, usually between what we want to do and need to do?
Taking a break actually, fits in both.
We need to take a break to allow ourselves and our family to rest, de-stress and unwind. Breaks also help keep the burnout at bay.
We want to take a break because not only is doing the same stuff day in and day out week after week boring and tiresome, but also, breaks are fun!
The benefits of taking breaks are many, such as:
You will feel reenergized
More creative
Inspired
Excited to return
So give yourself and your family some time off from the "regular" schedule. You will be glad you did.
What Type of Break Should You Take?
This is really up to you and your family. Some break from all "schooly" type things. Others reduce the workload to half. Do what you need for your family and what will work best.
For us, I chose a learning break.
There are many breaks you can choose from. Taking a break is vital for the working homeschool mom. 
A "learning" break is when you step away from more scheduled learning. Ditch the textbooks and workbooks and dig out some projects that you haven't found time to do. Drag out some family games, yummy snacks, and just chill.



Also pictured above: Little Passports Science Expeditions and Steve Spangler STEM Deluxe. 
I have children that are very concerned and stressed when they get the feeling they are "behind". No matter what I do to assure them this is not the case, if we just take a clean break, they stress out.
Our Winter Learning Break Plans
This winter we are taking a learning break and for my two where homeschool tends to look a bit more like school than not, this is HUGE!
We sat down and planned out our month.
We decided on one week of "regular" school so they would be able to stop at the end of a lesson or chapter in a few subjects. Followed by one week learning break.
We chose a few activities we wanted to try out that we had not found the time to gather the resources and time to do. The next week would be a no school week. They are planning on going to the movies,  to go skating, have a few sleepovers and basically chill out.
The last week will be used to catch up on activities we haven't gotten done yet.
For the activities we started out with these:
Planning For a Break Working Mom Style
As a working mom planning is essential to my mental health (and maybe others physical health but let's not go there). 
After the children chose what they wanted to do, I sat down and made a list of what I could do ahead of time to make sure things ran as smoothly as possible.
I printed off all paperwork and instructions, using metal binder clips I sorted the paperwork into piles for each child.
I made sure we had all the supplies we would need including the jujubes for the Atoms. Which I may or may not have had to buy two bags as someone ate the first one. *cough*
This minor prep work really took a lot of the stress away. Now I just needed to find the time!
That Little Thing Called Time
My steps for making time is knowing my priorities and what needs to be done. (Also known as Balance!)
Unfortunately last week more "needs" kept popping up. However knowing that everything was ready made grabbing a few minutes here and there so much easier.
We took what we could when we could.
A few minutes on an afternoon.
A longer chunk of time when we could.
We read out loud, we laughed and we learned.
We created and my son taught me for a change.
And lastly….we had fun!
How To Take a Learning Break
In order to take a learning break you need to:
Plan a start time and end time
Discuss with your family when is best
Choose a few activities
Plan ahead and pick up everything you need in advance
Be flexible #life
Have fun
Don't sweat the small stuff
Did you take a learning break this winter? I'd love to hear about it. 
Take care, 
Jen
PS. This is a great way to focus on the fun of homeschool even if you have a crazy busy schedule. Use the tools your way!