I don't know about you but every single morning of the week I ask the same question: What day is it?!
I need to know if I have to pop outta bed, grab my stuff and go OR is it a day at home where I can slowly ease into the crazy…
This week when I went to shoot up and instead I came down just as fast. ICK! My head was stuffy, my throat felt like sandpaper and my nose…well I think breathing is optional, right?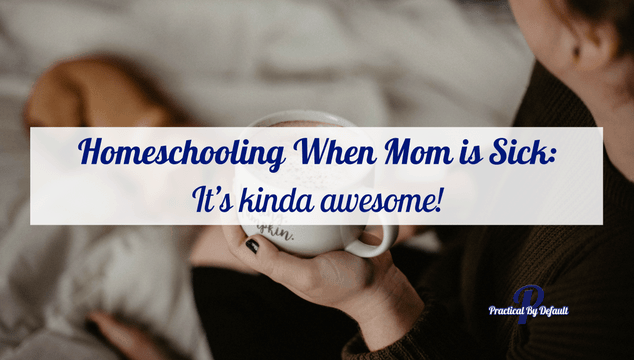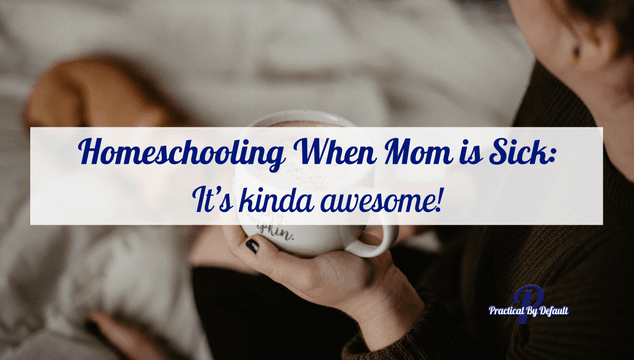 Being sick as a mom sucks. Being sick as a working homeschool mom presents a new problem.
I only have so many days set aside for school. So while chucking it all in for a day is an option it is NOT always the best idea for me.
Here is a peek into what our homeschool day looked like while I was sick.
Homeschooling When Mom Is Sick
On Tuesday's I usually do a Facebook Live on my page and in my group.
I wasn't feeling too good and was worried my voice was going to give out, so I kept it short.
In the video I talked about what our day looked like so far. Sarita had a great idea in the comments so be sure to check those out.
Here are the resources from the video for easy reference for you:
You Can Homeschool While Sick…
When mom is sick it is easy to get down in the dumps. Like you, I don't have a lot of time to be sick.
Thankfully it hit on a day I was going to be home most of the day and I only needed to knock out some work at home.
I worked on this detailed comparison of two of our favorite science subscription kits, if you are curious.
I started my morning with coffee, doggy snuggles and reading. And a box of Kleenex 😉
The kids came out and we chatted about our day and how I wasn't feeling well but I'd be working on the sofa if they needed me.
After they made their own breakfast, eggs and hash browns, they settled in to work.
Homeschooling teenagers is much different from what I thought homeschooling teenagers would be like. I thought High School was this big scary animal. Although it is harder in some ways, it is also easier and way more fun than I was anticipating.
All that to say, if you are afraid of homeschooling the higher grades, don't be. You can totally do it.
You know all those times you are trying to teach your child to be an independent learner?
Maybe you give them a notebooking page to work on and you walk away to do dishes, laundry or even answer an email. When you look up they haven't moved?
As soon as you sit down they zip right along?
It can be sooo frustrating! 
I encourage you to hang in there. Keep working at it.
It is worth those small battles to have them work on their own. There are going to be times you are unable to be right there beside them for hours at a time.
Such as times when you are sick.
Let Older Kids Take The Wheel
One of my favorite moments from my sick day was Math.
My daughter struggles so bad. 🙁
She thinks she is horrible, which undermines her confidence and then with all this "ugly" in her head, she really can't do it.
I am not much help but I usually sit there and we talk about it.
Instead her brother sat there and tutored her through each step. He shared some of his favorite math sites for finding extra help and she got all the questions right. She was super excited!
I loved hearing them giggling and working together. Because let's face it siblings do NOT always get along, right?
Later they worked on building a game side by side sharing while snacks. Invisible mazes in Minecraft are all the rage.
Yes I tried it, yes I failed. 😉
Make The Most Of Slow Moments:
I love reinforcing what my kids are learning with games. We have a whole list of our favorites here.
While I was all for playing a game I didn't feel like using too much of my brain. My daughter and I played a farming type game together on the computer.
When I say "together" I mean she plays the same game as me but we each have our own game. It is not multiplayer yet but there is plans to make it so soon. I am super excited about this.
Two of our favorite farming games are Harvest Moon Games and Stardew Valley.


Side note: As I was writing this I was showing her that you can get Stardew Valley on Amazon. In hunting around we found all kinds of fun, cool things which set us off giggling. You can see them below.


Also, why is the Blue Junimo Plush so much more than the Yellow? We couldn't figure it out, can you?
Anyway…As I was saying before getting distracted was these games teach our kids so much such as running a business, making friends (or not), completing tasks and more.
More importantly it is a great way to connect with my girl.
We planned our farms, discussing the different layouts and making the most out of the space we had plus making it cute. We researched together how to do things, what recipes we needed and where to get the items.
It gives us something to chat about and giggle over. I'm really enjoying these moments.
Being sick is a great time to slow down and connect with your kids. Try something they are interested in. Fail miserably and laugh at yourself. It's worth every moment.
When A Potato Started A War:
They had been assigned to (re) watch the knife skills videos I bought earlier this year. They were getting sloppy and I was tired of repeating myself. Besides sometimes they just listen to her better than me. Do what works! 
This was the perfect day as later they were assigned to make Instant Pot Chicken Soup. The recipe is found in the Instant Pot Cooking Lessons for Kids! 
They worked together peeling, washing and chopping veggies.
This is also where the first and only "fight" showed up.
Over a potato. (ha!)
One headstrong child thought you must wash then peel the potato. The other felt you should peel then wash.
By the sounds of the conviction in this argument the whole world rested on the outcome.
Turns out they split the potatoes and did their own thing. Yay!
The soup turned out wonderful by the way, as you can see here 🙂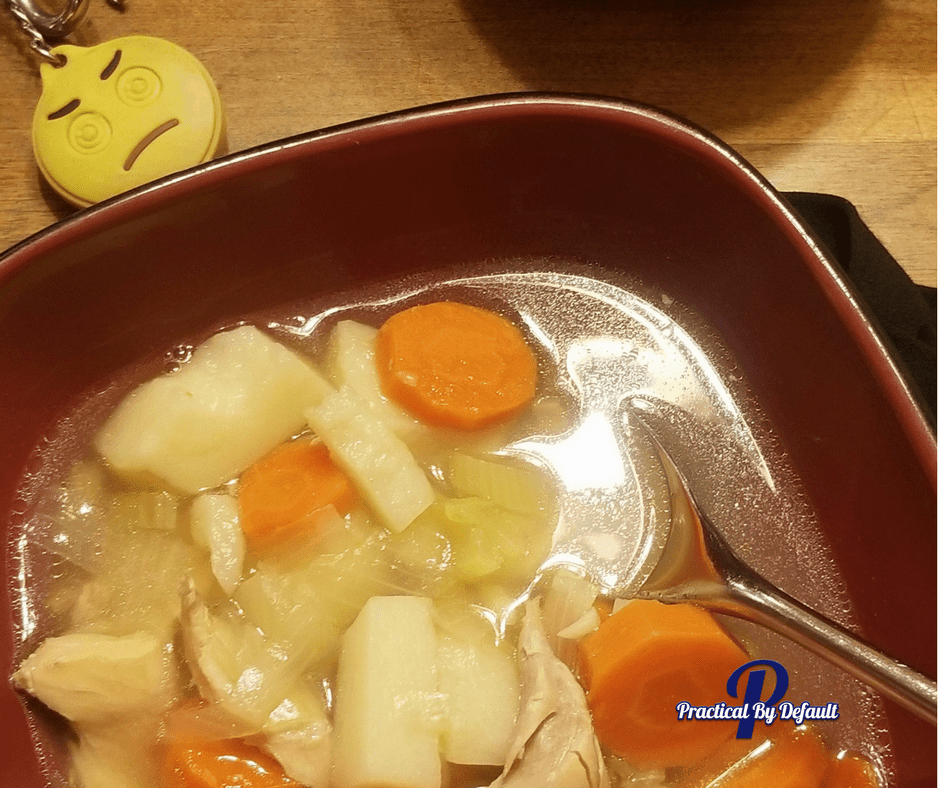 What Hanging In There is Worth
I know the hard work I put in teaching the kids life skills such as cooking, cleaning and working together pays off.
Our totally awesome sick homeschooling day is due to all the hard work I put in before this day.
And there were moments I wasn't quite sure about that…lol!
For example, my super smart kids can ask pretty common sense questions which will drive me nuts!
One day my son was really upset I didn't teach him to open a package of bacon. I'm sorry at 15 I figured he could figure that out on his own. Guess not!
Or when my daughter asked me how small she should chop the potato in the soup.
Or when I've repeated that yes you need to use soap when cleaning the dishes…5 times in one week.
My point is: Teaching our kids isn't always easy!
Sometimes the only thing you can do is drink coffee and repeat that it WILL pay off someday…just maybe not this day.
Yes, nobody wants to be sick but like most things it is always best to take what the day has handed you and do your best.
I really, really had fun even though I felt like a truck hit me and looked even worse. So far this lovely head cold has stuck around for a few days.
Yes I headed to work, cleaned, cooked, did errands and appointments…Life doesn't stop just because mom is sick.
That said, for once I didn't feel like the worlds biggest loser. I didn't allow mom guilt to overwhelm me. I took it in stride and had FUN when I could.
Tell me, how do you cope when you are sick? Do you have any favorite "kick this to the curb" ideas for me?
Take care
Jen
PS. I mentioned quickly that homeschooling High School can sound really scary. I thought I had it pretty much figured out but the closer it got the more "little doubts" kept popping up. Then Anne asked me to check out her E-book Cure the Fear of Homeschooling High School. I love her practical, step by step approach. I encourage you to check it out if you are worried about the higher levels. You can be fearless!