First, I have to thank Jen for inviting me as a guest poster. I've always loved the idea of blogging but found it pretty overwhelming, so I love that I can get a wee taste of it! And also, to get to talk about art? Oh my, we could be here all day… Haha just kidding…. But seriously…. I'll try to keep it under a novel's length. 🙂

*This post may contain affiliate links. Please see our disclosure policy if you have questions. Thanks!
To start, I'm a firm believer that there's an artist in every single person, they just need to find what their medium is. To me, cooking, music, sewing, photography, crafts, and anything really, can be an expression of art if you choose to make it so.
We've all met those people who say "I'm doing good if the legs on my stick people are even." That doesn't mean they don't have an artsy soul, they just haven't discovered their outlet yet!
Take me for example, I have always loved artsy fartsy things. Drawing was my go to, my first love. I liked the idea of painting, but anytime I tried, I would just get frustrated. The paint wouldn't "do" what I wanted, my feelings couldn't be properly expressed through paint. So, back to drawing I go.
Now I know this is a bit biased since I had drawing in the first place, but bear with me. I wanted more room to express myself, and drawing wasn't cutting it for me anymore.
So I went on a search through various art mediums to see if I could find my match. You name it, oil paints (detest from the depths of my soul), acrylic (better, but still wouldn't just flow with my emotions), markers and colour pencils (good times and bad times), inks (I got along with them better and better), and finally, eureka. A friend of mine gave me a load of old art supplies for me to fuss with. Among them were watercolour pencils.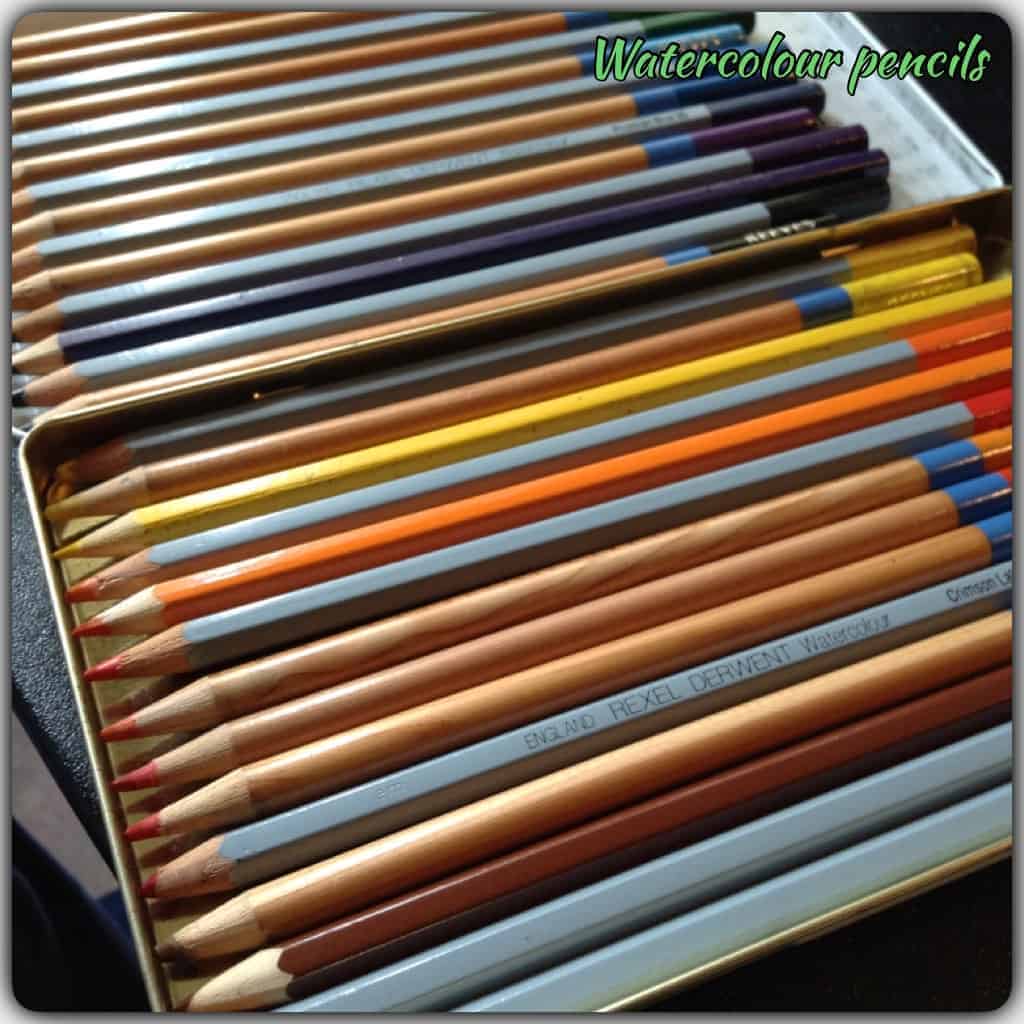 Testing Art Supplies:
I had previously avoided watercolors because I'd heard people complain how unforgiving it is, and difficult yada yada. Lesson: dip your brush in personally, you never know what your medium will be! So, I saw these pencils and thought, hmm. I love drawing, thus I am comfortable with pencils. Why don't I give these watercolour pencils a whirl, and just see what happens? Love at first use!!! Oh I can't fully describe the satisfaction of the effortless blending these pencils offered. The semi-transparent colours, the easy flow, just everything about them instantly felt right.
I'm a firm believer that there's an artist in every single person!
Click To Tweet
So, next step was to try the actual paints. Another thing I adore about watercolour: you can use the paint fresh out of the tube for more vibrant colours, but I found I wasted a lot when I did that.
The other option I use most of the time is I have a beautiful palette that you can squish fresh paint into, let it dry, then just add water with your paintbrush and it lasts forever!!!
Needless to say, the paints were a huge hit. The thing I appreciate, though, is now that I've gotten used to working with this type of paint, I've gone more boldly into other mediums, and found I enjoy them way more!! Mind you, I still detest oil paints, but those are a whole other beast. Hahaha. But I've come to enjoy acrylic, ink, markers, and pastels all the more, since becoming comfortable with different painting techniques.
The Moral of My Story: Be Brave Let Yourself and Kids Explore!
The long-winded moral of my story- explore! You may find as I did that it will open up a whole new world of expression. And then, practice! Push yourself out of your comfort zone, and you might just find a new love!
If you've fallen in love with one of my pieces and want it to be a part of your life, swing by my store at AshleyMHills.Etsy.com 🙂
Ashley is the artistic talent behind Bohzarfolio and provided information on art in this post here! To learn more about her please find her around the web here: Facebook  / YouTube / Instagram / Shop