How Do You Start Your Mornings?
As a busy mom I'm struggling to find time to read.
I was saving it for the weekend but turns out my weekends are just as busy if not MORE busy.
This week a few days in a row I grabbed my coffee and a book. It is kind of nice. How do you start your mornings?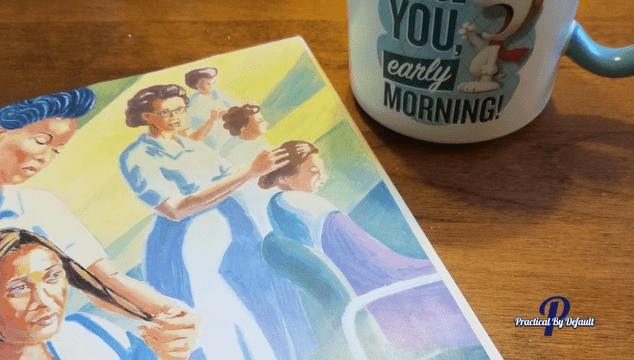 Moms Who Want To Read
One of the goals many moms are hoping to reach next year is to read more for themselves!
There are a few things holding us back but this is how this post is meeting those needs AND here is how you can help! 🙂
In the comments below share a book you are reading and/or a tip on how you find time to read? That way we can encourage one another.
I'll list a few of the books moms mentioned last week, there are a lot, I'll choose the top 5.
Below are books for kids and mom that are free or GREAT deals to help with the cost.
I'll also share what I am reading this week. Sound good?
What I'm Reading This Week!
It's been a really busy week work, life, homeschool wise.
I haven't had time to get any further with Present Over Perfect: Leaving Behind Frantic for a Simpler, More Soulful Way of Living
However I did manage to drop by the library and pick up a really great picture book for our Canadian History Studies, Viola Desmond Won't Be Budged! 
 Also shown in the image above with one of my favorite coffee cups! 
What Others Are Reading
Here is a quick list of 5 books other moms mentioned reading last week.
I love how everyone is reading all different types of books, don't you?
Fill Up Your E-Reader This Weekend – For FREE!
When this was put together these books were free, but keep in mind that
Amazon freebies/deals change rapidly
. Be sure not to wait to download those that interest you.
Disclaimer: I try to share only books I know would be super helpful but I haven't read all of these books. Always check and do what is best for you 🙂
Free Kindle Books
Don't forget to read the reviews and choose what appeals the most to you! Reviews are my favorite way of choosing books to buy. Ready to start downloading? Here you go… Just click on the titles you want:
*Please note: We learned if you have an ad blocker you may not be able to see the images-for some reason it will disable any image with a link. *
Animal Books
How To Books
Books For Mom
---
---
Great Deals Books
The following homeschool books and downloads are NOT free, but they are great deals! – and some ARE FREE if you have Kindle Unlimited or Amazon Prime (both of which you can get on a 30-Day Free Trial
)
Make sure you're also signed up for Ebates, because you'll get cash back on anything you order at Amazon. Just click here to get started. 
You can use it if you live in Canada as well! (Just click here fellow Canadians to get started and start saving today!) 
Have a great weekend!
Jen
PS. If you are looking for a great books for kids be sure to check out Epic! Don't forget you can still get the first month of Epic! FREE! 
They now have National Geographic Collection! Click here to check them out!