Disclosure: I may receive commissions for purchases made through links in this post.
Welcome to the Family Friday Link-Up and our Weekly Review!
I am so happy you are here and can not wait to really dig into all the amazing posts you will share.
Before we get to the party I wanted to share briefly a few things we have been up too.
This week I finally got to do something I've been wanting to do with my kids forever! Make Bread!
We used a recipe from A Farmish Kind of Life and adjusted it to what we had on hand as well as cut the recipe in half as I didn't want to make 5 loaves.
I made one mistake, I did this with both kids at the same time. 
My children had very strong opinions on how each step should be done, when it should be done, etc and decided each opinion should be voiced clearly, strongly and louder than the previous person. Rolled eyes, snark, and snotty attitude were also included.
Next time I will not be doing that.
We also took the time to check out Jackie's post on the science behind the process. You can check that out here!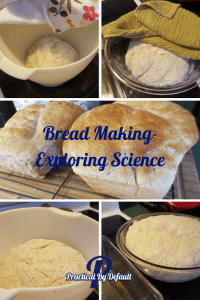 Since the kids were in an "I know everything" kind of mood after we watched the videos I just told them what I learned making sure to include incorrect facts. My teens couldn't resist the chance to "correct mom" 😉 Oh look they did learn something.
There are two different loaf sizes as one little person refused to split it evenly and the other didn't care.
Family Friday Link-Up Party #17
Who's ready for some fun at Family Friday Link-Up Party #17! We want to know all about the encouragement and tips you have for family life and more.
Share your posts with family themes (see more below!) One post will be selected each week to be featured in the next week's link-up party!
What does family-related mean? Anything with appropriate content that can bless families. Topics like home management, finances, meal planning, recipes, homeschool, & more!
I have truly loved finding new bloggers to connect with and sites to enjoy. I hope that you have benefited from all of the awesome ideas and tips that have been shared on Family Friday. If you are new here, please connect by leaving a comment below. I would love to visit your site:)
Please follow your Family Friday Link-Up Party hosts. They are not only fabulous gals, but share amazing content that you will not want to miss!
Amy Milcic~Rock Your Homeschool
Jenn Roberts~This Chaotic Bliss
Jen Mackinnon~Practical, By Default
Featured Post:
It is Jen's turn to pick a featured post from Family Friday Link-Up Party #16! Jen chose Chore Kits with Free Chore Printable from Joyful Homemaking.
Family Friday Link-Up Party #17
Okay, here are a few basic rules to keep all of you rowdy bloggers and moms in place. (I'm totally kidding here. I have a special sort of sarcasm.)
Family-friendly posts only! I do not want to see any filth and nothing scary (especially no zombies-they freak me out!). Let's keep it PG, maybe PG-13 rated.
Family Friday Link-Up Party starts Fridays 1:00 am ET and closes Mondays at 11:55 pm ET.
One post will be selected by our hosts to be featured in the next Family Friday Link-Up Party.
All posts will be shared by hosts on social media.
Share Family Friday Link-Up Party!
We will love you forever & ever! Plus, the more eyes we get on your favorite printable, the greater chance that it will be featured next week.
Tweet It:
[clickToTweet tweet="Join #FamilyFriday Link-Up Party Share & find posts for your #family @rockyourhs @thischaoticbliss" quote="Join #FamilyFriday Link-Up Party Share & find posts for your #family @rockyourhs @thischaoticbliss" theme="style2″]
If you would like to add our link-up party button to your site, grab the html in the gray box below. Thanks so much!
Hi, I'm Jen. I help working parents balance work and homeschooling by providing encouragement, support, and inspiration. You are warmly invited to Join the Online Community Here!