Disclosure: I may receive commissions for purchases made through links in this post.
Do you ever feel setting goals is a long, drawn out process? Use SMART Goals instead. A simple, totally doable goal setting system and start reaching your goals today!
As a busy mom, do you ever feel pulled in million directions? As if, no matter what you are doing, there are other things you should be doing instead? More important things?
If you are homeschooling your child, you are not doing your work. And if you are working, you are not cleaning your house.
If you are cleaning your house, you are not taking care of you. And if you are taking care of you, you are not homeschooling your child.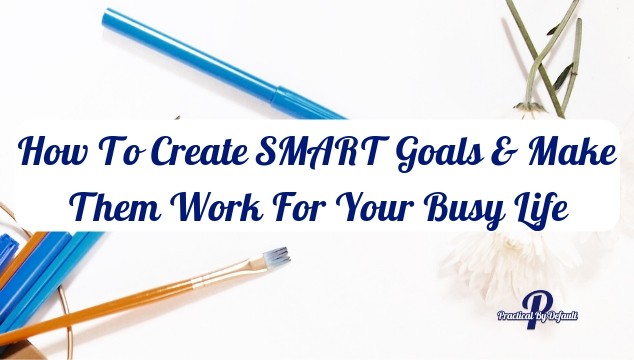 Round and round. You feel stuck in this endless cycle not finishing anything you start.
But there is one thing simple thing can help you get things accomplished.
Setting Clear Goals.
Goal setting is one of my all-time favorite things because it keeps me motivated and on track. In fact, I've created Practical Goal Setting Made Simple Mini Course! This is a step by step plan that is emailed directly to your inbox.
Does setting goals seem like a long, drawn out, and overwhelming process? It doesn't have to be.
This is where SMART Goal Setting comes into play.
What Is SMART Goal Setting?
SMART is an acronym that lays out the key points for setting and reaching a goal. The idea is by following these steps you will have a higher success rate of reaching your goal.
SMART stands for: Specific, Measurable, Achievable, Relevant, and Time Bound. The idea is that SMART goals can work for anyone, anywhere.
The key is to take the idea and hone it so it works for you and your lifestyle.
As busy a mom, you have a ton of roles to play: homeschool teacher, mom, wife, cook, homemaker, chauffer, launderer, boss, customer service rep, …and the list goes on.
This is one of the reasons goal setting is so vital. Without goals, it is easy to get caught up in trying to do all the things without actually accomplishing anything.
Setting SMART goals helps you build your self-esteem, help you feel accomplished, and sometimes will push you beyond your personal boundaries!
3 Reasons Setting SMART Goals Is Vital
You have a specific direction to move in.
You are inspired to aim for the things that seem impossible.
Helps you figure out exactly what you want and how to get it.
How To Set SMART Goals:
The wonderful thing about setting SMART goals is that the process is simple.
Writing your goals down is vital. Forbes explains one reason to write goals down is to help you remember it.
Let's use the goal of connecting with our kids as an example.
Make Your Goal Specific:
"Connect with my kids" is a great goal. You could write that down and feel good but chances are you are not going to reach that goal because it is not specific.
The best way to make this goal is to ask questions.
Who do you want to connect with?
If you have more than one child write down their names.
When do you want to connect with your kids?
Be specific. Are you aiming for once a week? Twice a week? Every day? Write it down.
What do you want to do when you connect with your kids?
You show up, grab a kid and decide now is when you are going to connect with your kids. Having a list of ideas based on your kid's interests can really help you make the most of the time you have set aside.
Make your goal measurable:
Make sure the outcome of your goal can be measured so you know when you've reached it. Add numbers in order to track it easily.
For example, you decide you want to spend 15 minutes each day one on one with your child for 14 days.
Each day you spend time with your child check it off your list. At the end of 14 days, you will be able to see if you reached it or not.
You will also be able to see any days you missed and why.
Tracking your goals will help provide motivation to keep going and stay on track.
Make your goal achievable:
One of the biggest roadblocks to goal setting is when you choose massive goals and get overwhelmed and quit before you even get started.
Choosing hard or big goals is great but be sure to break it down into smaller achievable bite sizes.
This doesn't mean the goal should be easy! Rather you should be able to reach them if you put in the time or effort.
For our example in connecting with your kids, keep it reachable. If you choose daily, keep the time aspect or activity to a time frame YOUR life can handle.
I could never spend an hour each day with my kids in my life. It wouldn't work. I would get frustrated and feel like the worse parent ever. Don't set yourself up for failure.
Be reasonable and keep your goal achievable.
Make your goal relevant:
Have you ever tried to listen to someone talk about something you just don't care about?? How motivated are you to try whatever it is they are talking about? How about next to never!
Your goal needs to be relevant to your life. It needs to be important to you. And it needs to matter at this time in your life.
You need to CARE about this goal so that when life gets tough and it is hard to keep working towards reaching it, you are motivated to dig in and push through.
I chose "connecting with our kids" as an example for this article because most of us struggle with finding the time and miss the "connection" deeply. It matters!
Whatever goal you choose make sure it matters to you, right now.
Make your goal timely:
Be sure to have an end date or at the least, check-in dates. Having a deadline for your goal will help you stay focused to get it done.
For our example, a check-in point or date would work better as it is probably something you want to continue to work on.
SMART Goals: Quick Overview
I discovered this quick video on YouTube that was a great overview of SMART goals.
How To Make SMART Goals Work For You
The key to making anything work for you is to be flexible. Be willing to change anything that ends up being a roadblock and work around it.
As you are working your way through the SMART process if anything doesn't work just skip it. Trust me, it will be okay.
For example: I think being specific is important BUT I think breaking those big scary goals down to bite sized stepping stones is MORE important.
I think it is also important to reconsider and don't be afraid to stop and re-evaluate before you hit the deadline.
Creating SMART goals is a great foundation and outline for setting goals and helping you reach them.
Let's get real, as a busy working mom who is teaching her kids, it can be easy to feel overwhelmed trying to get through the day never mind trying to figure out our own goals and how to reach them.
Use SMART goals and start reaching your goals today!
Take care,
Jen
PS. Need more help setting your goals? Sign up for my FREE Practical Goal Setting Made Simple Mini Course!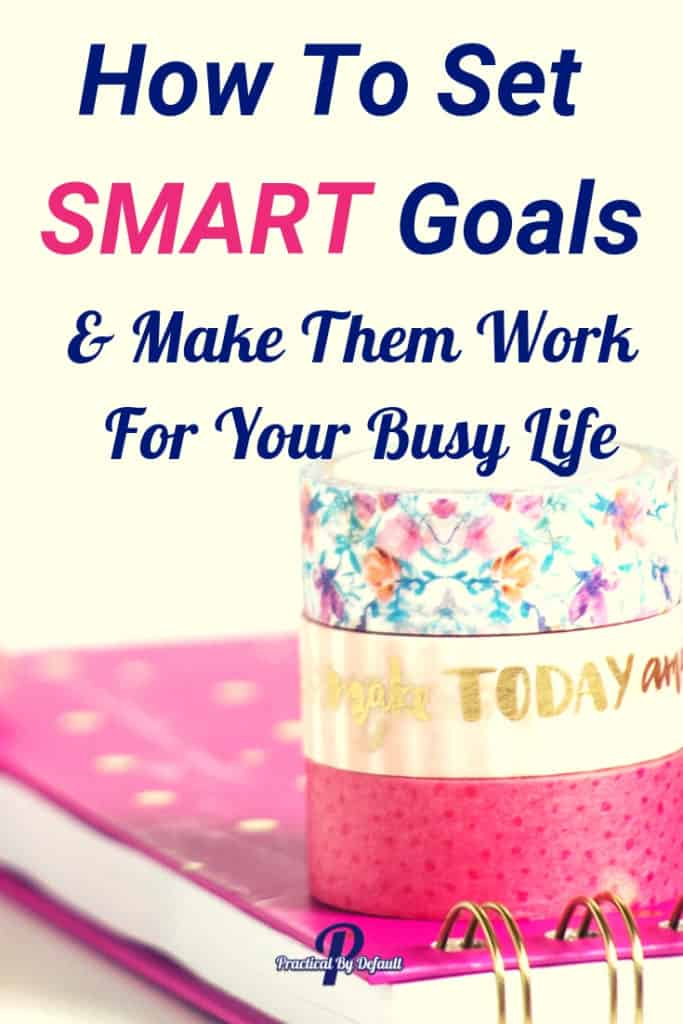 Hi, I'm Jen. I help working parents balance work and homeschooling by providing encouragement, support, and inspiration. You are warmly invited to Join the Online Community Here!