Now that you've decided to be a working homeschool mom one of your top concerns might be child care.
After all, it is reasonable to wonder when you're at work but your kids are homeschooled, where do they go during the day?
Before I even started to look for work I asked around and had a few options open to me. I am one of the blessed ones in that I had family living nearby. We also hired a sitter for a few hours.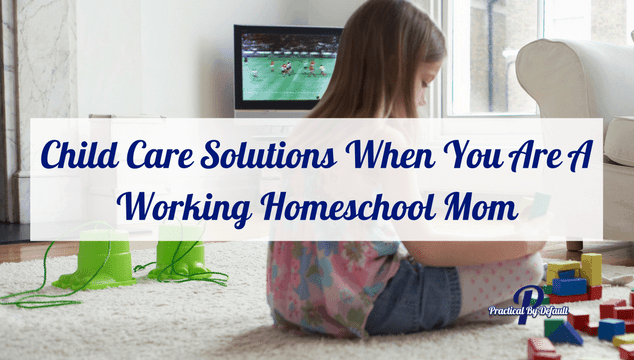 Before I share options with you I encourage you to remember that you know your children best. Do what works for them and you.
Also be sure to thoroughly investigate anyone or any facility you choose to leave your child with.
Pssst. Want this list to go? Click on the bright button at the top or bottom that says, "READ LATER CLICK HERE"
Child Care Solutions For Working Homeschool Moms:
Homeschool Teen: Many hire a homeschool teen during the week for a few hours a day to help keep your younger kids on track while you are working.
Au Pair: Many working homeschool moms have had success hiring an Au Pair. According to AuPair.com "Au Pair is defined as a young person (between the ages of 18-30), who goes abroad to live with a native family and learn (or perfect) a language in exchange for childcare."
Nanny: Similar to an Au Pair but usually local.
Work opposite schedules from your spouse.
Consider multi-family living arrangements (Like shown here: Joan's post)
Day Care: Great option for younger children
Work place day care: Some business have a onsite day care.
Family or Friends: be careful not to wear out your welcome
Homeschool Care Swap group: This is where you can swap watching the kids with other local homeschool moms. Be sure to check local boards and Facebook Groups.
Hire a stay at home mom to take the kids.
Have a friend hang out to do "fun stuff" with your kids while you work.
Make use of "camps" provided during public school breaks.
Find care through a service such as Care.com. This site came highly recommended for information as well from moms in my Facebook group. Available in Canada and USA.
Leave older kids home alone while working. Using check-in programs, or security measures will help you feel at ease. Be sure they know Emergency numbers and how to contact you. Skill Trek even has a life skill lesson on what you child should know when staying home alone 😉
You will want to interview your child care providers before you have them watch your children. If you are wondering what to ask read: What To Ask Child Care Providers
Sick Child Care Solutions:
When your child gets sick it can be hard to find someone willing to expose themselves to germs. Be sure to have a back up plan in place.
Create your own village. Talk with family and friends that have part-time jobs, or a flexible schedule before the situation arises. Try to work out a reciprocal arrangement when a backup plan is needed.
Ask other working homeschool moms. They will likely understand how stressful having a child that is sick and needing to leave is.
Take the steps you can at home to help prevent the spread of illness.
If you live in a two with college students or know homeschool teens who you trust-work out a back up plan with them for sick days.
Barter: Sometimes other moms who are willing to watch your sick kid don't need a sitter-they need errands run, kids dropped off and books to be picked up. Trade: They watch your sick kid, you pick up cookies after work on your way home. Get creative!
Make your home work-friendly. As a last resort you may be able to stay home with your child and still get some work done. Be sure to work out the details ahead of time with your boss and provide the sick kid with quiet activities they can do.
Whatever child care option you choose it is vital to have good, open communication between you and the child care provider. Set clear expectations about routines, if you will have school work completed and what to do if they get stuck or the child resists, and house rules.
If you need ideas of questions to ask be sure to read: What To Ask Child Care Providers
Do you work and homeschool? What childcare solution have you found that works for your family?
Take care, 
Jen
PS.  I run a free, private Facebook group with the most positive, supportive, and kick butt working homeschool moms out there. It's the perfect place to get feedback, make friendships, and ask questions! Click here to join.