Inside you will find a super easy chili recipe perfect for the beginner cook and yet customizable for the more advanced. 
Cooking is a life skill that I feel strongly about teaching my kids.
Learning to cook helps build confidence and is a massive help to me, as a working homeschool mom.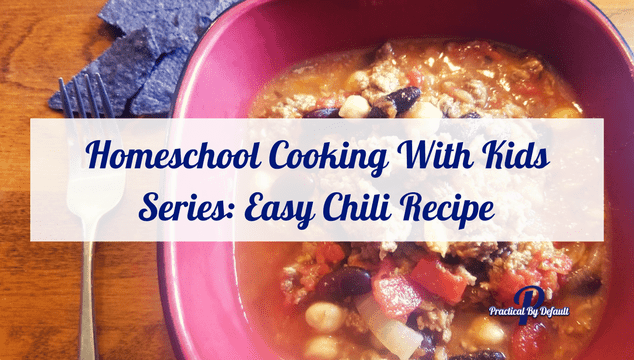 One of the first stovetop recipes I taught my kids to make is Chili. What I love about this recipe is it can be made with a few cans or from scratch.
You can use whatever you have on hand and is a great recipe for letting your kids customize it the way they like. I'll share some changes you can make below.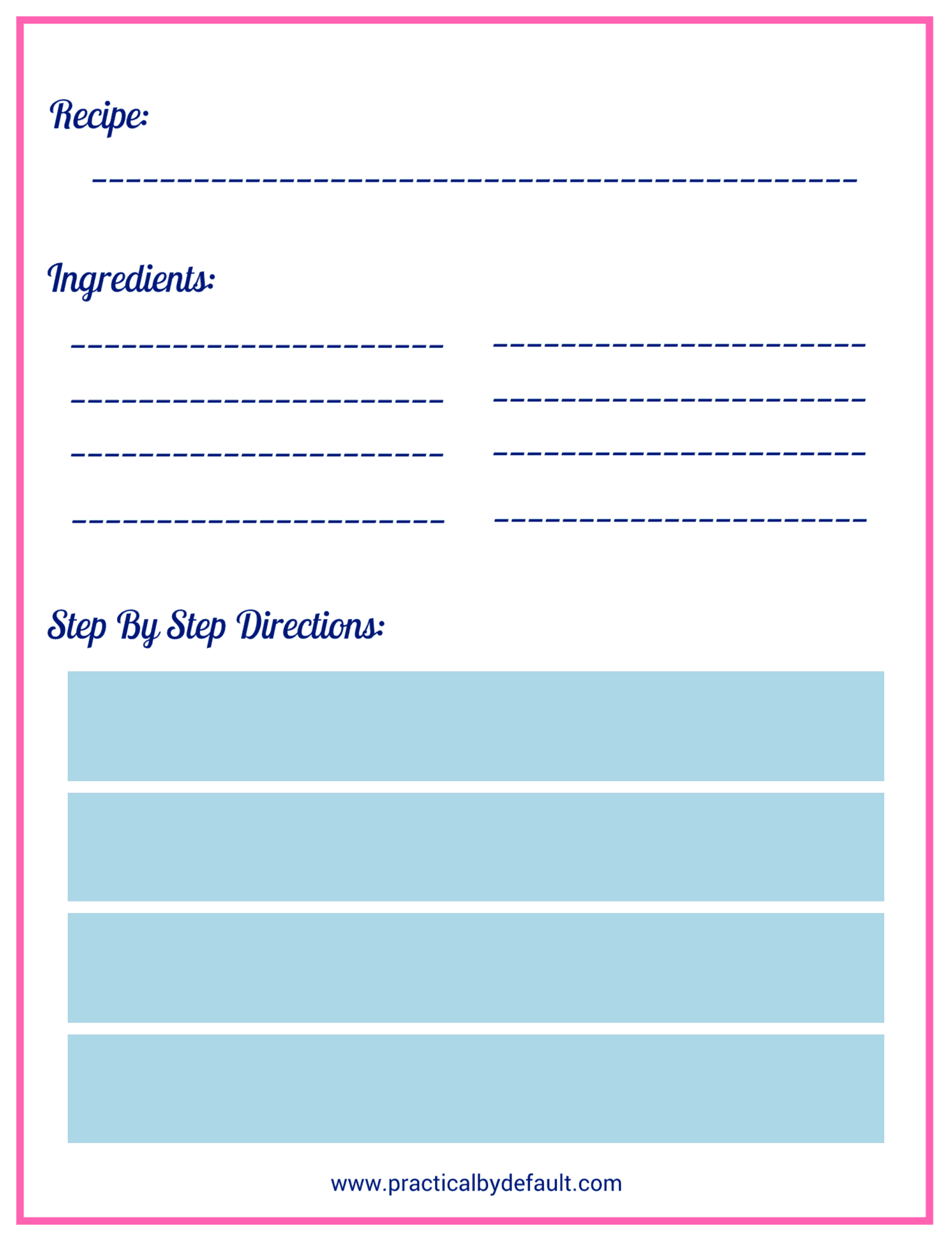 Recipe Card For Kids
Easy Chili Recipe:
This recipe is really easy, perfect for beginner cooks and meal planning.
⇒Prep Time: 10 minutes. Cooking Time: 60 minutes
What You Need:
2 tbsp of Oil
2 lbs of Ground Beef -precook and drain
2 cups of cooked Chick Peas
1 cup cooked Red Kidney Beans
1 ½ cup of cooked Navy beans
2 cans 28 Fl oz Diced Tomatoes
1 large Yellow onion
3-4 cloves of Garlic
Spices
General cooking supplies you will need:
Large pot
Cutting boards
Can opener
Measuring cups/spoons
Large spoon
Sharp knife that your child is comfortable with.
Access to the stove, this is stove top.
What You Need To Know:
You can adjust this recipe and add to it as needed which means you can use what you like or what you have and chances are it will still taste great.
Sometimes I use canned beans. This time we used pre-cooked dried beans from our Instant Pot. You can find that recipe here: Cook Dry Beans Fast And Easy In Your Instant Pot (No Soaking)
If you are using canned beans, open and drain well.
If you like more garlic, use it.
If you don't like onions, skip it.
If you like certain beans and not others adjust as needed.
If you like it spicy, add green chilies or hot peppers.
It is why I love recipes like this. You can make it different each time.
I also really like ground turkey instead of ground beef but that is what we had on hand.
What You Need To Do:
Gather your ingredients and cooking supplies.
If your ground beef is not cooked, do that now and fry until no longer pink. Drain well to remove any fat and set aside.
On your cutting board, peel and slice your onion and garlic.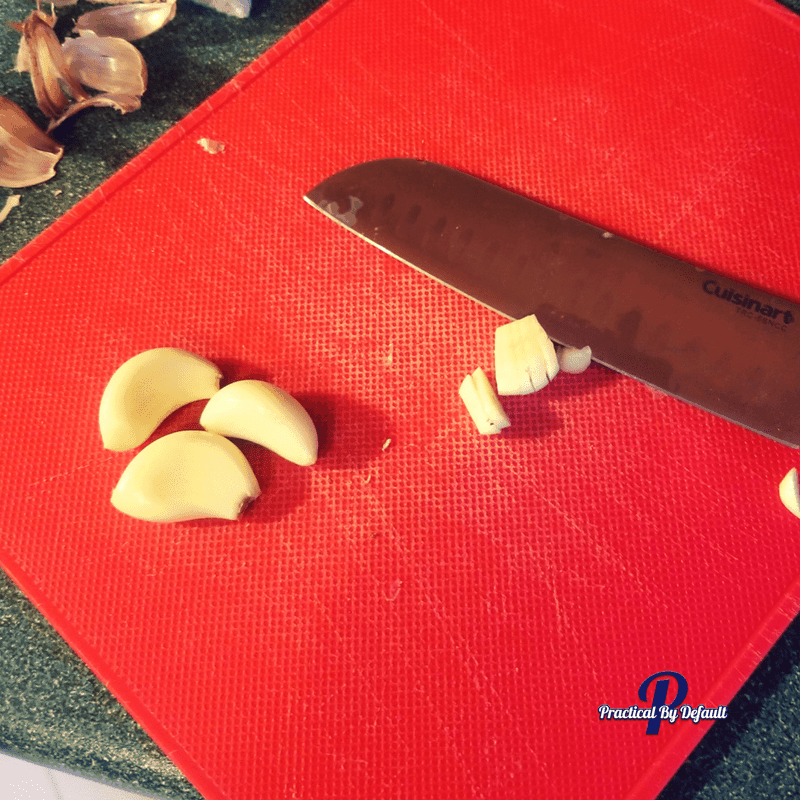 Put a large pot on the stove and add oil and turn to low-med heat.
Add your onion to the pot.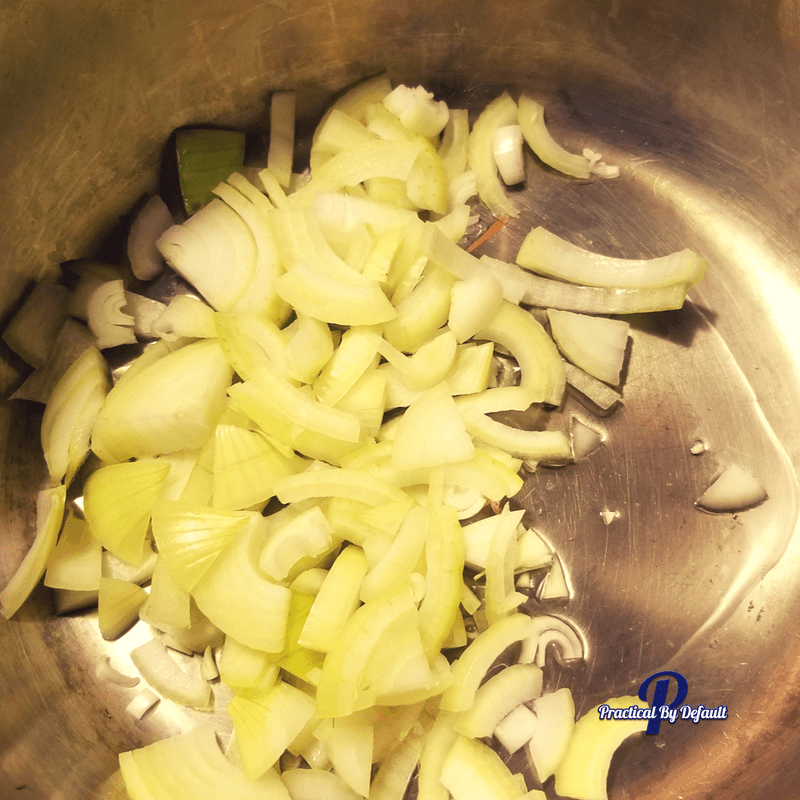 And cook until slightly transparent then add your garlic.
Let cook a few minutes more, stirring off and on.
Next add your cooked ground beef, all your beans, and stir.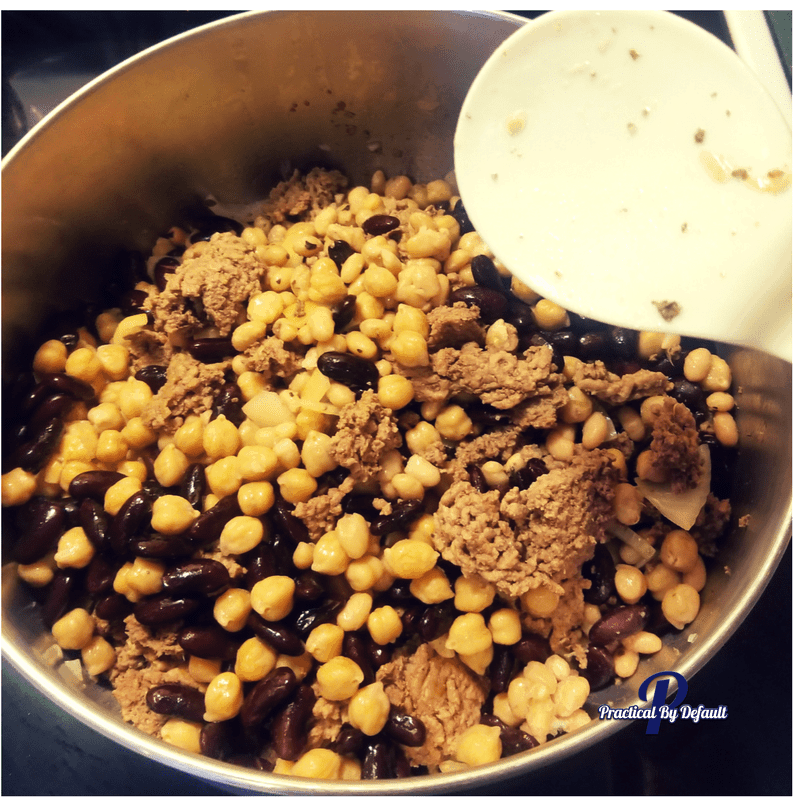 Add your diced tomatoes and stir.
If you want less watery chili, drain the second can of tomatoes OR swap it for a can of pasta sauce.
I forgot to mention that to the kids, we ended with a great tasting chili but it almost could pass for "Hamburger soup" lol! 
By the way, if you want a really good Instant Pot Hamburger Soup, check out this recipe!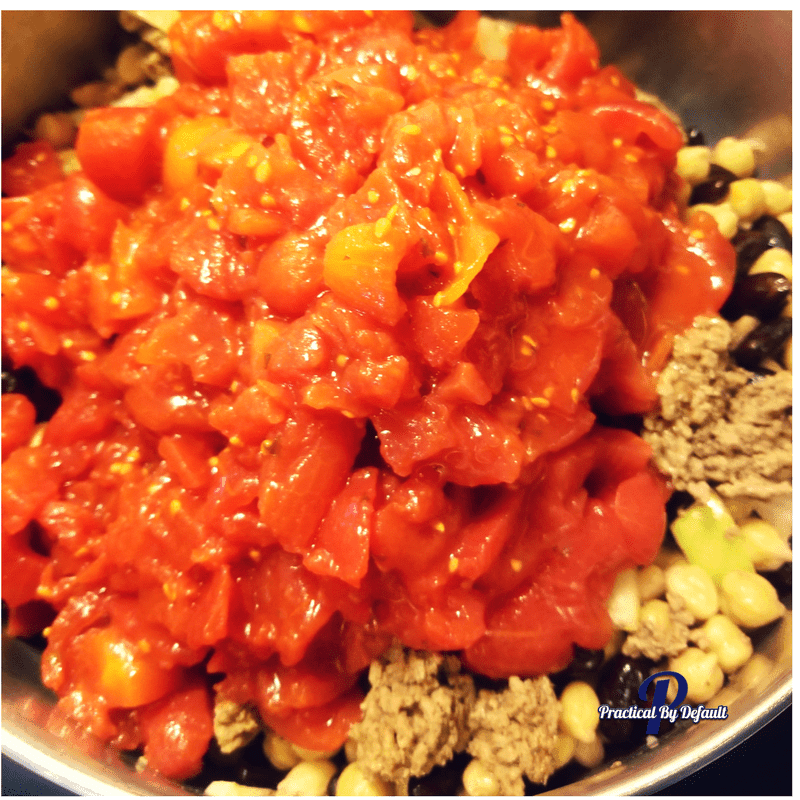 Add spices you want. We used  Litehouse Oregano, Litehouse Basil, and Chili Powder.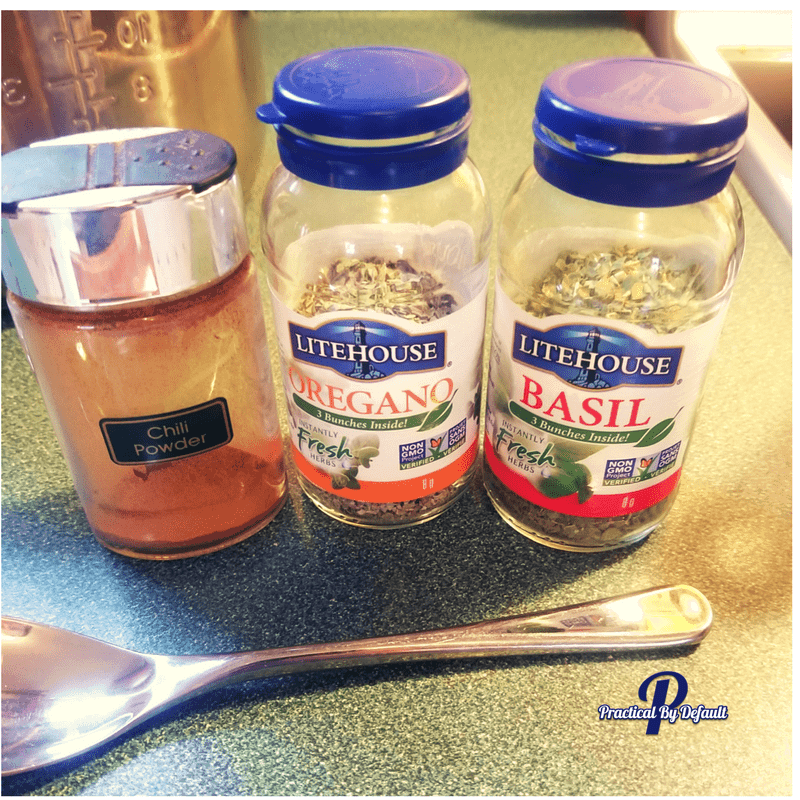 Let simmer for 45 minutes until cooked and blended well.
I always tell the kids to smell. When it starts to smell really good, you know it is done!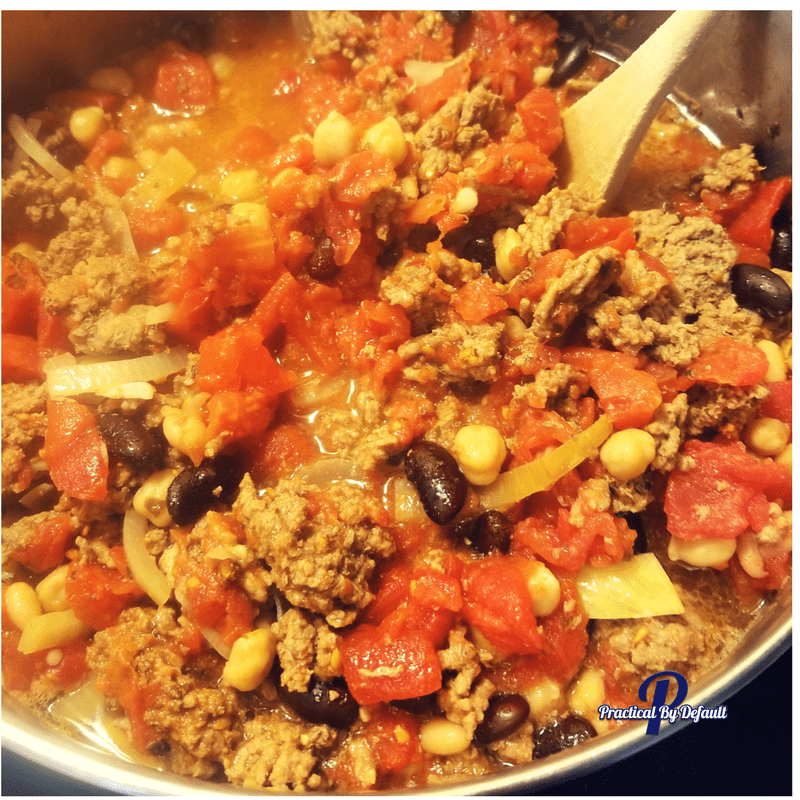 Serve as is, or let the fun begin!
By the way, if you are making this up as meal prep here is what you need to do: Let cool and divide into your containers for lunches.
⇒Or if you've doubled it for future suppers, divide and label well and freeze.
To use: Let thaw the night before in the fridge or dump frozen in a slow cooker for 8 hours at low. Of course use the right heat/time for your slow cooker. You may need to play around with that.
Different Ways You Can Use Chili:
Chili is such a versatile food.
You can top it with sour cream and shredded cheese.
We love it over blue corn chips and topped with melted stringy cheese, yum!
You can serve it over basmati rice for lunches.
Over homemade french fries or on hot dogs.
How do you top your chili?
Take care
Jen
PS. Both of my kids are pretty comfortable in the kitchen because I feel it is a needed life skill. You can read about one of our favorite programs and our thoughts here: Homeschool Cooking Curriculum We Love – Our Experience With the Kids Cook Real Food Program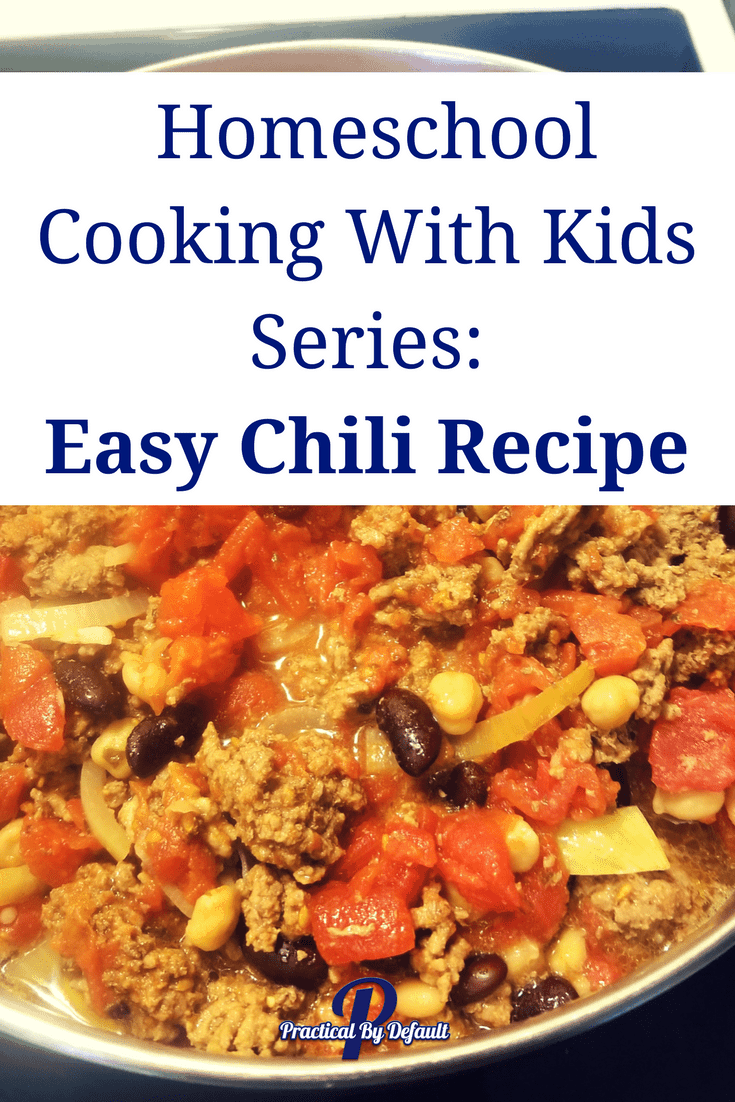 Hi, I'm Jen. I help working parents balance work and homeschooling by providing encouragement, support, and inspiration. You are warmly invited to Join the Online Community Here!