Do you use a planner to keep things organized in your life? You need these key steps to set yourself up for success with your planner.
I waved goodbye to my husband as he drove out of the driveway, refilled my coffee cup and took the puppy out to potty. Again.
I finally sat down at my desk to work, I had a million and one things to do.
Out of the corner of my eye I saw a notification pop up on my phone.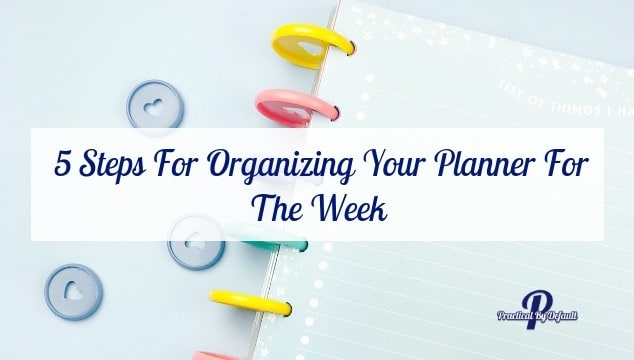 I read it. Then I read it again.
"OH CRAP!" My son had a driving class in an hour that I totally forgot about!
And… my husband just drove away in our only car. Never mind that I live in the country, the class was in town, and my husband works on the OTHER side of town.
"Crap! Crap! CRAP!"
One thing could have prevented this disastrous mess!! 
Okay, two. 
One set the reminder notification for the day BEFORE not the day OF.
AND actually using the planner I had by getting organized on a weekly basis.
How To Never Miss Another Appointment
Keeping track of everything you have to do while working and homeschooling can be overwhelming.
Having a great planner can help you make sure you are getting what needs to be done, done! while helping you create goals, be organized, inspire you, motivate you AND give your life a sense of purpose.
Busy working moms need a planner that can handle all the little tasks, the every day to do lists, and help us find our way.
Once you pick out your planner the next step is getting it set up and organized.
Because having a planner is one thing. Using it is another. *ahem*
Don't have a planner yet? Read 11 Best Planners For Working Moms: Find The Perfect Paper Planner For You
Step 1: Gather Your Supplies
The first thing you need to do is gather your supplies.
You'll need your planner along with your schedules.
Schedules might include:
Work schedule for you
Spouse's work schedule
School schedule
Extracurricular events
Appointments: Doctor, Hair, Clients etc
Trips or vacation days
Special events or social events
Date nights/game nights etc.
If you have taken our free e-course on how to tame your hectic schedule, you'll want the brainstorming worksheets you filled out as part of that course.
You will also want your favorite planning supplies such as pens, sticky notes, highlighters, stickers, washi tape, colored pens, page markers, paperclips and more!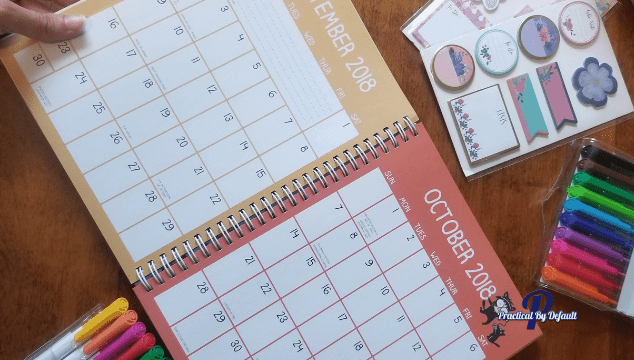 If you are not the decorating type, that is okay too! You will need a writing utensil of some sort unless you are using a digital planner.
You'll also want a quiet place in order to concentrate and plan. My planning days for the week are part of my date with my teenage daughter.
Some schedule it in as part of their self-care routine. Do whatever you find works for you.
…And coffee.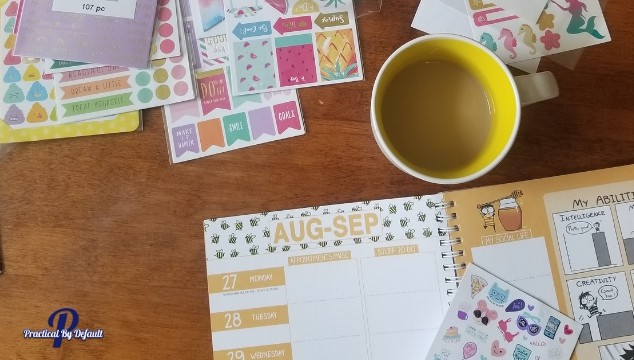 I'm using Sarah's Scribbles planner that I got on Amazon this year. The layout is vertical and I am not sure I love it yet. So far it works 😉
For those of you who asked, you can get it here. 
2. Review and Rework
Before you start on a new week, look at your past week.
A few questions to ask yourself when you are reviewing your schedule are:
Do I need more time for a few activities?
Did my work schedule change?
At what point do I feel overwhelmed?
What can be moved or adjusted to lessen the load on me?
What is working great?
What isn't?
By taking note of these things, it will allow you to adjust your plan for this week.
Reviewing and adjusting is key to making your schedule work for you.
3. Check Your Priorities
To most people, balance means equal.
But we can't divide our life into equal parts or you'll run out of hours in the day.
For example, if you work 8 hours, homeschool for 5 hours, sleep for 8 hours, and commute for 2 hours, you are left with 1 hour to eat, shower, do errands, self-care. That is not practical.
This is where identifying your priorities is vital.
Ask yourself:
Did I get to spend time with my family last week?
Where do I want to be focusing my time?
What did I not get done that I wish I had?
Did I make sure to get self-care in each day?
What personal goals am I working on? Did I meet them last week? If not, why?
Write down what needs to change to help you get the important things done each week.
For example, when we started a new homeschool year I thought my life would become more organized and streamlined.
I was wrong.
And the first thing to go when life got hectic was my self-care routine.
I took my own advice: Identify the problem and take action to fix it.
You may struggle with this because you are deciding between "important task 1" and "important task 2".
When faced with that type of decision, try to ask for help or delegate one task to a trusted friend, family member or even a child.
You may also be able to alternate the task each week.
Sometimes thinking outside the box can really help you out.
4. Fill In Your Planner
It's time to fill it all in.
Record everything.
As you layout your lists, tasks, and notes, visualize how you want your week to look.
For example, below is a page out of my printable planner. You'll see some days I work and homeschool at the same time.
This works because I have teenagers can work independently.
That may work for your family. Be sure to keep your unique needs in mind when planning your week.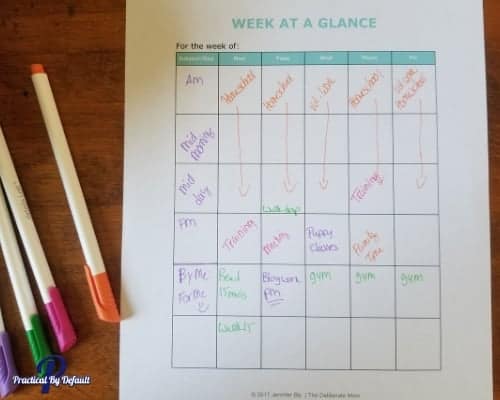 Note: The above is my favorite printable planner with a vertical layout. You can get it here, be sure to use our exclusive discount code: jenn25 to save 25% off. 
When filling out your planner, I suggest you start with important dates and tasks you don't have control over.
A few examples might be:
Work schedules
Appointments
Extracurricular activities
Lessons
Make sure to block these out in a very eye-catching way. One glance and you can see that time is taken. This will help you avoid double booking.
You might like to color code each task or something else to make it stand out.
Next, fill in the important tasks and dates you do have control over.
A few examples might be:
Homeschooling
Housework
Meal Prep
Grocery Shopping
Field trips
Park days
I like to write these in either pencil or erasable pens because I often have to move them around after I see the big picture. I also love using sticky notes for the same reason.
Next, block out time for self-care for each day.
Include things like working out, relaxing with a book, a quick walk around the yard. Whatever helps you refocus and recharge.
And lastly, mark one day a week to set up your planner for the next week.
I have weekly dates with my daughter. It's a great way to connect and get caught up with her, be creative, eat food, and get organized.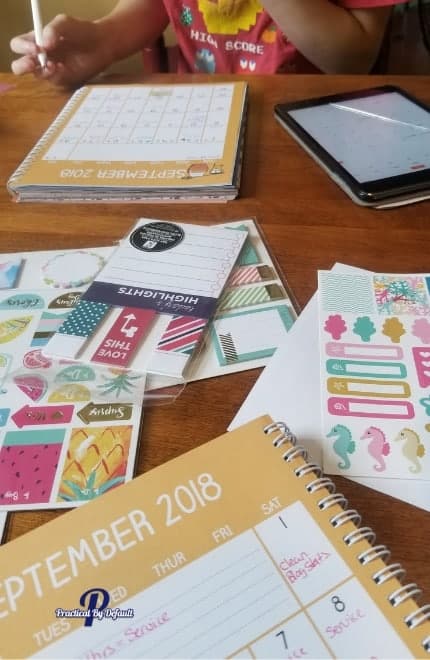 Get ready for the new week by making sure your planner is set up and organized.
Be sure to clearly mark it in your planner each week.
5. Buffer Time and White Space.
One thing I always forget is the logistics of traveling and the time needed to do things such as eat and change my clothes.
Just last week I had an appointment at 2 PM for one hour, 3 PM for one hour, and almost booked one for 4 PM. Thankfully the first two were in the same building but the 3rd one was a vet appointment.
I forgot I had to drive home, pick up the dog, and come back into town. Oops!
Make sure you scheduled in buffer time for travel distance and traffic, time to eat and change your clothes.
Along with getting ready in the morning and downtime at night.
White space is important.
Don't fill in every single little space you have available if possible. Allow space so you can accept that spontaneous cup of coffee with a friend, hike in the woods with your kids, or long chat on the phone with your mom.
---
The beginning of a week is like a fresh start.
Use these tips to set your planner and yourself up for success. Taking time to be intentional with your time will really pay off and  help you get more done in less time! 
Remember the key to planning is to be as scheduled as you need to be to get things done! 
Keep it simple!
How do you set up your planner for the week? I'd love to know, let's chat!
Take care,
Jen
PS. If you need help figuring out how organize your life to get things done, check out our free planning email course.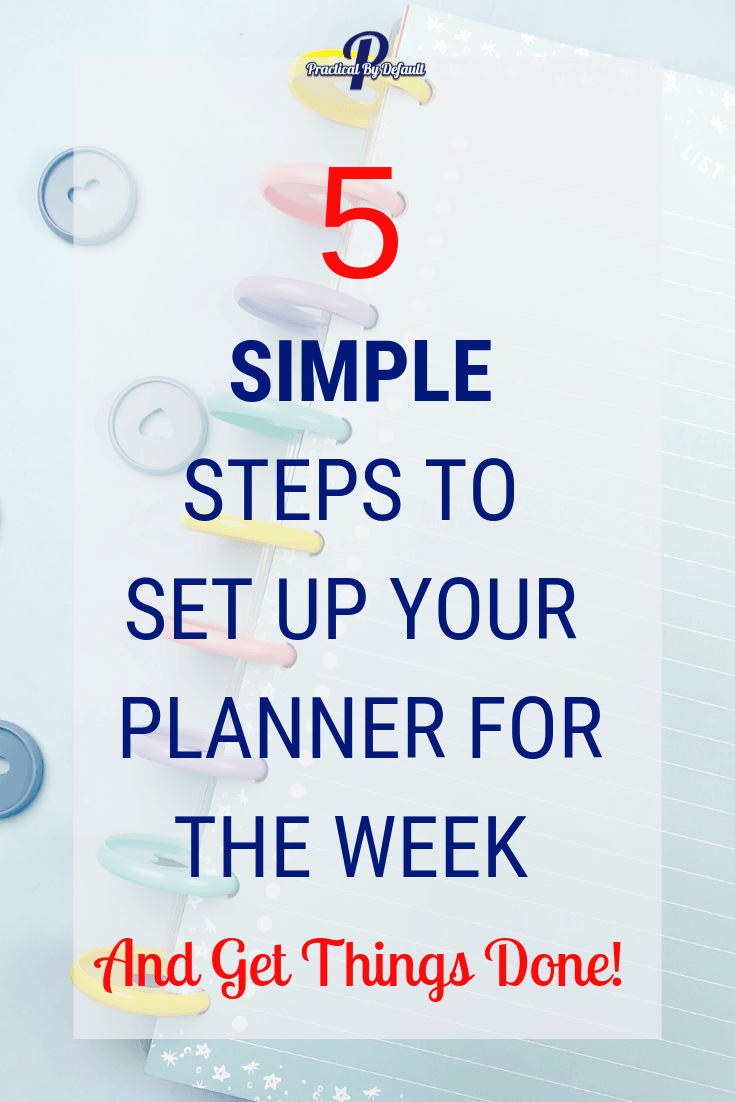 Hi, I'm Jen. I help working parents balance work and homeschooling by providing encouragement, support, and inspiration. You are warmly invited to Join the Online Community Here!