I love chicken dinners. It is probably my favorite dinner all time hands down.
I recently became the proud owner of one shiny new Instant Pot. It was love at first sight. You can read how that came about here: How My Instant Pot Obsession Began: A Love Story
After the steam test, I went to Pinterest and started hunting for whole chicken recipes.
While chatting with moms that were using their Instant Pot they kept saying they can cook a whole chicken in 25 minutes!
I needed to test this theory out.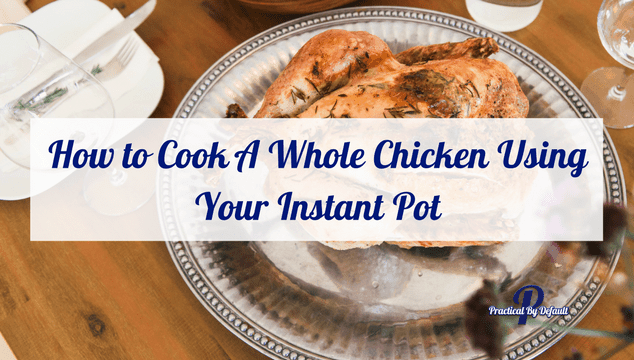 First things first: I have a problem with recipes. I never EVER follow them. Much to my family's dismay. (Ha!) I am a big believer in using what you have and adjusting recipes (and your homeschool!) to you. Consider yourself warned! 😉
Therefore if you want to snag this recipe in all its unchanged glory then click here: INSTANT POT FAUX-TISSERIE CHICKEN and print it off.
The recipe above is Whole 30 and Paleo compliant.
Cooking a Whole Chicken In Your Instant Pot:
We picked up a small whole chicken when we grabbed groceries. You want to be sure to pick one that will fit in your instant pot. Be sure to double-check the size.
I chose the Instant Pot DUO60 6 Qt 7-in-1 because it replaces my slow cooker along with my yogurt maker, rice cooker etc. I live in a mini home which means space matters!


My chicken was not frozen and about 3 lbs, give or take.
After I printed off the recipe I gathered up all the things I had from the recipe, along with a cutting board, my favorite Jamie Oliver knife and the chicken.
My husband decided to help. He rinsed the chicken while I chopped an onion into wedges and peeled and crushed the garlic cloves.
He washed the chicken, removing the stuff in the cavity, which I always forget to do. Oops.
We rubbed the outside with oil and sprinkled Himalayan salt and black pepper. I love Pink Himalayan salt because it has a slightly different taste to me than table salt. However just use whatever you have on hand.
You need to oil the chicken so it doesn't stick to your pot. This is super important. I used Olive Oil which seemed to work pretty good.
Next, we put the onion wedges and garlic cloves inside.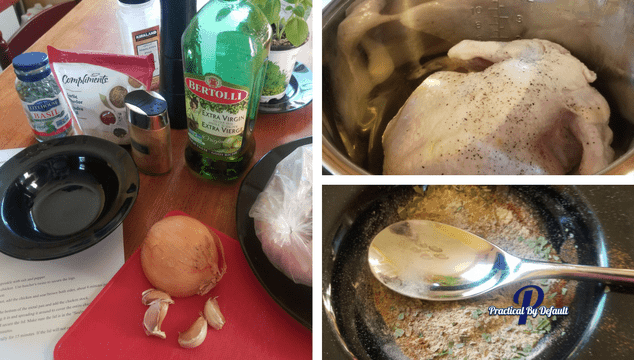 The recipe says to use butcher's twine to secure tie the legs and (as we learned) to keep everything inside. I didn't have any so we skipped this part. Not recommended! Other items you might want for your Instant Pot that make life easier read: Gift Guide for the Instant Pot Obsessed Homeschool Mom
I added it to my list for next time because when you turn the chicken over you'll want the onions and garlic to stay inside the chicken. Ours spilled all over the place.
I turned on the Instant Pot to Saute setting. Informed the kids it was Hot and to stay away from it. My husband wasn't listening and touched the pot. (Hello? It says HOT on the pot!) Be sure to warn your "big kids" that it is hot as well.
Add the rest of the oil to the pot and add the chicken. Sear on both sides, ours took about 5 minutes per side.
I am going to admit that figuring out how to flip the chicken over and not get burned was trickier than I anticipated. We managed it with tongs and a flipper but I am sure there is a better way. Oh! This is where the butcher's twine comes in handy as the onions went spilling out into the pan. No biggie but kind of annoying.
Remove the chicken and place on a plate. I used a wooden spoon to scrape away the onions and garlic from the bottom but left them in the pot.
Add the steamer/trivet and one cup of water.
My Instant Pot came with a steamer with handles, using this is not mandatory but your chicken will be soggy on the bottom.
If you don't have a steamer or trivet you can pick one up on Amazon next time you are shopping. Here is one that comes recommended.


Next, sprinkle the chicken with your season mix. I used what I had so mine was different from the original.
Chicken Seasoning Mix
I used:
1 tsp of garlic powder
1 tsp of basil
1 tsp of chili powder
Stir in a small bowl and sprinkle on both sides of the chicken. Put the chicken back in and close the lid. It makes a little happy tune when you do this.
Make sure the lid steam release is set to sealing not venting. Next hit cancel first to shut off the sauté and then choose Manual. Change the time to 25 minutes using the plus symbol on the front.
I used this time to clean up, wash the dishes, peel potatoes and carrots and set them to boil on my stove top.
When the timer went off, I hit cancel. Then set a timer on my microwave for 15 minutes. This is called a "natural release".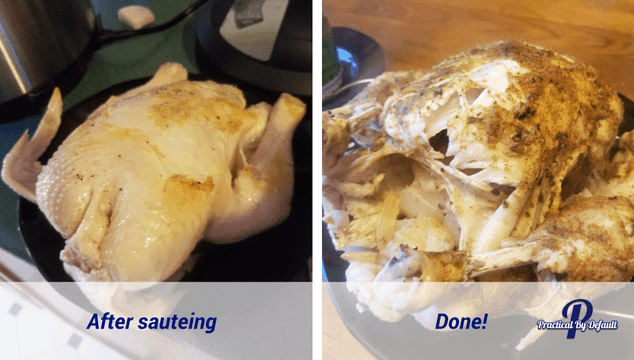 I mashed up the potatoes and drained the carrots as the kids set the table.
Fun fact: The Instant Pot will not allow you to open the lid while the pressure is inside. This really made me happy as so many people started to freak me out about owning and using an Instant Pot. However, I tried to open it while pressure was inside to see if the lock worked and I couldn't. Yay!
After 15 minutes I moved the steam release to venting to release anything that was left. Oh man, it smelled so good!!
We popped it open and used the steaming rack/trivet to pull it right out and set it on a plate. That thing is awesome! We let it rest about 5 minutes before cutting.
The chicken was delicious! My son, who was getting sick of chicken, said it was his favorite and requested it again! Win!!
Can you cook a whole chicken in 25 minutes in an Instant Pot?
The answer is yes and no.
I have discovered those "timed" recipes are only including the actual cooking time. You need to take into account the time it takes to come to pressure and release the steam.
In this case, the breakdown looked like this:
Prep time (cutting veggies, washing chicken etc) 5-10 minutes
heat/sauté was 10 minutes (4 minutes per side and heating)
come to pressure, 8 minutes
cooking 25 minutes
release pressure 15 minutes
resting time-5 minutes
Total time: 75 minutes (give or take)
This information is important for those of us who are busy. Keep in mind that most recipes will not include coming to pressure time and release time in their "how long this takes to make" section. Always add 30 minutes or so to your cooking time.
Keep in mind: Each pressure cooker is different so cooking times may vary depending on brand, the temperature of your chicken when you begin cooking and the size of your pressure cooker.
My thoughts on cooking a whole chicken in my Instant Pot:
Love this. It was a little tricky flipping the chicken over in the Instant Pot but otherwise, this was easy, fast and super yummy.
I will be keeping an eye open for sales on small chickens sized 2-3 lbs so we can make it again. I would like to make it with the rest of the seasonings so I will be adding those to our collection over the next few weeks.
One of my favorite things is saving time and money, here is what I did with the bones and leftover bits! READ: How To Make Instant Pot Chicken Bone Broth
I can see this being perfect for having company over for dinner!
Take care,
Jen
PS. I searched around looking for the exact steamer rack as the handles are awesome for removing the chicken from the Instant Pot. I wasn't able to find the exact one that came with my Instant Pot but you can get Genuine Instant Pot Silicone Steam Rack, which comes with handles! 
PSS. If you are a busy mom like me be sure to grab these Instant Pot Cooking Lessons for your kids. Trust me, it is so nice to have someone else make dinner <3