The chirping of birds let us know that Spring has finally arrived. This has been the longest Winter ever and no, I do not have facts to back that up. What I did have was a snowman built in April. The end of April.
To a mom with two kids who need to be outside, for their sake and mine, this was the winter that never ends.
So when the sun was shining, the grass was visible, and the mud was drying I opened the windows and let the air sweep away the cobwebs.
This is when I remembered we picked up the Backyard Science book in the fall. We've used it before and loved it. You can read about it here!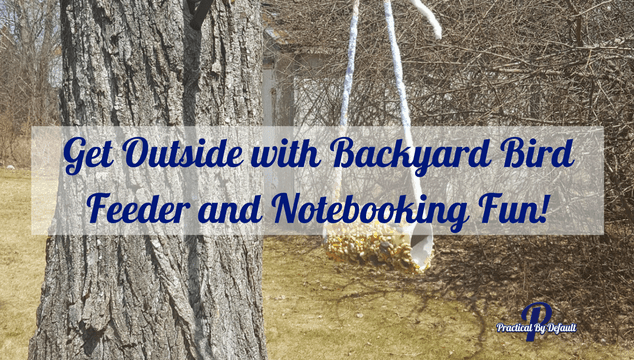 Inside is chalk full of amazing fun and easy outside activities perfect for this spring like weather. I dug it out and was scrolling through the pages to see if anything sparked their interests.
At the same time, my daughter called me.
A bird was making a nest in the telephone pole in our yard. As we watched them, I remembered we had some old bread in the fridge. A loaf I had made out of a roll recipe thinking it would make a good light sandwich bread. (Wrong!) We decided to toss bread on the ground to see if they would come eat.
Well…were we in for a surprise.

Backyard Friends
First came the crows. We love crows! They are so smart. Plus we read all about them in our Sherlock boy book. As we talked about how they like shiny things we heard an odd sound.
To the left came our neighbor's chickens marching in a line. Backed by the proud rooster. We started laughing as they scared off the crows and quickly started cleaning up the yard of the bread.
Then came the neighbor's dog! I guess Delta needed to check on her chickens but the bread wasn't her style. After a few nibbles, she went back home.
As this interesting day played out I asked the kids if they wanted to learn about the wildlife we were seeing? They said sure!
Notebooking Birds:
While creating, building and planning our bird feeders we decided that we should do one notebooking page per bird we had visit us.
We went to notebooking pages, digging through we picked out what style. We decided on the ones with the writing space at the bottom.

Note: Be sure to check your printing settings, I accidentally ended up printing off 14 instead of 2. Oooops!
We sat at the table looking up bird facts in either Peterson Field Guide to Birds of North America, Stokes Beginner's Guide to Birds: Eastern Region (Stokes Field Guide Series) or as a last resort, Google. We filled in the facts, colored and kept an eye on the window.
My 15-year-old who usually runs at anything "not on the plan" joined in the fun for a day.
So far we've seen:
Blue jay
Robin
Crow
Chicken
Pileated woodpecker
Chickadee
Junco
Rabbit and a dog not found in the bird pages in case you were wondering. 😉
My daughter loved this so much she decided this would be her "art" for the next week. Each day we met at the table with coloring supplies, books, tables for internet research and the last bird we spied in our yard.
Bird Feeder Fun:
I knew a holiday was coming up which meant no school but that didn't mean we couldn't get outside and have some learning fun.
In the backyard book, I discovered two bird feeders we could make. I picked up the supplies. (I also forgot the crafting wire. I always forget something. Ugh. Which is why I love subscription boxes, ha!)
I hunted around Pinterest and found a cute wine bottle feeder. Man, now I had to buy wine! The things a homeschool mom must do. Oddly my husband had no issues about this either 😉
Get outside, learning about birds through bird feeders and Notebooking!
Click To Tweet
Toilet Paper Roll Bird Feeder:
The sun was shining so we decided that the back deck was the perfect place for building and creating the quicker crafty styled feeders.
My son poured the bird seed into a pie plate and my daughter smeared peanut butter on the toilet paper roll. I decided I wanted to make one too.
We rolled them in the seeds and put yarn through the middle to hold them up.
My daughter chose the to place hers on the pole where the nest was and I chose the trees.
It took about 2 days for the chickadees to find them and 2 hours to empty them completely. If you are making this be sure to give it time for the birds to notice it. It is a great lesson in patience.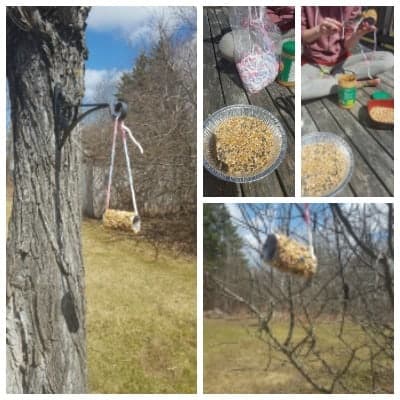 Next, we made the ring feeder.
The Ring Bird Feeder:
First we decided on what fruit we could put on the ring. We decided on apples and my son got busy chopping them up to his decided size.
Since I forgot the crafting wire, my daughter and I hunted around for what else could be used. We decided on thick line and double strung it. Using a needle to thread on the apple chunks and the cheerios.
The kids took turns threading the fruit and cereal. We soon realized we didn't quite make it big enough. Ours was the size of a bracelet.
We placed it on the clothes line with clothes pins, than waited.
No birds ever found it but the sun did and the rain. We discussed changes we'd make next time and problems the birds may have encountered such as no landing spot for them, the ring was too small, it was in the open which may have made them feel unsafe etc.
I find failures always make the best learning experiences, don't you think?
Note: If you decide to make this make it bigger than you think and use the crafting wire.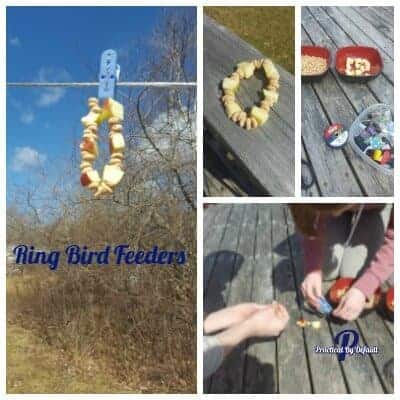 The Wine Bottle Bird Feeder:
When I  was hunting around on Pinterest I found this post on a Wine Bottle Feeder.  (Be sure to check out the post for amazing step by step instructions if you decide to make your own!)  It is so pretty but I wasn't sure if we could do it.
This took several days and much work. It ended up being a great hands-on lesson.
We found the plans, talked with my husband and went wood shopping.
A few days before we were planning on making the feeder we worked on removing the label. We tried a few things along with soaking the bottle in soapy water over night. My husband finally used glue remover to remove the label. Then we washed it out and let it dry really well.
Looking over the plans we realized there were a few changes we wanted to make to the design as we wanted to attach it directly to the outside of the wood shed. However, with the current design there would be no way to refill the bottle.
Brainstorming, problem solving and time resulted in the change you see in the photo. We added a small piece of wood on a hinge so we could swing it open and closed.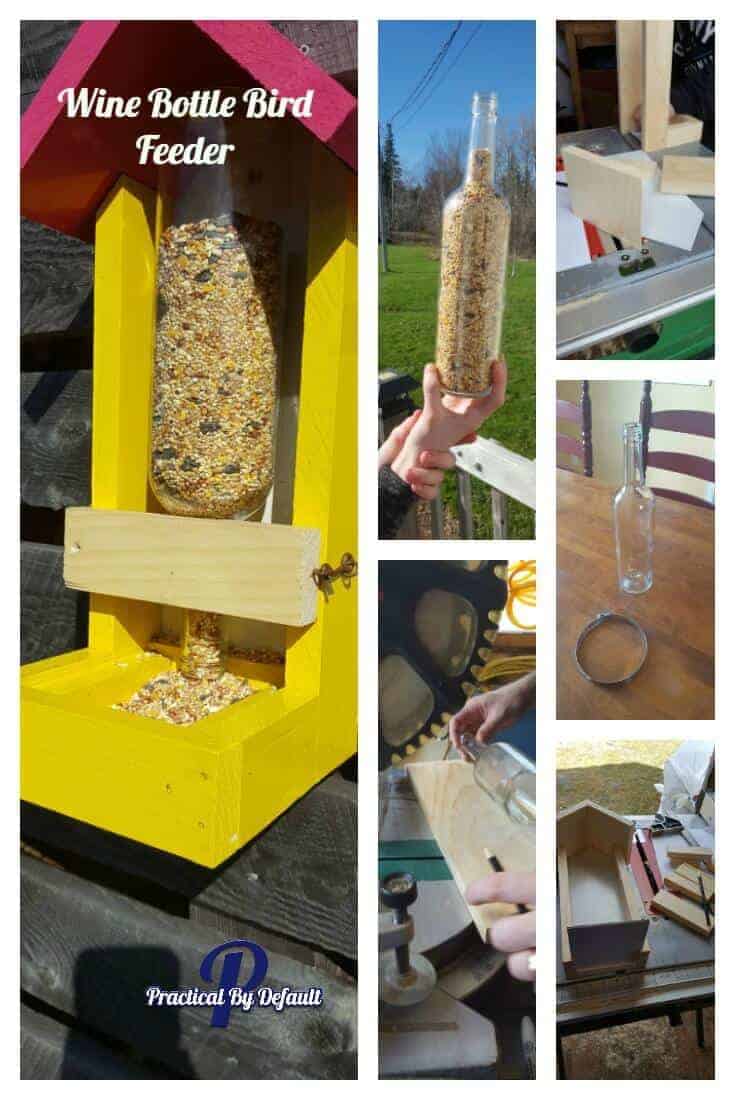 To keep it closed we used an eye hook to lock it closed and keep the bottle in place. Now when it is empty we just unlock it and refill it up. We will be painting the board the same color as the rest of the feeder but I kept it unpainted so you can see what we changed.
The children got to try the chop saw and table saw under my husband's supervision. We built it one day, then chose the paint and this took a few days of painting and drying. Longer than we first thought due to the rain.
We attached the bird feeder against our wood shed and it took about 3 days for the Chickadees to find it along with a stray Blue Jay. The Chickadees are very brave and love to "talk" back to us.
Resources we used:
I must admit this is the first time I pulled together a few different resources to make a semi unit study of my own. It was a lot of fun. I might just do it again sometime.
Here are the resources we used if you'd like to find out more about your feathered and furry friends in your backyard!
Backyard Science– for the bird feeders and bird study
Stokes Beginner's Guide to Birds: Eastern Region (Stokes Field Guide Series) – The first bird book I've ever own. You find the birds by identifying their colors.
Peterson Field Guide to Birds of North America (Peterson Field Guides) – Awesome resource for fact finding.
Notebooking pages for coloring and fact checking. Since I have a lifetime membership I pulled from various packages. These are the different sets we used:
Take care, 
Jen
PS. Did you know? Right now for a limited time you can get The Beginner's Guide to Atoms and The Periodic Table along with Backyard Science and What Makes the Weather all for $9.97? Check it out here!