Disclosure: I may receive commissions for purchases made through links in this post.
One of the biggest challenges of Homeschooling and Working is finding curricula that will work for you and your family.
Below you will find a list of curriculum resources we personally plan to use for my son for Grade 10.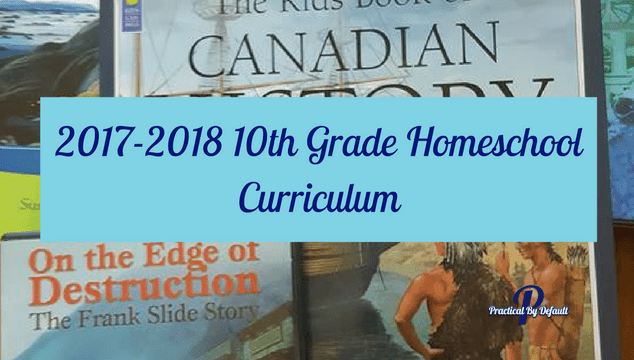 *We use affiliate links, please read my disclosure policy for more information. Thanks! 
Our 10 Grade Homeschool Curriculum
Math:
Algebra 1 (the last few weeks)
Knowre for supplementary work.
Language Arts:
Writing with Skill. 2nd half
Science:
Physics
Science Expeditions and anything else that catches our attention.
Little Passports Science Expeditions 
History:
Canadian History Visions and Voices Textbook and The Kids Book of Canadian History along with the Country Notebooking Pages. We will use Canadian Flyer Adventure books and Dear Canada books as well.
Along with any books we find relevant:
Blizzard of Glass: The Halifax Explosion of 1917
On our list to read:
Behind enemy lines : World War II
Physical Ed. and Health:
We are pretty active family and will be aiming for 30 minutes a day. These will include swimming, skating, mountain biking, hiking, and shoveling snow.
Health we will be using Physical Fitness: Looking Good, Feeling Good as our spine.
Cooking:
Instant Pot and Slow Cooker course
Meal planning, grocery shopping and cooking of one dinner meal a week.
Foreign Language:
Breaking The Barrier French along with Duolingo.